Trump bashes NATO members: Who pays what?
President Trump is headed to Brussels on Tuesday for another summit with countries in the North Atlantic Treaty Organization (NATO), as he again pushes for those countries not meeting their treaty obligations to increase contributions.
Last month, the president even wrote letters to a handful of European countries, urging them to up their defense commitments.
While NATO members increased overall defense spending in 2017, for a second consecutive year, the United States was still largely outspending all other members.
Defense spending among the 29 nations belonging to the transatlantic military alliance increased to an estimated 2.42% of gross domestic product (GDP), up from 2.4% in 2016, the organization said earlier this year.
The United States spent more than 3.5% of its GDP on defense in 2017, or about $685 billion, according to the NATO report. While that is down from more than $740 billion in 2011, it's still well above the outlay of all other members. In 2017, the U.S. is estimated to have spent more than 68% of the cumulative total.
NATO members in Europe contributed a total of $249.7 billion to their defense budgets and spent an average of 1.46% of GDP.
Canada only contributed 1.29% of GDP, while Germany – which has drawn criticism from President Trump – spent 1.24% of its GDP on defense last year. German Chancellor Angela Merkel has said her government will increase spending to 1.5% of GDP by 2024.
Only three countries aside from the U.S. – Estonia, Greece and the U.K. – are currently spending above the NATO guideline of 2% on defense. Poland's spending, however, was at 1.99% of GDP.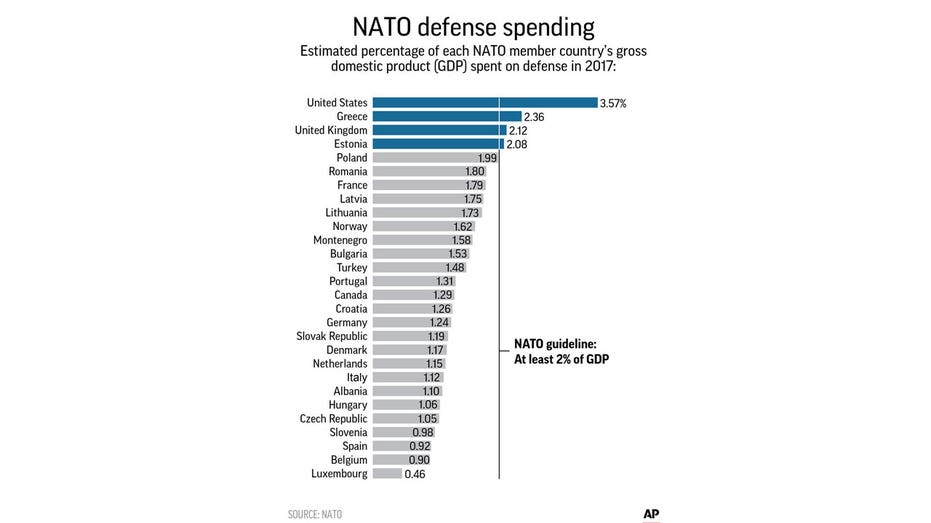 NATO allies have drawn fire from Trump for failing to live up to their financial obligations for collective defense.
During his first meeting at the group's headquarters in Brussels last year, Trump suggested that members who haven't been paying their fair share should be required to pay back dues.
"NATO members must finally contribute their fair share and meet their financial obligations … Many of these nations owe massive amounts of money from past years, and not paying in those past years," Trump told the leaders of member countries. "Over the last eight years, the United States spent more on defense than all other NATO countries combined."
Trump also noted that 2% of GDP should be the "bare minimum for confronting today's very real and very vicious threats."
Prior to 2015, when members began to increase defense spending, NATO countries' contributions had been falling each year.
At the conclusion of Trump's summit with NATO he is expected to head to Helsinki, Finland, for a meeting with Russian President Vladimir Putin.