Tillerson's Leadership Style Angers State Dept. Employees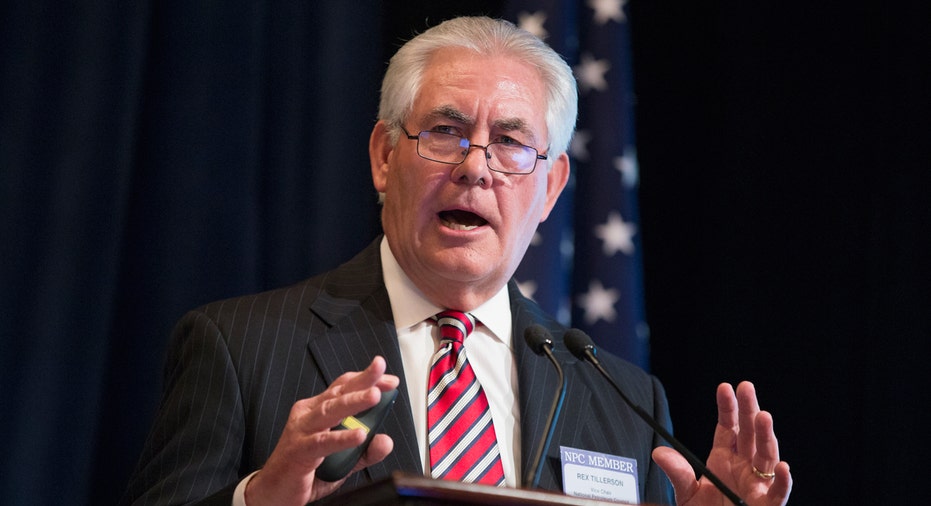 Secretary of State Rex Tillerson delivered his second address to the entire State Department Wednesday morning, as White House efforts to streamline the agency have left employees resentful of his leadership and widespread bitterness festers among the department's 75,000 staffers.
In addition to the Trump administration's plan to cut the State Department's budget by 28 percent in 2018, there are also calls for the elimination of 2,300 positions within the department through a combination of attrition and buyouts.
"They're very angry at him… They're very upset with him in the building," Fred Fleitz, former State Department chief of staff to John Bolton, told FOX Business. "They fear he has not defended them against the White House's efforts to streamline and cut personnel."
While the new secretary clarified the administration's "America first" mission Wednesday, defining it as "strengthening our national security and promoting economic prosperity," he has already engendered skepticism among his staff. He travels with small delegations—keeping not just the media out of his affairs, but also some of his staffers, Fleitz said. Additionally, State employees believe Tillerson has allowed the agency to be excluded from some pertinent negotiations.
Tillerson has yet to fill a host of senior positions within the agency, following a slew of high-level resignations at the end of January. Open slots include the important deputy secretary of state position, which the administration is actively trying to fill according to Fleitz. However, experts say Tillerson is keeping these and other positions open because there may be a massive restructuring on the horizon for the department.
While the new secretary of state did not directly address restructuring Wednesday, he said the agency needs to upgrade its systems and processes, which were designed for the Cold War era.
"There's enormous waste in the building. Tillerson ... was appalled when he saw the way things are run … There's a lot of duplication, there's a lot of offices that perform missions that go back to the Cold War," Fleitz said, echoing Tillerson's criticisms.
However, eliminating civil service jobs is no easy task, Fleitz added, as bureaucracies only tend to grow larger over time.
The Trump administration has not shied away from attacking those bloated agencies, as trimming fat from government to advance efficiency has been at the core of the president's agenda.
Additionally, like Trump, Tillerson is a businessman, leading oil and gas giant Exxon Mobil (NYSE:XOM) for ten years after a lifelong career with the company. During that tenure, he gained a reputation for being a savvy negotiator when it came to dealing with difficult foreign leaders, including the Russians, as detailed by the Wall Street Journal.
In concert with the Trump administration's strategies, Tillerson will also send out a survey Wednesday to all 75,000 State Department employees in order to gauge how efficiently systems are functioning.
"That is going to guide how we approach both our organizational structure, but more importantly our work process design," Tillerson said.