Tillerson Treads a Fine Line in China Talks Amid North Korea Tensions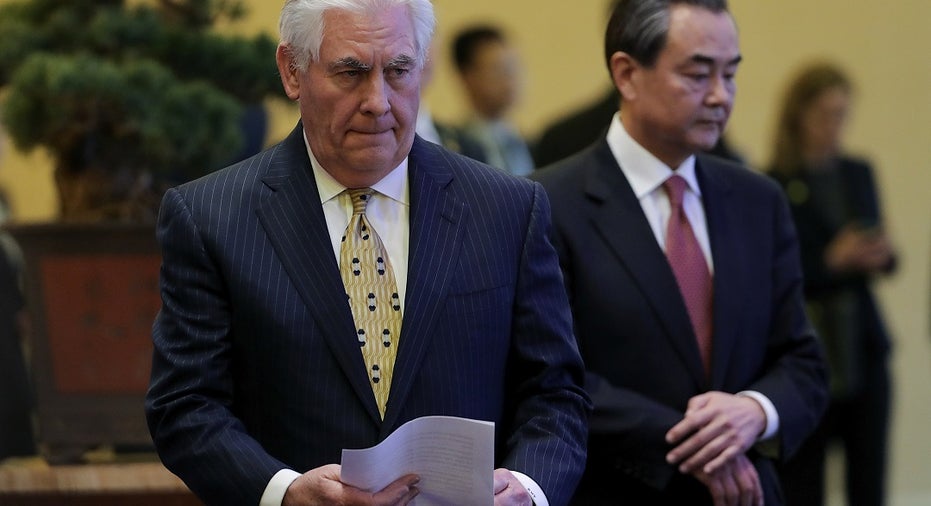 Sharp differences over North Korea dominated U.S. Secretary of State Rex Tillerson's talks with Chinese officials in Beijing on Saturday, even as both sides sought to smooth the way for a first meeting between their leaders in the weeks ahead.
Mr. Tillerson arrived in Beijing from Seoul, where he marked a tougher U.S. approach toward Pyongyang on Friday, ruling out direct talks advocated by China and raising the option of tougher sanctions and preemptive military action to address the threat from the North.
Ahead of Mr. Tillerson's arrival, U.S. President Donald Trump had risked further antagonizing Chinese leaders when he weighed in on Twitter later on Friday, accusing Beijing of not doing enough to rein in North Korea's nuclear program--an allegation China rejects.
Mr. Tillerson, who also visited Tokyo this week, toned down his public remarks in Beijing. He didn't directly address a question about Mr. Trump's tweet in a joint news conference after meeting Chinese Foreign Minister Wang Yi on Saturday.
The former Exxon Mobil Corp. chief executive, who is scheduled to meet President Xi Jinping on Sunday, said that he and Mr. Wang had a "very extensive exchange" on North Korea and agreed that tensions on the Korean peninsula had reached "a rather dangerous level."
"We committed ourselves to do everything we can to prevent any kind of conflict from breaking out," he said. "We view that there are a number of steps that we can take in front of us."
He also said Mr. Wang had agreed to work with the U.S. to try to "bring the government in Pyongyang to a place where they want to make a different course, make a course correction, and move away from the development of nuclear weapons."
Still, neither he nor Mr. Wang outlined any specific steps the two sides had agreed to take. Addressing the joint news conference, Mr. Wang also avoided direct comment on Friday's remarks from Messrs. Tillerson and Trump.
Instead, he defended China's role in international efforts to curb North Korea's nuclear program, and repeated Beijing's longstanding position that the crisis could only be resolved through talks involving Washington and Pyongyang.
"The most important principle we have identified is that no matter what happens, we have to stay committed to diplomatic means as a way to seek peaceful settlement," Mr. Wang said.
"We hope all parties including our friends from the United States could size up the situation in a coolheaded and comprehensive fashion and arrive at a wise decision."
He also said that both sides "hope to find ways to restart the talks."
Diplomats and analysts had expected both sides to be relatively restrained in their public remarks while engaging in heated private exchanges over North Korea.
Mr. Tillerson had been expected to raise the possibility of further sanctions on Chinese companies that U.S. officials believe support North Korea's nuclear program by trading with the country. China firmly opposes any such unilateral U.S. sanctions.
In turn, Chinese leaders had been expected to accuse the U.S. of aggravating tensions and warn that Washington has attempted a more coercive approach toward North Korea in the past, to no avail.
"These same tactics were once used by Trump's predecessor George W. Bush, and failed," the official Xinhua News Agency said in a commentary on Saturday.
Mr. Bush labeled North Korea part of an "axis of evil" in 2002, but later joined negotiations with Pyongyang after it agreed to disable its Yongbyon nuclear facilities in 2007.
"The approach illustrated that Washington needs to talk to [North Korea], not to terrorize it," the Xinhua commentary said.
The divergence in views on North Korea is one indication of the problems that remain in China-U.S. relations, despite a concerted effort by both sides to stabilize ties over the past few weeks.
Tensions flared in the period after Mr. Trump's election when he made a series of public remarks suggesting he would challenge China on trade and territorial issues, including the status of Taiwan.
Beijing's concerns have eased somewhat since Mr. Trump committed in a telephone call with Mr. Xi in February to observe the "one China" policy, by which Washington agrees not to recognize Taiwan diplomatically.
The priority for both sides now is to arrange a meeting between the two leaders, which the White House says is under discussion and Chinese officials say is scheduled to take place at Mr. Trump's private club in Florida, Mar-a-Lago, in April.
Mr. Wang said he and Mr. Tillerson had discussed the presidents' meeting, but he didn't provide any details.