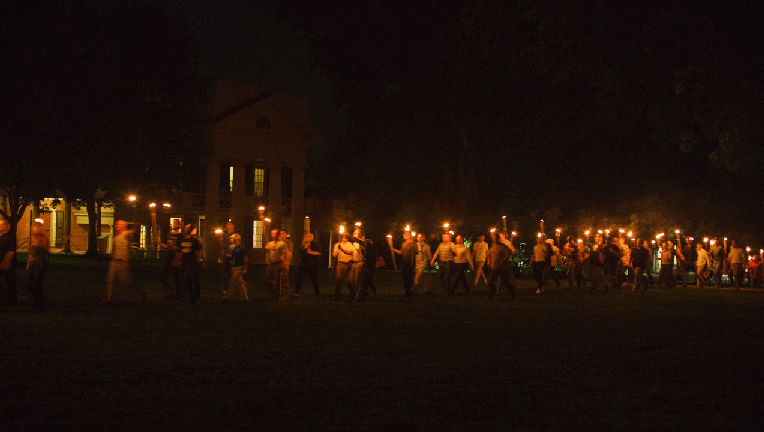 In the fallout from the violent and deadly protests in Charlottesville, Virginia over the weekend, one company is desperately seeking to distance itself from the movement: the manufacturer of the Tiki torches carried by white nationalists.
The head of a Georgia-based company that makes Tiki torches says he was offended by images of white supremacists marching through Charlottesville, Virginia, using his company's products.
W.C. Bradley Co. President and CEO Marc Olivie told the Columbus Ledger-Enquirer on Monday that the Columbus-based company's staff was "appalled and saddened" that the torches were "used by people who promote bigotry and hatred."
Many of the protesters who marched Friday carried Tiki torches. The Tiki brand is a product of Lamplight, a Wisconsin company that is a wholly owned subsidiary of the Bradley company. Lamplight made a Facebook post Saturday saying, in part, "TIKI Brand is not associated in any way with the events that took place in Charlottesville and are deeply saddened and disappointed ... Our products are designed to enhance backyard gatherings and to help family and friends connect with each other at home in their yard."
Other companies have also sought to dismiss any association with the white nationalists whose clashes with counter-protestors on Saturday resulted in the death of a woman who was struck by a car.
Internet domain registrar and web hosting company GoDaddy booted a white supremacist site – The Daily Stormer – for violating its terms of service. On Monday, Google announced it was canceling the domain name registrar from The Daily Stormer for the same reason.
The Associated Press contributed to this report.