These Are the Companies that Donated to President Trump's Inauguration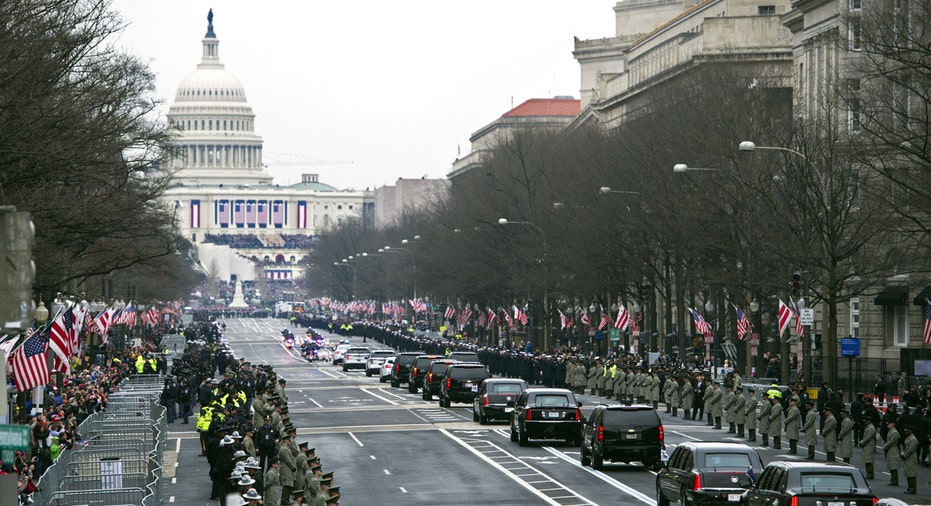 Last summer, many corporations hesitated to fund the Republican National Convention over concerns about Donald Trump, then the presumptive GOP nominee, leaving the Cleveland host committee with a $6 million gap days before the event began.
Months later, as Mr. Trump's supporters sought to raise money for his inauguration, those hesitations were gone. The donations help fund the parade, concert and other celebrations during the weekend.
At least four corporations that declined to support or reduced their donations to the July convention have given to Mr. Trump's inaugural committee, which raised a record $90 million, according to an official on the committee. That haul far surpassed the $44 million President Barack Obama's committee raised in 2013 and the $53 million it raised in 2009.
United Parcel Service Inc., Wal-Mart Stores Inc. and Coca-Cola Co. are among the companies that are supporting Mr. Trump's inauguration, after opting not to give or to reduce their donations to the convention last year. All three companies had given to previous conventions of both parties.
A spokeswoman for UPS confirmed that the company was supporting the inauguration but declined to provide an amount for its donation. It didn't donate to Mr. Obama's 2013 inauguration, though a spokeswoman said it had given to past inaugurations. In 2012, the company gave about $400,000, including in-kind donations, to the Republican convention in Tampa, Fla., according to Federal Election Commission records. UPS didn't donate to the Democratic convention last year either.
Wal-Mart has given $150,000 to the inaugural committee, as well as sponsoring a ball, according to spokesman Greg Hitt. In 2013, it didn't donate to Mr. Obama's inaugural committee but sponsored some events during the festivities, Mr. Hitt said. The company gave $15,000 to each national party committee to fund last year's conventions after giving $150,000 to the 2012 GOP convention.
Coca-Cola has made a donation to Mr. Trump's inaugural committee that was "in line" with the $430,000 it gave Mr. Obama's 2013 event, a spokesman said. The company donated $75,000 to the GOP convention last year, down from $666,200 in 2012. A spokesman noted that the company gave the same amount to both parties' conventions last year.
Other companies supporting the inauguration or surrounding festivities after having reduced or eliminated their donations to the GOP convention include Motorola Solutions Inc.
The donations illustrate Corporate America's shifting relationship with the new president, after most companies were wary about linking themselves to him as a candidate.
Most industries supported Democrat Hillary Clinton instead, and not a single Fortune 100 CEO gave to the Republican or his allied super PACs. In some instances, corporate executives drew harsh criticism for interacting with the Republican nominee: Intel Corp. CEO Brian Krzanich, for example, canceled an event with Mr. Trump at his home after news of his plans emerged.
Since the election, many companies have found themselves the target of Mr. Trump -- in particular, of his Twitter account.
In recent months, the president-elect has tweeted criticism of companies including General Motors Co. and Boeing Co., while praising others, such as Ford Motor Co., for expanding operations in the U.S. rather than in other countries. Many companies including Wal-Mart have successfully fended off criticism from Mr. Trump -- even getting praise over Twitter -- by touting job-creation numbers from previously announced plans.
In some cases, the targets of Mr. Trump's tweets have overlapped with the companies supporting his inauguration. Last month, the president chastised Boeing's price tag for its new 747 Air Force One. "Costs are out of control," he tweeted. "Cancel order!" Boeing has given $1 million to the inaugural committee, the same amount it gave to Mr. Obama's inauguration in 2013. A spokesman said the donation was made before Mr. Trump's tweet.
Beyond the hope of avoiding Mr. Trump's Twitter wrath, there are plenty of reasons for corporations to sponsor an inauguration. Many companies say they see it as a civic responsibility. Major donors also win prime placement of their names or those of their corporations on "select printed materials," according to a list of benefits viewed by The Wall Street Journal.
A major donation also wins corporations or individuals the ear of the president: Donors who give $500,000 or more receive tickets to a "candlelight dinner" attended by Mr. Trump and his wife, Melania, and Vice President Mike Pence and his wife, Karen.
Meanwhile, at least two major corporate donors to Mr. Obama's inauguration in 2013 have opted not to support the event this time around. Xerox Corp. and the Edison Electric Institute, which collectively gave $335,000 in 2013, aren't donating to the inauguration this year. Chevron Corp. halved its contribution to the inauguration this year, giving $500,000. It also plans to sponsor additional events, a spokeswoman said.
A spokesmen for Xerox said its decision was for reasons unrelated to Mr. Trump. A spokesman for Edison Electric, an association of shareholder-owned electric utilities, said Mr. Trump's inaugural committee didn't accept funding from trade associations or PACs.