The U.S. Is Falling Down, Literally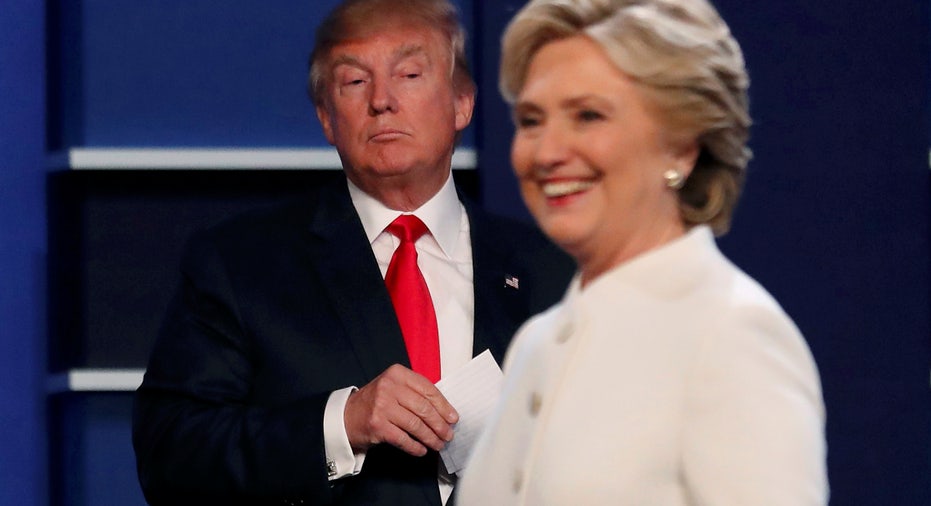 For critics of the United States' much-maligned infrastructure system, the deadly commuter train crash at a Hoboken, New Jersey station in September was just the latest indication that the next president of the United States should make it a priority to overhaul the nation's transportation hubs.
In a rare case of bipartisanship, both Donald Trump and Hillary Clinton have emphasized the need for an influx in infrastructure investment to address America's crumbling roads, airports and railways. Clinton's plan calls for $250 billion in direct investment and the creation of a $25 billion "infrastructure bank" that would purportedly raise an additional $225 billion. Trump has vowed to "at least double" the spending laid out in Clinton's plan, with $1 trillion raised primarily through private funding.
Industry advocates argue that a failure to rebuild key transportation systems wouldn't just be an issue of safety or aesthetics – it would have a direct impact on an already shaky economy. In its 2015 "Failure To Act" report, the American Society of Civil Engineers predicts subpar spending on infrastructure would cost the country 2.5 million jobs, $3.9 trillion toward the GDP and $7 trillion in lost business sales by 2025, due to inefficiency and repairs.
"It's a drag on the economy. It's so drip-drip-drip and imperceptible, people don't even notice it," Casey Dinges, managing director of the American Society of Civil Engineers, told FOXBusiness.com.
Given the complex balance of public and private partnerships that compose America's aging transportation systems, increased funding is only part of the solution. The American infrastructure system as a whole received a grade of "D" across 16 categories according to the ASCE's 2013 report, the most recent.
"If a kid came home with grades like that, no parent's going to be happy," Dinges said.
Trump has been particularly critical of the state of the country's airports, while praising foreign aviation hubs.
"Our airports are like from a Third World country. You land at LaGuardia, you land at Kennedy, you land at LAX, you land at Newark and you come in from Dubai and Qatar and you see these incredible -- you come in from China -- you see these incredible airports and you land... we become a Third World country," Trump said during the first presidential debate.
The Federal Aviation Administration may agree. It estimated that congestion and delays in the nation's airports would cost the country $34 billion by 2020, according to a 2013 report.
The ASCE estimates that the country needs to spend $1.4 trillion on infrastructure by 2025 to address lingering issues, including $1.1 trillion toward surface transportation systems alone. But just $42 billion – a fraction of the country's GDP – would be sufficient to fix the nation's airports.
"The funding gap is manageable, doable. It should be something, over 10 years, the nation should be able to address, given the size of the GDP of the United States and the importance of airports," Dinges said.
However, addressing the U.S. rail system is more complicated. The victorious candidate will have to navigate interlocking public and private partnerships and secure funding for key safety features like positive train control, an expensive but life-saving technology. Critics argue that installation of PTC and similar systems could have prevented the accident in Hoboken and the 2015 Amtrak derailment outside Philadelphia that killed eight and injured dozens.
As a nonprofit organization, the ASCE does not take a stance in presidential elections and does not endorse candidates.
Trump's plan, constructed by economic advisors Peter Navarro and Wilbur Ross, would rely mostly on private funding and offer tax credits to incentivize outside firms to invest in public works. During an interview with FOX Business Network, Ross said the plan will put one million experts to work.
Clinton's plan, laid out in detail on her campaign website, would rely primarily on taxes to fund federal investment. The Democratic nominee has vowed to pass a comprehensive plan for reform within her first 100 days in office.
In August, Clinton identified infrastructure as a "national emergency."
"We are going to have an investment in infrastructure—our roads, our bridges, our tunnels, our ports, our airports," Clinton at a rally in Las Vegas, according to the Wall Street Journal. "But it's not only what you can see. It's also under the ground—the water systems, the sewer systems and, yes, we need a new modern electric grid."
Dinges acknowledged that Clinton is seasoned in relation to infrastructure policy, having worked on the Senate's Environment and Public Works Committee during her time in Congress. But Trump's plan – if it proves to be actionable – comes closer to the ASCE's spending projections.
"The mere fact that you have two finalists for the U.S. presidency talking about infrastructure is definitely a bit of a sea change for this issue and a good thing," Dinges said. "Presidential leadership would be key on this."