Tesla corporate campaign costs UAW hundreds of thousands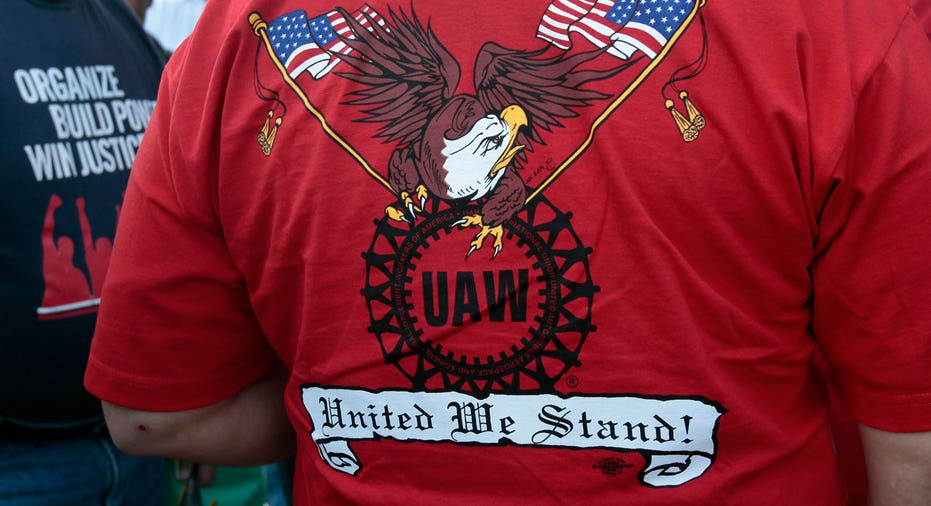 The United Auto Workers (UAW) is waging a corporate campaign against electric vehicle maker Tesla as the union tries to recruit the company's employees.
The group reported in a recent filing with the Labor Department that it spent at least $422,000 in 2017 on items related to its Tesla campaign. Among those items were videos, t-shirts, ads and campaign fliers.
The union spent more than $130,000 on two different hotel stays near Tesla's manufacturing plant in Fremont, California, which was formerly operated by a General Motors-Toyota joint venture.
The UAW spent $52,200 on rent for "additional space" in Fremont for what it classified under the purpose of "Tesla."
Earlier this year, the UAW filed a complaint with the National Labor Relations Board alleging that Tesla fired workers at the plant for trying to start a union.
"The UAW is clearly doing what's known as a corporate campaign against Tesla," Vinnie Vernuccio, a senior fellow at the Mackinac Center for Public Policy, told FOX Business. "You see that by the organizing drives out West, but you also see that by their attempts to harm Tesla's business model out East."
While the union is trying to organize workers at the Tesla plant in Fremont, it is also attempting to stop Tesla from selling cars directly to consumers rather than through a dealership.
Vernuccio, who worked at the Department of Labor under President George W. Bush, said the UAW is following a traditional strategy of attempting to tarnish a company's reputation and taking legislative action to harm its bottom line. The goal, according to Vernuccio, is to get the company to cave to certain provisions, including signing a neutrality agreement, giving the union contact information for employees and eliminating its secret ballot, by which employees vote to recognize the union. Instead of a secret ballot, the union favors what is known as a card check, in which workers sign union membership forms in the presence of organizers.
"These cards are not the best indication of employee choice," Vernuccio said. "[The UAW is] doing whatever they can to get membership."
Union membership is on the decline, especially in the private sector. The overall rate of union membership was 10.7% last year, compared with 20.1% in 1983, according to the Bureau of Labor Statistics. In 2017, 6.5% of private-sector workers belonged to a union, while 34.4% of public-sector workers were members.
Tesla isn't the UAW's only target as it tries to increase its due-paying members. The union is also targeting Nissan and anyone else where "they can try to get a foot in the door," according to Vernuccio.
"Their entire business model is still turn-of-the-last-century, Industrial Revolution, one-size-fits-all," Vernuccio said. "Today's workers aren't responding to that, so that's why the UAW is stuck resorting to these tactics. If they were smart, they would adapt to today's workforce."
The UAW declined to comment at the time of publication. Tesla did not immediately respond to FOX Business' request for comment.