Tentative Deal on U.S. Budget, Debt Limit Reached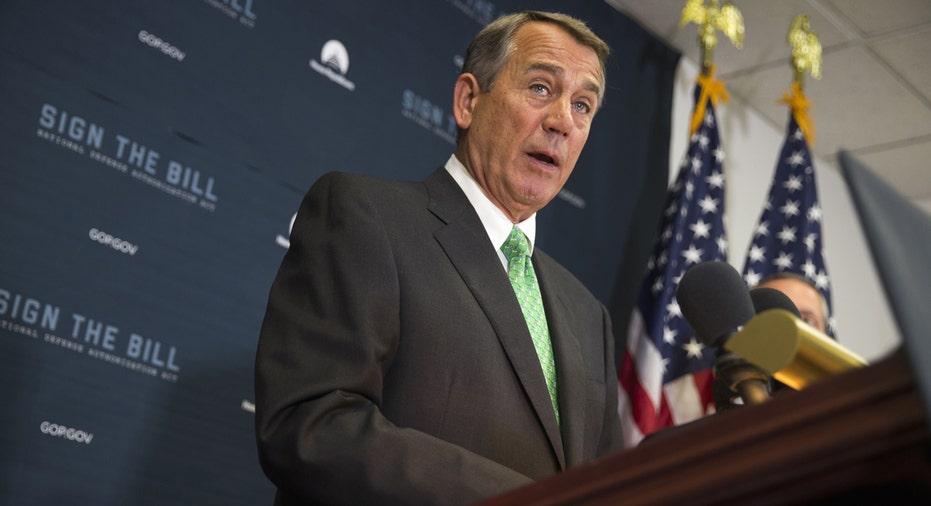 The White House and congressional leaders reached a tentative deal Monday on a two-year budget plan that also would raise the federal debt limit.
If approved by Congress, the broad pact would allow House Speaker John Boehner (R., Ohio) to resolve two of the thorniest fiscal hurdles before he resigns later this week. If it fails, it could leave the U.S. government a week away from potentially being unable to pay all its bills.
The plan is designed to remove the risk that the government might default and diminish the prospect of a partial government shutdown in December. It would suspend the debt limit through mid-March 2017 and boost spending by $80 billion through September 2017. Lawmakers still would need to pass detailed spending bills by December, likely in one combined measure.
For it to pass the House, the pact will need to quickly win backing from most Democrats and at least a few dozen Republicans who have frequently balked at spending and debt-ceiling bills they say don't do enough to shrink the budget deficit.
At the same time, the White House and GOP leaders will have to make sure the provisions used to pay for the deal don't alienate liberal Democrats, who could oppose changes to safety-net programs.
On Nov. 3, the Treasury will exhaust emergency cash-management measures that it has employed since March if the debt limit isn't increased. Congress, meantime, faces a Dec. 11 deadline when funding for the government runs out.
Congressional Republicans have been torn apart by intraparty feuds, resulting in Mr. Boehner's surprise decision last month to resign. Still, he has stitched together a few bipartisan accomplishments this year, including a payment-funding fix to Medicare this spring and trade-negotiation authority this summer.
Resolving both major fiscal issues would ease the burden for Rep. Paul Ryan (R., Wis.), who is expected to become House speaker when elections take place Thursday.
Beyond that, the deal could avoid election-year brinkmanship between Republicans and Democrats and within the GOP, which faces a rift between defense hawks and deficit hawks. By getting past funding showdowns with President Barack Obama, it could allow Republicans to focus on maintaining control of Congress and taking back the White House.
"The thing that markets want most from Washington is certainty and stability, and they get that through this sort of a deal," said Terry Haines, a policy analyst at ISI Evercore in Washington.
Passage of the deal would show there is still "a broad, bipartisan center in Congress that is dedicated to getting major things done," said Mr. Haines.
The deal would allow Mr. Boehner and Senate Majority Leader Mitch McConnell (R., Ky.) to see through vows they made to avoid government shutdowns or defaults when Republicans expanded their congressional majorities one year ago. The White House and Democrats, meanwhile, would be able to maintain a pledge to evenly ease spending limits set in 2011 on military and domestic spending.
The White House has said it won't negotiate policy changes on the debt limit. But the administration said it would be open to such a deal that lifts spending caps set in law, called the sequester, with offsetting savings from other programs that aren't subject to annual appropriations bills.
The House is expected to vote on the agreement potentially on Wednesday, before the legislation moves to the Senate.
GOP leaders briefed House and Senate Republicans on the deal's outlines Monday night. Many House Republicans were noncommittal, saying they needed to see more details of the deal before forming an opinion.
Rep. Mike Turner (R., Ohio), who has led a GOP push to boost military spending, said he thought the deal would attract the support of Republican defense hawks.
"There is tremendous value in a two-year deal, as it provides the Department of Defense with the certainty it needs to plan for an execute various missions around the world," Mr. Turner said in a statement Monday night.
But some House Republicans objected to voting on a deal secretly hammered out by their leaders at the 11th hour.
"The leadership team negotiated a deal without speaking to any members of the [GOP] conference," said Rep. Justin Amash (R., Mich.) "That's wrong."
The budget agreement would boost defense funding for the next two years, a priority of many Republicans, while raising nondefense discretionary spending, a White House priority. The deal would increase spending by $50 billion in fiscal year 2016 and $30 billion in fiscal year 2017, split evenly between military and domestic spending.
Measures used to offset the bill's cost would look for savings or revenue from a wide variety of programs, including crop insurance, radio spectrum auctions, and oil sales from the Strategic Petroleum Reserve, among others.
The deal would make changes to the Social Security program used to help support disabled people.
The trust fund for the Social Security Disability Insurance program could be exhausted by next fall, triggering a 19% benefit cut for workers who collect disability. The newest deal could spell out a formula to avoid those automatic cuts.
The deal also looks to address an increase in premiums and deductibles for the 52 million people enrolled in Medicare Part B, which covers outpatient care such as doctor visits.
Premiums and deductibles are rising next year due to a quirk in the formula governing such payments for years when Social Security benefits don't receive an annual cost of living increase, as is the case for next year.
The agreement would also repeal a delayed provision of the 2010 health law requiring employers to automatically enroll workers in company plans.
The talks among Mr. Boehner, other congressional leaders and the White House began last month and have been focused on resolving both next year's spending levels and the debt limit. They appeared to have stalled two weeks ago over disagreements about how to pay for any relief from the sequester, which remains the biggest sticking point in the current discussions.
Congressional leaders turned their attention toward resolving only the first deadline, for the debt limit. Last week, doubts surfaced among Republicans over whether they could secure the minimum 30 votes to join with Democrats to pass a "clean" debt-limit bill, meaning it won't carry policy changes.
Such changes are unlikely to pass the Senate, where Republicans control 54 seats but need 60 votes to overcome procedural hurdles.
"I don't see how a clean debt ceiling [increase] passes this floor," House Majority Leader Kevin McCarthy (R., Calif.) told reporters Monday. "If you could get some entitlement reform moving this process forward, that would be a very big positive."
Carol E. Lee contributed to this article.
Write to Kristina Peterson at kristina.peterson@wsj.com, Nick Timiraos at nick.timiraos@wsj.com and Siobhan Hughes at siobhan.hughes@wsj.com