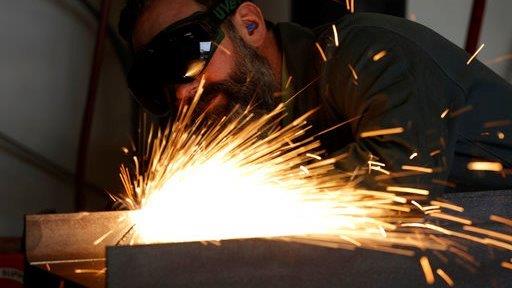 Marlin Steel CEO Drew Greenblatt says that if President Trump can get his corporate tax cuts pushed through Congress, we will see a "huge American manufacturing renaissance" in an interview on FOX Business Network's Varney & Co.
Greenblatt, along with other manufacturing executives met with the Trump team in the White House on Friday following The National Association of Manufacturers Outlook Survey for the first quarter of 2017.
The survey found that a record-high 93% of manufacturers now have a positive outlook for the future of the industry, up from 56% just before the election.
Trump is proposing a 15% corporate tax rate, down from the current 35% rate and has floated the idea of a border-adjustment tax that would tax products imported into the U.S. and exempt U.S. exports.
Marlin Steel is currently competing with a German company to build a factory in Europe, Greenblatt says if "we win this job, we are going to hire a lot of unemployed steel workers and if we lose this job, it is going to be because of the tax rates."
Greenblatt explains that tax cuts are the factor in bringing steel and manufacturing jobs back to America.
"We use 100% USA steel from Indiana, from Illinois, so we want this job very badly. This is where it really matters, this is where the rubber hits the road," Greenblatt said. "...The American manufacturers, the job creators, the people that stroke the checks that hire the people are pumped up, they are fired up."