Talk Gets Personal as Budget Deal Stalls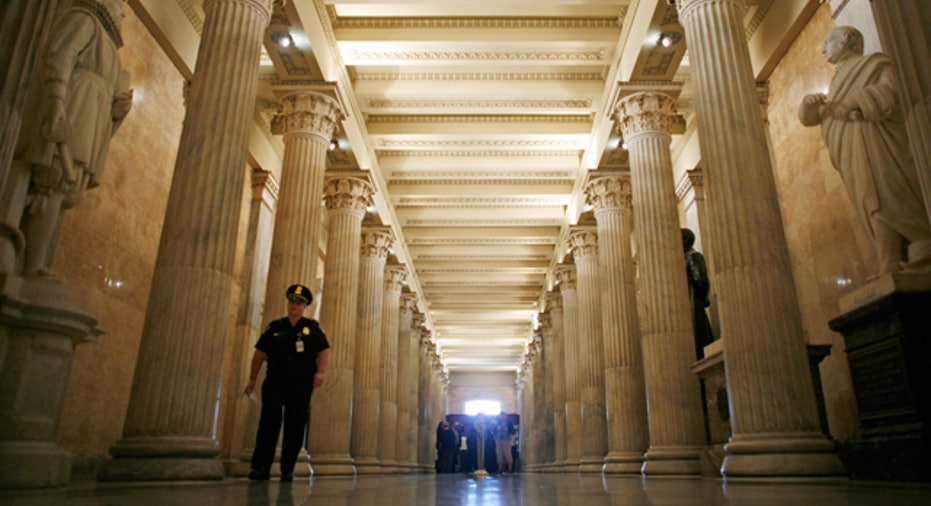 Talks to avoid a fiscal crisis appeared to stall on Wednesday as President Barack Obama accused Republicans of digging in their heels due to a personal grudge against him, while a top Republican called the president "irrational."
As the clock ticks toward a year-end deadline, Obama and House of Representatives Speaker John Boehner, the top Republican in Congress, are trying to reach a deal to avert harsh tax hikes and spending cuts that could trigger a recession.
Obama said he was puzzled over what was holding up the talks and told Republicans to stop worrying about scoring "a point against the president" or forcing him into concessions "just for the heck of it."
"It is very hard for them to say yes to me," he told a news conference in the White House. "At some point, you know, they've got to take me out of it."
The rise in tensions threatens to unravel significant progress made over the last week in the so-called fiscal cliff talks.
Boehner and Obama have each offered substantial concessions that have made a deal look within reach. Obama has agreed to cuts in benefits for seniors, while Boehner has conceded to Obama's demand that taxes rise for the richest Americans.
However, the climate of goodwill has evaporated since Republicans announced plans on Tuesday to put an alternative tax plan to a vote in the House this week that would largely disregard the progress made so far in negotiations.
Obama threatened to veto the Republican measure, known as "Plan B," if Congress approved it.
Boehner's office slammed Obama for opposing their plan, which would raise taxes on households making more than $1 million a year and is a concession from longstanding Republican opposition to increasing any tax rates.
"The White House's opposition to a backup plan ... is growing more bizarre and irrational by the day," Boehner said through his spokesman, Brendan Buck.
Boehner expressed confidence the House would pass the legislation, known as "Plan B," on Thursday. He urged Obama to "get serious" about a balanced deficit reduction plan.
Global investors are on edge over the talks, and U.S. stocks fell on Wednesday following Boehner's comments.
An acrimonious presidential campaign that culminated in Obama's re-election on November 6 has added to the bad blood in Washington between Obama and congressional Republicans.
The two sides also clashed bitterly last year over the government's limit on borrowing - known as the debt ceiling - an episode that nearly led the nation to default on its debt.
On Wednesday, Obama said the fiscal cliff must not get bogged down with negotiations over the debt ceiling, an issue that must be dealt with again early next year.
LITMUS TEST
Voting on Plan B will be a litmus test for Republicans on Boehner's concession to raise tax rates. In a sign conservatives are coming around to Boehner's position, anti-tax activist Grover Norquist gave his blessing to the bill.
Obama and Boehner appear to have bridged their biggest ideological difference but remain hung up on the mix of tax hikes and spending cuts meant to narrow the budget gap.
"What separates us is probably a few hundred billion dollars," Obama said.
The White House wants taxes to rise on incomes above $400,000 a year, a concession from Obama's opening proposal for a $250,000 income threshold.
If a deal is not reached soon, some $600 billion in tax hikes and spending cuts are set to begin next month.
Senior administration officials described negotiations as at a standstill and Obama warned he would ask everyone involved in the talks, "what it is that's holding it up?"
Still, the top Republican in the Senate said resolution could come by the end of the week.
"There's still enough time for us to finish all of our work before this weekend, if we're all willing to stay late and work hard," said Senate Republican leader Mitch McConnell.
Any deal by Obama and the Republican leadership would need the support of their parties' rank and file.
Many Democrats dislike the president's offer to reduce benefits to seniors, although some political allies of Obama have given signs they feel they could swallow this concession.
"I don't like these particular changes," said Democratic Representative Chris Van Hollen, a member of the House leadership from Maryland. But he added: "What people are seeing is the president willing to compromise in order to get things done."