Syria Sends Tanks to Where Uprising Began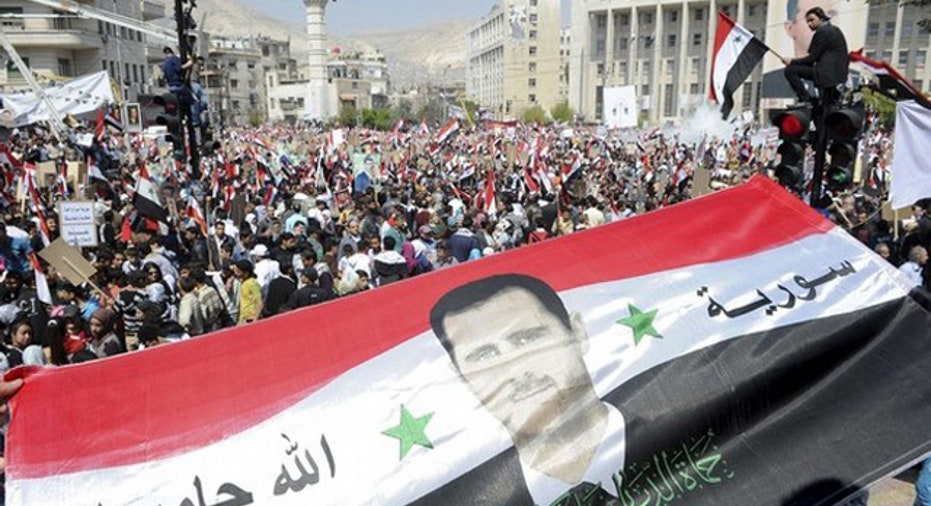 Syrian troops and tanks poured into Deraa on Monday, seeking to crush resistance in the city where a month-long uprising against the autocratic 11-year rule of President Bashar al-Assad first erupted.
A prominent activist said at least 18 people were killed in the first reported use of tanks inside a population center since peaceful pro-democracy demonstrations began in the southern city, close to the border with Jordan, on March 18.
The White House, deploring "brutal violence used by the government of Syria against its people," said President Barack Obama's administration was considering targeted sanctions to make clear that "this behavior is unacceptable."
A U.S. official said that measures under consideration included a freeze on assets and a ban on U.S. business dealings.
Security forces have killed more than 350 civilians across Syria since unrest broke out in Deraa, rights groups say. A third of the victims were shot in the past three days as the scale and breadth of a popular revolt against Assad grew.
Assad lifted Syria's 48-year state of emergency on Thursday but activists say the violence the following day, when 100 people were killed during protests across the country, showed he was not serious about addressing calls for political freedom.
A leading human rights campaigner said security forces, which also swept into the restive Damascus suburbs of Douma and Mouadhamiya, shooting and making arrests, were waging "a savage war designed to annihilate Syria's democrats."
Monday's raids suggested Assad, who assumed power when his father died in 2000 after ruling Syria with an iron fist for 30 years, was determined to crush the opposition by force.
Opposition activist Ammar Qurabi, in contact with the Syrian opposition from Egypt, said at least 18 people were killed by gunfire and tank shelling in Deraa alone, with many more wounded or missing.
State news agency SANA said the army entered Deraa in response to "appeals for help" from residents and to protect them from "extremist terrorist groups." It said clashes had led to fatalities on both sides, without giving details.
TANKS OUTSIDE MOSQUE
Earlier, a witness in Deraa told Reuters he could see bodies lying in a main street near the Omari mosque after eight tanks and two armored vehicles were deployed in the old quarter.
"People are taking cover in homes. I could see two bodies near the mosque and no one was able to go out and drag them away," the witness said.
Snipers were posted on government buildings, and security forces in army fatigues had shot at random at houses since the tanks moved in just after dawn prayers, the witness said.
Tanks at the main entry points to Deraa also shelled targets in the city, a resident named Mohsen told Al Jazeera, which showed images of a black cloud of smoke over buildings. "People can't move from one street to another because of the shelling."
Abdallah Abazaid, another activist, told Al Arabiya television there were "20 martyrs," and that five officers and 10 soldiers refused orders to shoot residents.
"They have quit their positions because they found us unarmed," Abazaid said. His comments about army defections could not be confirmed but another witness told Al Jazeera that a unit commander and his troops fired on their own side, apparently to allow people to drag the wounded from the street.
"I hope that Arab and Muslim nations support the Syrian people. The Syrian people are standing alone, unarmed and unequipped, before an arsenal," the imam of Deraa's Omari mosque said in footage broadcast by Al Jazeera.
Foreign journalists have mostly been expelled from the country, making it impossible to verify the situation on the ground. Grisly footage posted on the Internet by demonstrators in recent days appears to show troops firing on unarmed crowds.
"OUTRAGEOUS VIOLENCE"
Assad has deepened his father Hafez al-Assad's alliance with Iran, clawed back influence in Lebanon and backed Hezbollah and Hamas militants, but he has kept Syria's front line with Israel quiet and held indirect peace talks with the Jewish state.
Western criticism of the crackdown was initially muted, partly because of fears that a collapse of his minority Alawite rule in the majority Sunni country might lead to sectarian conflict. But on Friday Obama urged Assad to stop the "outrageous use of violence to quell protests."
Suhair al-Atassi, a leading Syrian human rights campaigner, said authorities had launched "a savage war designed to annihilate Syria's democrats."
"President Assad's intentions have been clear since he came out publicly saying he is 'prepared for war'," Atassi said, referring to a March 30 speech to parliament.
U.N. High Commissioner for Human Rights Navi Pillay called for detained activists and political prisoners to be released.
"The first step now is to immediately halt the use of violence, then to conduct a full and independent investigation into the killings, including the alleged killing of military and security officers, and to bring the perpetrators to justice."
At the United Nations, Britain, France, Germany and Portugal asked the Security Council to condemn the crackdown and urge restraint by the government, council diplomats said, but it was unclear whether Russia and China would support the idea.