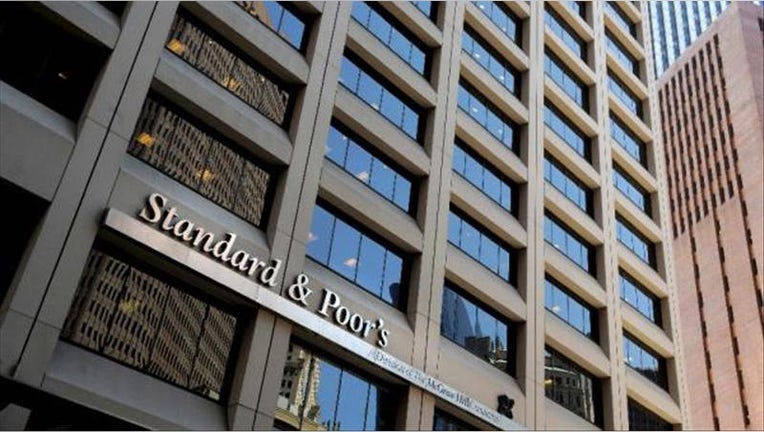 Standard & Poor's reaffirmed its AA+ rating on U.S. debt and revised its U.S. credit outlook to stable from negative.
The move comes almost two years after the credit rating firm's historic downgrade of the U.S., when S&P also put the U.S. on negative outlook.
S&P 500 cited receding fiscal risks and a "diversified" U.S. economy, warning it sees "tentative," but improving progress on fiscal policy in D.C.
S&P now says its stable outlook means that "some of the downside risks" to its AA+ rating "have receded to the point that the likelihood that we will lower the rating in the near term is less than one in three."
Despite growing fears, S&P said it expects "the U.S. dollar to retain its long-established position as the world's leading reserve currency."
S&P also raised its outlook for the Federal Reserve and the Federal Reserve Bank of New York's ratings to stable from negative, which portends more bond buying by the central bank.
The 10-year Treasury note is sticking at around 2.2% to 2.3%, below what it yielded, 2.57%, ahead of S&P's infamous downgrade on August 5, 2011.
S&P said: "We believe the Federal Reserve System has strong control over dollar liquidity conditions given the free-floating U.S. exchange rate regime." It also called the Fed's intervention in the markets "timely and effective" in lessening the shocks from the Great Recession with little in the way of inflation.
"Since 1991, the Fed has kept inflation (measured by CPI) in the 0%-5% range," it says.
S&P also sees "tentative improvements on two fronts."
S&P cited the fiscal cliff deal, which "did result in some fiscal tightening beyond" the Budget Control Act of 2011, it said. The fiscal cliff deal let  previous tax cuts expire on high-income earners, S&P noted. S&P reiterated, though, its previous concern that increased political partisanship in D.C. will stop fixes to "the country's medium-term fiscal challenges."
The rating agency says it does "expect some political posturing to coincide with raising the government's debt ceiling, which now appears likely to occur near the Sept. 30 fiscal year-end."
But despite that, S&P says implicit in its outlook revision is its belief that fight "will not result in a sudden unplanned contraction in current spending -- which could be disruptive -- let alone debt service."
S&P also cited in its reaffirmation "stronger-than-expected private-sector contributions to economic growth, combined with increased remittances to the government by the government-sponsored enterprises Fannie Mae and Freddie Mac (reflecting some recovery in the housing market)."
It noted those trends "led the Congressional Budget Office (CBO), last month, to revise down its estimates for future government deficits."
S&P now expects the "U.S. general government deficit plus non-deficit borrowing requirements to fall to about 6% of GDP this year (down from 7%, in 2012) and to just less than 4% in 2015."
It now sees "net general government debt as a share of GDP staying broadly stable for the next few years at around 84%," giving small breathing room to lawmakers.
But it does warn about a growing inability of elected officials "to react swiftly and effectively to public finance pressures over the longer term" versus government officials in "highly rated" countries.