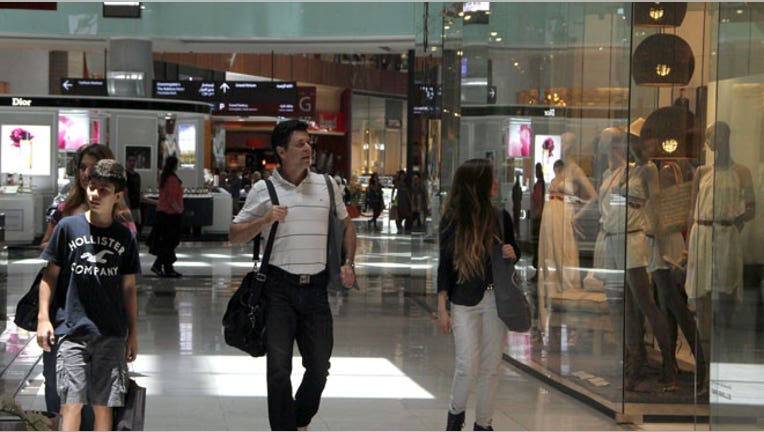 A disappointing retail sales report released Tuesday suggests the economy may be dragging its feet again after signs of perking up, a situation that muddies the waters for Federal Reserve policy makers mulling the timing of an interest rate hike.
Retail sales are in many ways synonymous with consumer spending, and the latter represents 70% of the American economy. So if retail sales are weak it's a good indication that the rest of the economy is struggling as well.
"Unexpectedly weak retail sales data adds to signs that the U.S. economy is slowing again after pulling out of the soft patch earlier in the year. Any signs of slower growth could easily dissuade the Fed from hiking interest rates later this year, pushing the first rate rise into 2016," said Chris Williamson, chief economist for research firm Markit.
An unforeseen drop in consumer spending cut into retail sales last month, according to the report released by the Commerce Department. Notably, sales at restaurants and retailers fell 0.3% in June from May. Economists surveyed by Thomson Reuters had forecast a 0.2% increase.
Other figures in the report were revised downward, an indication that the slowdown began in the spring and is now spreading into summer. May's monthly growth rate was revised lower to 1.0% from 1.2% originally reported. Sales in April were unchanged, which represented a downward revision to the 0.2% growth initially reported. If the automotive component is factored out, sales in June declined 0.1%, also badly missing the estimate for a 0.5% rise. May's ex-auto growth rate was revised lower to 0.8% from 1.0%.
"This is not a good report. Consumers are still cautious despite modest price inflation, relatively well-received employment reports, and elevated levels of consumer confidence. The May and June retail sales figures taken together reveal modest American consumer spending patterns," said IHS Global Insight economist Chris Christopher.
Simply Put, Consumers Remain Skittish
Simply put, despite broad gains in the labor market, consumers remain skittish seven years past the 2008 financial crisis. The main culprit cited by economists for the lingering uncertainty among consumers is labor market 'slack.'
The headline unemployment rate has been cut nearly in half since hitting a recession high of 10% in October 2009 and the economy has generated an average of nearly 230,000 new jobs each month during the past year.
But many of these jobs are low-paying service sector positions in restaurants or other areas of the hospitality industry. Or else they are part-time or temporary positions. This is what generates the so-called 'slack.'
Many people holding these jobs want to leave them for higher-quality, better-paying positions and as long as this pool of surplus workers exists employers don't have to raise wages significantly to attract new employees.
With wages stagnant for months and many Americans holding low-paying jobs and without much hope for a raise, consumer spending hasn't risen in tandem with the declining unemployment rate.
All of this mixed economic data has vexed central bankers who are waiting for a string of unequivocally positive reports to justify raising rates.