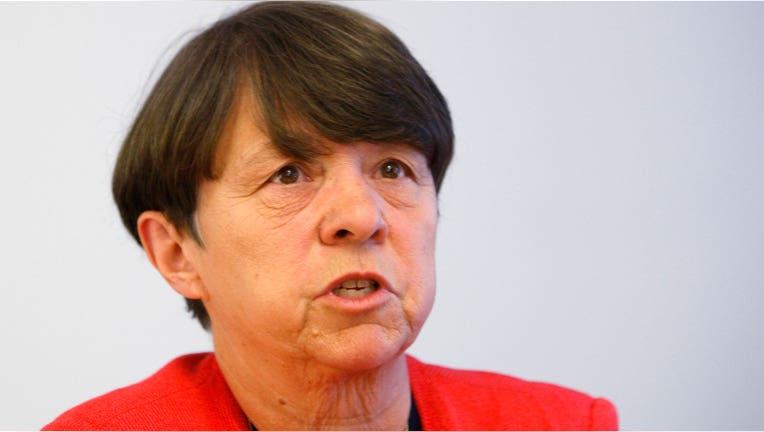 By nominating Mary Jo White as the next chairman of the Securities and Exchange Commission, the White House tapped a former prosecutor who is unlikely to go soft on financial crime and has the ability to help restore faith in the fairness and safety of the capital markets.
While she may have to lean heavily on the SEC staff on matters of market structure and rulemaking, insiders describe White as a tough but fair person who has the star power needed to attract top talent to Wall Street's chief enforcement agency.
White's selection also signals a willingness by the Obama Administration to crack down on illegal behavior, something critics charge the SEC failed to aggressively pursue over the past four years.
"Wall Street and its allies intimidate people. They're not going to intimidate Mary Jo White," said Dennis Kelleher, CEO of Washington, D.C.-based nonprofit Better Markets.
If confirmed, White would be the first former prosecutor to assume the position of Wall Street's top cop.
Prosecutor Turned Defense Attorney Turned Regulator
As the first female U.S. Attorney for the Southern District of New York, White prosecuted a slew of high-profile cases, including convicting terrorist mastermind Ramzi Yousef after the 1993 World Trade Center bombing.
Since then White has served as a partner at the prestigious white-collar New York law firm of Debevoise & Plimpton.
J.P. Morgan Chase (NYSE:JPM) CEO Jamie Dimon told FOX Business he believes White is "extremely capable, competent, bright and tough" and called her a "perfect choice" as the next SEC chairman.
The selection of a former prosecutor to head the SEC took some by surprise, especially because White's name wasn't bandied about as a potential nominee until recently.
"It is a bit unusual and out of the box," said Rick Firestone, a former associate director of the SEC's Division of Enforcement who interacted with White when she was a defense attorney. "It signals the Obama Administration still wants the SEC to be perceived, and if not in actuality be, a tough cop on Wall Street."
Tougher Enforcement Ahead?
Firestone said concerns about White's prior experience as a prosecutor "might be a little out of proportion," noting her decade in private practice. "In my experience working with Mary Jo, she is a first-grade intellect, a fine securities lawyer and a very fair and reasonable person," he said.
During the tenure of former chairman Mary Schapiro, the SEC came under fire in some corners for not more aggressively prosecuting crisis-era crime on Wall Street.
Robert Khuzami, the outgoing SEC enforcement chief, pushed back at that criticism, telling FOX Business on Wednesday: "We've been the most vigorous enforcement agency out there; it's a very real record of accomplishment."
Still, White's appointment "sends a clear message that if anything the enforcement efforts of the past four or five years are going to be increased significantly," said Gregory Little, a partner at White & Case who previously served as trial counsel for the SEC.
Can White Boost Confidence?
Rather than counting convictions, perhaps the best way to measure the success of White's leadership at the SEC will be whether investor confidence in the safety and soundness of the financial markets increases during her tenure.
White's nomination comes as some investors question whether or not the markets are still fair to ordinary investors and amid questions about the safety of the markets' increasingly-complex structure.
"Too many people believe our markets are rigged by insiders for insiders. When people believe that they don't invest in our markets because they don't trust them. That is terrible not just for our markets but for our entire economy," said Kelleher. "I think Mary Jo White understands that."
Kelleher said by making investors believe there is a "cop on the beat" and "our markets are fair and open," the SEC can help "restore our markets to the broadest, deepest and best markets in the world."
This task can't be achieved with enforcement actions alone, though. The SEC will need to continue efforts to increase disclosure, investigate the pitfalls of high-frequency trading and clarify regulatory concerns by finalizing Dodd-Frank rules.
'Learning Curve'
It's not clear if White has the experience to tackle these difficult and important issues.
"I do think it's going to be perhaps a learning curve for her on regulatory issues," said Firestone, a partner at McDermott Will & Emery. He suggested that while White has a "deep understanding of the market" she may need to lean on the "very experienced SEC staff."
Likewise, White doesn't appear to have deep market-structure experience needed to delve into high-frequency trading, though she did sit on the board of the Nasdaq Stock Market.
"I'm hopeful she will see the threat posed to our markets by the predatory conduct of so much of the high frequency, high computer trading," said Kelleher, who said some HFT is just "profit maximization for the select insider few at the expense of the markets of the many."
Some believe White will be able to lead a recruitment turnaround at the SEC, luring other talented financial and legal individuals to the agency instead of higher-paying private jobs.
Keller said, "The SEC needs to become a beacon for talent: Come to the SEC and serve the public and restore that agency to its historically vaunted status."