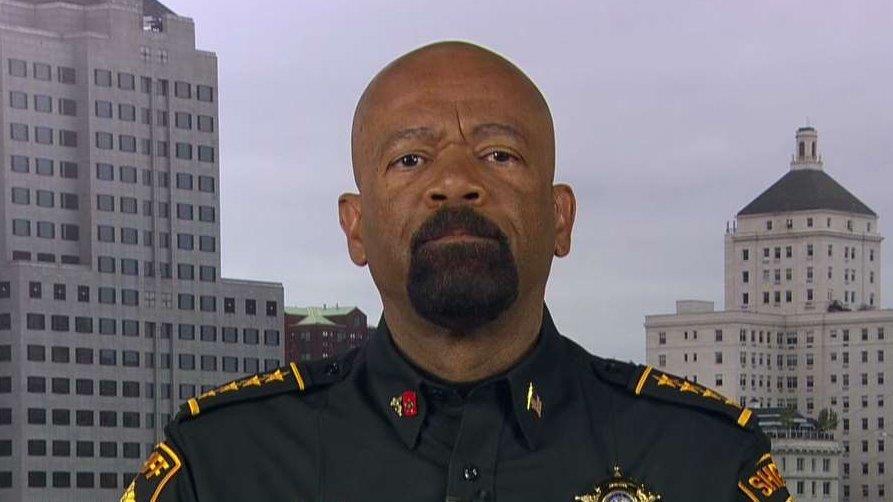 Milwaukee County Sheriff David Clarke weighed in on gun violence in Chicago, the recent string of attacks on police officers and the allegations of racism against Sen. Jeff Sessions.
Clarke discussed the dispute over shoes that led to the fatal shooting of the grandson of Illinois Rep. Danny Davis, which has brought renewed attention to the issue of gun violence in Chicago.
"You're talking about this senseless bloodshed over shoes, that's cultural dysfunction. This is the thing that Donald Trump…talked about on the campaign trail, about the lawlessness and the need for law and order in the American ghetto and cities like Chicago," Clarke told the FOX Business Network's Stuart Varney.
Despite the violence, Mayor Rahm Emanuel has vowed that Chicago will always be a "sanctuary city" for undocumented immigrants. According to Clarke however, it will not be up to Emanuel, especially with an incoming administration that is expected to have a stronger stance against illegal immigration.
"First of all, illegal aliens, illegal immigrants are not citizens. His [Emanuel's] duty and obligation first is to the law-abiding citizens of the city of Chicago. And in the end it's not going to be up to him as to whether he will deport, that will be up to immigration and customs enforcement and the border control as well."
Clarke then reacted to four recent attacks against police officers that took place within 24 hours.
"This senseless slaughter of the American police officer continues. A lot of this has to do with the negative, dangerous rhetoric that has been bandied about over the last several years. This isn't anything recent."
More from FOXBusiness.com…
Clarke then weighed in on allegations that Sen. Jeff Sessions, (R-Ala.), President-elect Donald Trump's pick for Attorney General, made some racially insensitive remarks decades ago.
"Well, first of all, you won't find a more fair, a more qualified, a more dedicated to the rule of law in the United States Constitution and justice for all persons than Sen. Jeff Sessions." Clarke continued, "I know Jeff Sessions…I've met him, I've worked with him on Capitol Hill – he doesn't have a racist bone in his body."