Sheldon and Miriam Adelson met with Trump amid Las Vegas shooting aftermath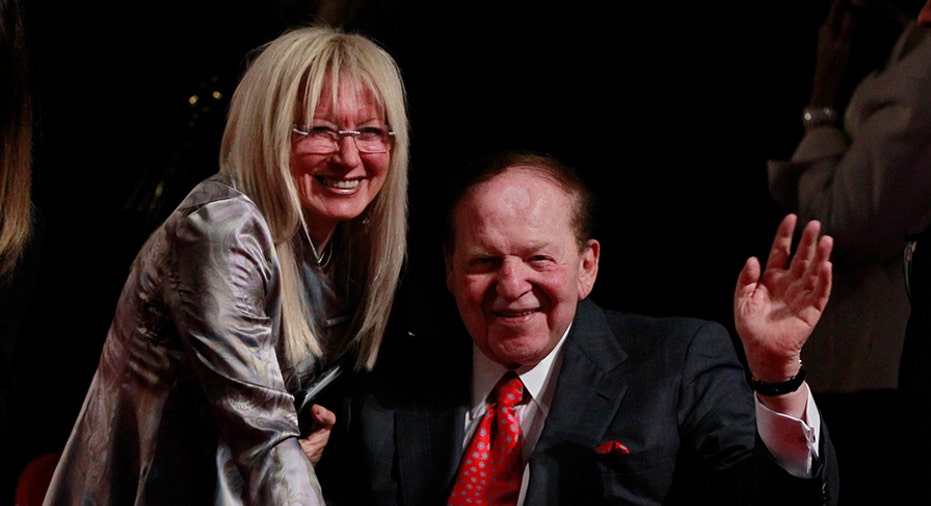 The day after the Las Vegas Strip massacre, the worst mass shooting in U.S. history, President Donald Trump turned to two of his most trusted supporters to get their advice on how to start the healing process for the victims of Sunday's tragedy which claimed 59 lives and injured over 500, FOX Business has learned.
Billionaire casino magnate Sheldon Adelson, who has a net worth of $36 billion according to Forbes,  and his wife Miriam, were already scheduled to meet with Trump and his son in law Jared Kushner at the White House on Monday to discuss future policy decisions, instead they brainstormed ways to assist the victims and their families, administration officials tell FOX Business. These same officials would not get into specifics about the policies that were to have been discussed.
On the same day as the President's meeting with the Adelsons, Trump addressed the nation calling the shooting an "act of pure evil." Trump will visit Las Vegas on Wednesday.
Adelson, chairman and chief executive officer of Las Vegas Sands Corporation (NYSE:LVS), and his wife Miriam were two of Trump's top donors during the 2016 presidential campaign, giving $20 million to the pro-Trump super PAC Future45, according to the Center for Responsive Politics. Adelson also promised to contribute $100 million to Trump's campaign to help the then Republican candidate defeat Democratic nominee, Hillary Clinton.
Miriam Adelson is a doctor and chairman of The Dr. Miriam & Sheldon G. Adelson Clinic for Drug Abuse Treatment and Research. According to its website, the clinic is a "private, non-profit organization founded by Dr. Miriam and Sheldon G. Adelson and dedicated to treating the disease of opiate (heroin and painkillers) addiction by providing methadone (maintenance) treatment and counseling services."
Adelson, a pro-Israel philanthropist, reportedly expressed disappointment with Trump that the U.S. embassy has not yet been moved from Tel Aviv to Jerusalem, according to Israel's Channel 2 Television News.
A spokesman for the Las Vegas Sands Corporation did not return FOX Business' emails for comment.
Jared Kushner has been a key player in his father-in-law's administration's attempt at establishing peace between Israel and Palestine. As a senior White House adviser, Kushner has traveled to the Middle East on numerous occasions to meet with representatives from both regions, as well as leaders from Egypt, Saudi Arabia and Jordan.
Trump has refused in the past to publicly commit to on the so-called two-state solution, in which an independent Palestinian state would co-exist alongside Israel. Trump's reluctance to embrace this solution is a departure from the official policy of the previous two presidential administrations.
In a meeting with Israeli Prime Minister Benjamin Netanyahu in September, the two leaders discussed the possibility of a peace deal between Israel and Palestine but did not elaborate on whether a two-state solution is the answer.
"Most people would say there is no chance whatsoever, but I actually think with the capability of Bibi and frankly the other side, I really think we have a chance," Trump said then. "I think Israel would like to see it, and I think the Palestinians would like to see it."