Sheldon Adelson, wife to donate millions to GOP hopefuls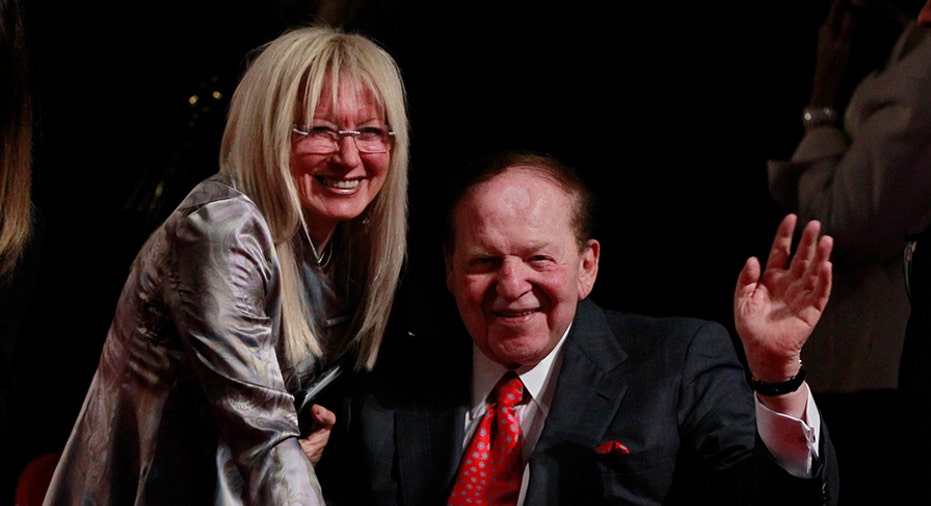 The 2018 congressional midterm elections are about to see an influx of cash from two powerful Republican donors who made their mark during Donald Trump's campaign for president, FOX Business has learned.
Las Vegas Sands CEO Sheldon Adelson and his wife, Miriam, are on the verge of spending millions of dollars on Republican causes for the upcoming elections as they extend their legacy of being two of the top GOP benefactors, according to sources with direct knowledge of the matter.
"They'll be engaged," a source close to the Adelson's said. "They just haven't gotten engaged yet this cycle. It's going to be like any other cycle. This year we are just waiting to see where the needs will be."
While the couple remain undecided on which candidates they will back or the exact amount they're willing to spend, they hope to contribute to a mix of potential nominees and political action committees, those sources say.
A spokesman for the Adelsons declined to comment.
The Adelsons have been defenders of the Republican Party for more than a decade. In 2016, they were one of Trump's biggest supporters, combining to give $22 million to Future45, a super PAC that was dedicated to electing Trump and going on the offensive against the Democratic presidential nominee, Hillary Clinton, according to the Center for Responsive Politics, a nonpartisan research group.
They also donated to Republican races across the United States that year for a total of more than $82 million. This year, though, the couple have been unusually quiet, with records showing they haven't contributed to any of the Republican races or the PACs that back them. The latest contribution came in August, when they each shelled out $5,400 to Rep. Mark Amodei,  R-Nev., who is preparing for a June primary battle.
Since Trump took office, the Adelsons have become one of his closest outside advisers on all things Israel. Sheldon Adelson has reportedly offered to pay for at least part of a new U.S. embassy in Jerusalem as the administration presses for it be moved from Tel Aviv. They have also offered counsel to the president when it comes to domestic issues. The day after the shooting on the Las Vegas strip in October, the Adelsons, along with Trump's son-in-law Jared Kushner, brainstormed on ways to assist victims and their families after the massacre, which the president called "act of pure evil."
The Adelsons' ascendance into this year's midterm elections could be yet another piece to an already-growing GOP campaign war chest. The Republican National Committee raised well over $120 million in 2017, and this year the party has been bolstered by the support of millionaire executives such as Richard Uihlein, who, combined with his wife, Elizabeth, has contributed $15 million to Republican efforts, according to the latest Federal Election Commission filings.
The Democrats are doing their part to strengthen their party's efforts to regain control of the House and Senate. Thomas Steyer, former hedge fund manager and founder of the environmental group NextGen America, has given $10 million to Democratic causes so far in the 2018 election cycle while sponsoring an attack ad that calls for Trump's impeachment.  Donald Sussman, the chief investment officer at the hedge fund Paloma Funds, is ranked second among Democratic donor supporters after Steyer, having contributed $5 million.