Sessions Defends Civil Rights Record at Confirmation Hearing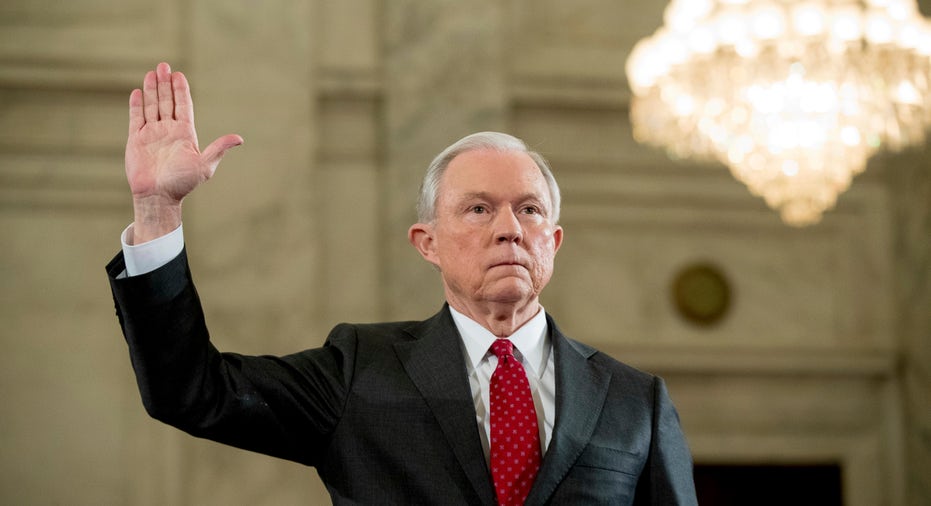 Republican Senator Jeff Sessions faced interruptions and questions on his ability to be independent and go against Donald Trump if necessary as the first confirmation hearing for the president-elect's Cabinet nominees got under way on Tuesday.
Sessions, nominated to be attorney general, became the first sitting senator to endorse Trump for the presidency in early 2016 and has remained a close advisor on issues such as immigration.
Democratic Senator Diane Feinstein said the Senate Judiciary Committee has received letters from 400 civil rights organizations opposing his confirmation to the country's top law enforcement post.
"This job requires service to the people and the law, not the president," Feinstein said.
"There is a deep fear about what a Trump administration will bring in many places. And this is the context in which we must consider Senator Sessions' record and nomination," Feinstein added.
Protesters repeatedly interrupted the start of Sessions' hearing, some dressed in KKK robes and another holding a sign that said "Support Civil Rights, Stop Sessions."
Sessions was denied confirmation to a federal judgeship in 1986 after allegations emerged that he made racist remarks, including testimony that he called an African-American prosecutor "boy," an allegation Sessions denied.
Sessions, 70, is being questioned by the judiciary committee, a panel on which he serves, and is widely expected to be confirmed by the Republican-dominated Senate. But his record on civil rights and immigration was likely to make for a contentious hearing.
Speaking in Sessions' favor, Republican Senator Susan Collins of Maine, considered a moderate, said she has "every confidence that Jeff Sessions will execute the office of AG honestly, faithfully and fully in the pursuit of justice."
AMERICA'S TOP PROSECUTOR
The attorney general is the country's top prosecutor and legal adviser to the president. As head of the Justice Department, the attorney general also oversees the immigration court system that decides whether immigrants are deported or granted asylum or some other kind of protection.
A key plank of Trump's election campaign was his pledge to deport illegal immigrants and to build a wall along the U.S. border with Mexico.
"Sessions was a close adviser to Trump. ... They're going to ask, 'How are you going to use your position to further the president's agenda?'" said Elizabeth Taylor, a former staffer for the Senate Judiciary Committee who advised Republicans during Eric Holder's nomination to be Democratic President Barack Obama's first attorney general.
"But," Taylor added, "historically, attorney general nominees are also asked if they're willing to stand up to the president."
In 2015, Republicans held up the nomination of Loretta Lynch, the current attorney general, for 166 days, longer than any nominee in 30 years, over her support for Obama's executive actions on immigration.
Sessions, who has represented the deeply conservative Southern state of Alabama for 20 years, has a long, consistent record of opposing legislation that provides a path to citizenship for immigrants. He has also been a close ally of groups seeking to restrict legal immigration by placing limits on visas used by companies to hire foreign workers.
Roy Beck, president and founder of NumbersUSA, which advocates a reduction in illegal and legal immigration, endorsed Sessions in a letter to Senate Judiciary Committee Chairman Charles Grassley.
"Sessions always has made immigration decisions based on protecting the economic interests of hard-working women and men whose incomes and very jobs have been threatened by the desire of various business lobbies to increase the foreign labor competition in their occupations," Beck wrote in a Jan. 3 letter.
Civil liberties groups have raised concerns about Sessions' record on immigration and other positions, including government surveillance, civil rights and marijuana legalization.
The American Civil Liberties Union's legal director will testify at Sessions' hearing and "raise significant, serious questions about his hostility to civil rights and civil liberties," the organization said in a statement.
The group said it is making an exception to its longstanding policy of not interfering with federal nominations in this case.
On Monday, a group of civil liberties and internet freedom groups sent a letter to the Senate Judiciary Committee describing Sessions as a "leading proponent of expanding the government's surveillance authority of ordinary Americans."
Sessions has long condemned marijuana use, which has been legalized for recreational use in eight U.S. states and the District of Columbia but remains banned by federal law. As attorney general, Sessions would have the power to intervene in states that are not in compliance with federal law. He has also opposed attempts to reduce prison sentences for nonviolent drug offenders.
(Reporting by Julia Edwards Ainsley; Additional reporting by Dustin Volz and Ian Simpson; Editing by Jonathan Oatis and Frances Kerry)