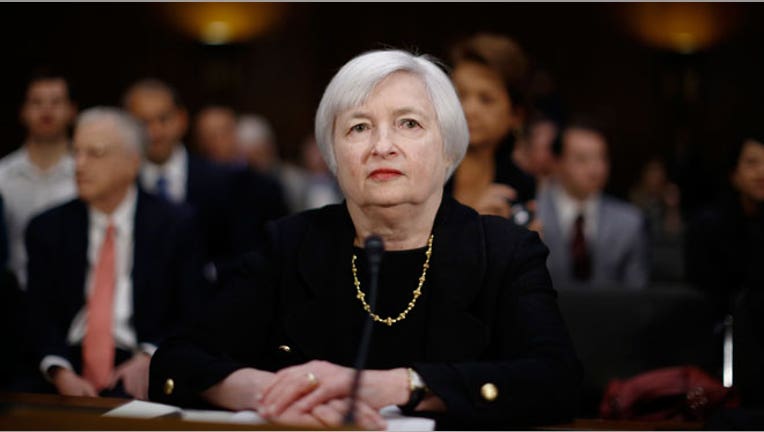 After breezing through confirmation hearings, Janet Yellen won approval from the Senate Banking Committee on Thursday to become the first female Federal Reserve chief, clearing the way for the full Senate to vote later this year.
The 14-8 vote by the Senate panel increases the chances the country's most important economic post will be filled well ahead of the end of Ben Bernanke's term, which is set to end January 31.
Yellen currently serves as vice chairman of the Fed and as a reliable dove would represent continuity with Bernanke. She has consistently supported Bernanke's easy-money policies and even seems open to more aggressive moves to fight stubbornly-high unemployment.
"I consider it imperative that we do what we can to promote a very strong recovery," Yellen said during her confirmation hearing.
Yellen, 67, won praise for her handling of tough questions from lawmakers who quizzed her on the future of the Fed's controversial bond-buying programs.
"In a city desperate for a new star, along came Janet Yellen yesterday sailing through her confirmation hearing, leaving even her toughest critics in the dust. Not only will she easily win confirmation, but Yellen will become a superstar," Greg Valliere, chief political strategist at Potomac Research Group, wrote in a note after Yellen's first day of hearings.
If the full Senate confirms Yellen as expected next month, she would become the Fed's first female chairman, the most powerful woman in the country and one of the most powerful in the world.
In addition to 11 Senate Democrats, Yellen received support from three Republicans, including Sen. Bob Corker of Tennessee.
Corker said this week he would prefer someone who held a more "modest view" about the limits of monetary policy, but said he believes Yellen has the "qualifications necessary" to be Fed chief.
On the other hand, GOP Sen. Rand Paul reiterated plans to filibuster Yellen's confirmation until the body votes on his Fed audit and transparency bill. A spokesperson told FOX Business that Paul plans to "delay her confirmation as long as possible, including demanding a 60-vote threshold for passage."
Yet Senate Majority Leader Harry Reid announced plans on Thursday to enact the so-called "nuclear option," which would change Senate rules to allow him to approve certain motions with a simple majority rather than 60 votes.
While few have questioned her credentials to run the Fed, some lawmakers have expressed concern about the potential that quantitative easing is inflating an asset-price bubble.
Sen. Marco Rubio issued a statement on Thursday saying he will vote against Yellen due to her role in crafting monetary policies "that threaten the short and long-term prospects of strong economic growth and job creation."
Yellen, who was among the first Fed policymakers to voice concerns about a bubble in housing in 2007, signaled during her hearings that she doesn't believe the central bank's policies are driving stock prices too high.
Addressing questions related to potential asset bubbles, Yellen said she doesn't currently see any "price misalignments" that "would threaten financial stability."
Trading at nearly 16000, the Dow Industrials are flirting with a new record closing high on Thursday and hit session highs after the Senate vote was announced. If the blue chips end above 15976.02, it would represent their 40th record of the year and eighth this month alone.
FOX Business reporter Dunstan Prial contributed to this report.