Senate health care bill repeals ObamaCare taxes, preserves pre-existing conditions coverage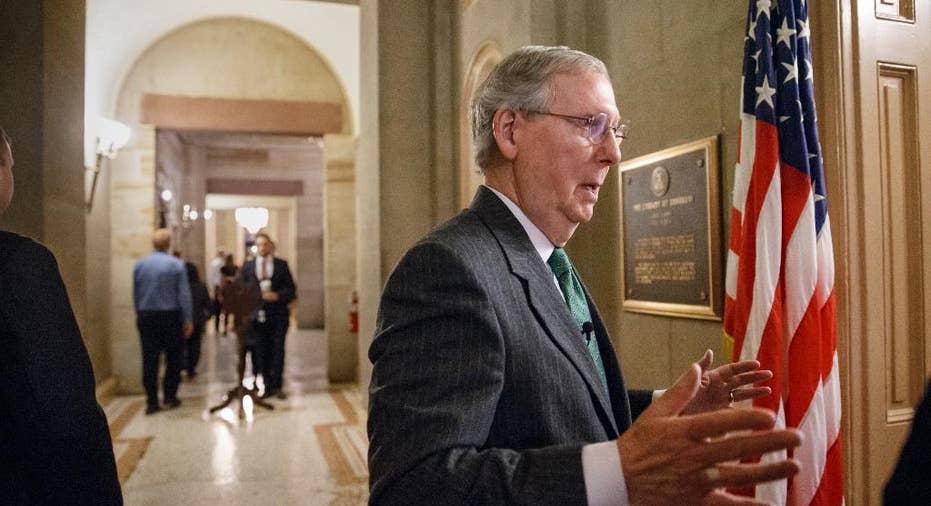 Senate Majority Leader Mitch McConnell (R-Ky.) introduced a draft health care bill to repeal and replace the Affordable Care Act Thursday, which attempts to stabilize the health care marketplace and ease the burden on Americans who will lose coverage while ObamaCare is being dismantled.
The Senate proposal would repeal nearly all of the taxes implemented under the Affordable Care Act and, in a nod to insurers, the bill provides funding through 2019 for cost-sharing reduction subsidies, or discounted care provided to low-income individuals. Additionally, to stabilize the insurance markets, the Senate draft proposes providing $15 billion per year in 2018 and 2019 and then another $10 billion per year through 2021 to offset rising costs.
The Senate's version of the health care bill will also attempt to ease the financial burden of health care costs by providing tax credits allocated by income, rather than by age, a major distinction from the House plan. Coverage for people with pre-existing conditions would also be preserved if this new draft is approved by the Senate.
The draft aims to curtail the Medicaid expansion mandated under the Affordable Care Act; while it does so less immediately than the House bill — starting in 2021— it ultimately calls for larger cuts to the program designed to help low income Americans and those with disabilities. The changes to Medicaid give more flexibility to the states, allowing them to decide how best to run their individual programs.
The individual and employer mandates would also be eliminated.
Approval of the legislation will be tricky in the Senate and will require nearly every Republican in the chamber to be on board with the proposal. Of the 52 GOP Senators, Republicans can only afford to lose the support of two, assuming no Democrats vote in favor of it. On Thursday, four Republican senators came out against it. The bill is expected to be scored by the Congressional Budget Office by early next week.
The Trump administration's push for health care reform has taken on a new sense of urgency as more insurers exit the ObamaCare exchanges. On Wednesday, one of the nation's largest insurers – Anthem (NYSE:ANTM) – said it would pull its plans in Wisconsin and Indiana, after announcing earlier this month it would not provide coverage in Ohio. Humana (NYSE:HUM) and Aetna (NYSE:AET) have both said they will not offer plans for ObamaCare participants in 2018.