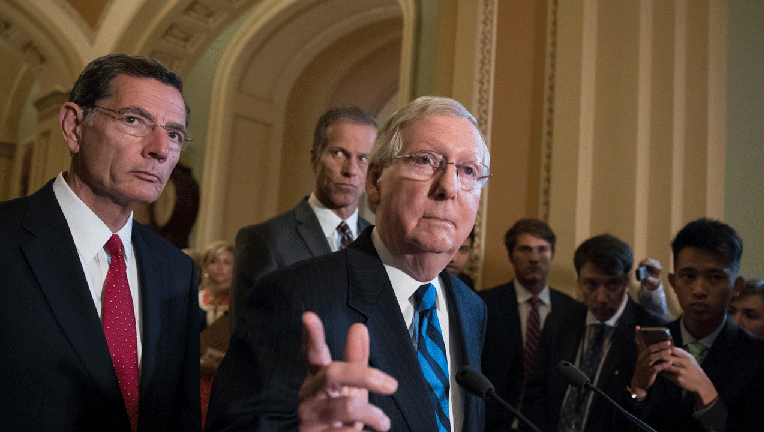 The GOP released a revised bill to repeal and replace the Affordable Care Act Thursday—which keeps some of the ObamaCare taxes in place and provides $45 billion to combat opioid abuse—but the big question for Senate Majority Leader Mitch McConnell (R-Ky.) is whether he can get the needed support from his colleagues.
The addition of Sen. Ted Cruz's (R-Texas) Consumer Freedom Amendment—allowing insurers to sell plans that don't comply with ObamaCare requirements so long as they still provide compliant ones through the individual marketplace—is seen as a bid to increase conservative support.
However, allowing insurers to offer bare-bones plans threatens to alienate moderates and perhaps other conservatives. And the measure retains cuts in Medicaid — the health insurance plan for the poor, disabled and nursing home patients — that moderate Republican senators have fought.
The 172-page legislation, the Senate GOP's plan for rolling back much of President Barack Obama's health care law, faces a do-or-die vote next week on which McConnell has no margin for error. Since Democrats uniformly oppose the effort, McConnell needs the votes of 50 of the 52 GOP senators to prevail and there is at least one Republican senator who has already said he is opposed to the new bill. Sen. Rand Paul (R-Ky.) told FOX Business Thursday he did not support the stabilization fund for insurance companies.
"I'm not willing to subsidize insurance companies. I think that's a terrible thing to do," he said.  "It's crony capitalism and there has to be somebody left in Washington who doesn't believe in crony capitalism."
Sen. Susan Collins (R-Maine) tweeted Thursday afternoon she would vote no on the motion to proceed due to the steep cuts in Medicaid.
Still deep cuts to Medicaid in Senate bill. Will vote no on MTP. Ready to work w/ GOP & Dem colleagues to fix flaws in ACA.

— Sen. Susan Collins (@SenatorCollins) July 13, 2017
Underscoring the measure's dicey prospects, No. 3 Senate Republican leader John Thune of South Dakota said, "We've got a long way ahead of us yet. The floor is going to be a wild place next week."
Seeking to rally support, McConnell reminded GOP senators that obliterating the 2010 statute has been a central tenet for the party's candidates.
"This is our chance to bring about changes we've been talking about since Obamacare was forced on the American people," he said.
But Democrats chose a different word to describe the measure, one which President Donald Trump himself used to describe the House-passed version of the measure despite having applauded it previously.
"The new Republican Trumpcare bill is every bit as mean as the old one," said Senate Minority Leader Chuck Schumer of New York. He said the provision allowing scanty coverage makes it "even meaner."
The Associated Press contributed to this report.