Sen. Collins likely against GOP health bill in latest blow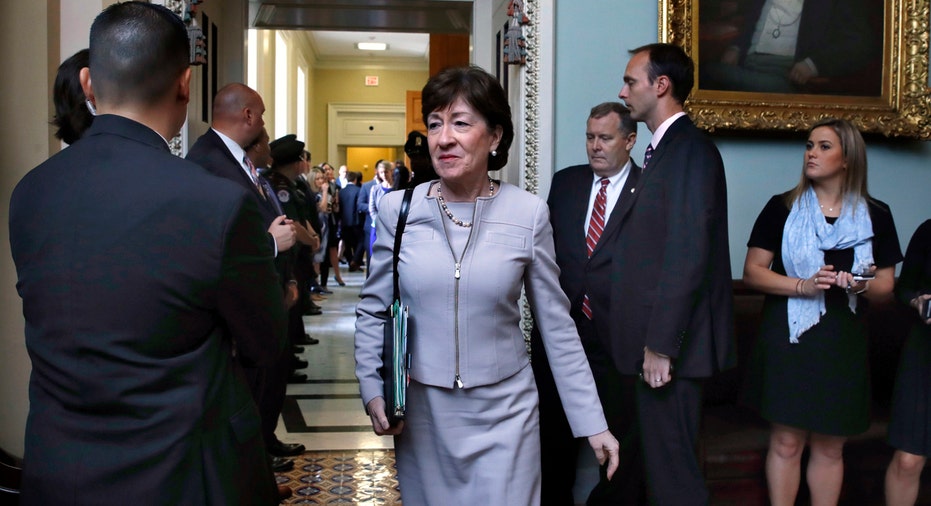 WASHINGTON (AP) — Sen. Susan Collins on Sunday all but closed the door to supporting last-ditch Republican health care bill, leaving her party's drive to uproot President Barack Obama's health care law dangling by an increasingly slender thread.
Already two GOP senators, Rand Paul of Kentucky and John McCain of Arizona, have said they would vote against the legislation, and if Collins, a Maine moderate, were to join them, the bill would die. All Democratic senators oppose the measure, so "no" votes from three of the 52 GOP senators would kill the plan.
"It's very difficult for me to envision a scenario where I would end up voting for this bill," Collins said on CNN's "State of the Union."
A showdown vote would have to occur this week for Republicans to have any chance of prevailing. When September ends, Republicans will lose procedural protections that have prevented Democrats from killing the legislation by filibuster — meaning there is a window through month's end for passage with 51 votes, which could include Vice President Mike Pence as a tie-breaker.
Collins' all but certain opposition leaves the White House and party leaders with one immediate option: trying to change at least one of the opponents' minds. Collins and other Republicans have said leaders are considering changing the bill to attract votes.
Sen. Lisa Murkowski, R-Alaska, has yet to decide how she'll vote. She voted against earlier versions of the bill this summer. Murkowski has said she wants to see how the measure would affect her state, which has extremely high medical costs because of the remoteness of many communities.
The measure would repeal much of Obama's 2010 health care overhaul and shift money and decision-making power to the states.
Collins said she was troubled by the bill's cuts in the Medicaid program for low-income people. She expressed concerns that the measure would result in many people losing health coverage and didn't like a provision that would let states make it easier for insurers to raise premiums on people with pre-existing medical conditions.