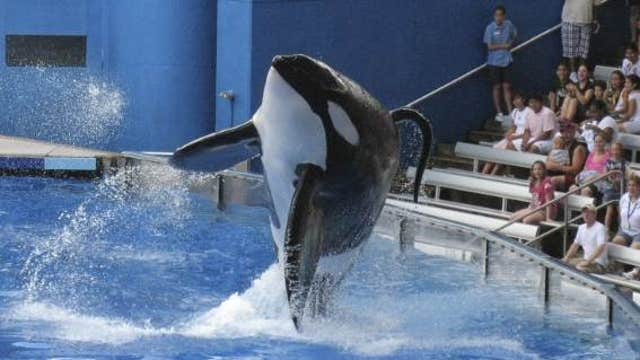 First of a two-part series
Your business depends largely on ticket sales, but a marquee attraction you sell tickets to has killed and injured people.
A documentary film exposes your company's problems with this product in harrowing detail. Your business has also been the focus of a federal probe and an appeals court proceeding over alleged unsafe working conditions, along with the attendant negative headlines, all creating an image nightmare for your brand.
These are just some of the problems confronting SeaWorld Entertainment (NYSE:SEAS), which operates theme parks like Sesame Place, Busch Gardens, and SeaWorld, known for its famous killer whale shows featuring astonishing demonstrations of trainers surfing on the backs of Orcas or being flipped into the air.
The federal government has moved to shut down SeaWorld's trainer-and-whale interactions, the fallout from deaths and injuries caused by its killer whales, the subject of the recent documentary Blackfish.
Meanwhile, the company faces pressures to make profits from its ticket sales, its main source of revenue, as it is now contending with a boat anchor of debt dropped on it from its leveraged buyout by the private equity firm Blackstone, much of which comes due in the next six years or so. Musical acts have canceled performances at SeaWorld, reports indicate, including: Trace Adkins, the Beach Boys, Pat Benatar, Trisha Yearwood, Martin McBride, 38 Special, Barenaked Ladies, Willie Nelson and Heart.
SeaWorld Entertainment recently pre-announced it expects record revenues of $1.46 billion for 2013. No profit pre-announcement, however. Final results are due in March.
SeaWorld says the documentary and other attacks on its business are slanted and unfair. For instance, it says the criticism leaves out the good work the company does daily in educating the public, as well as rescuing and rehabilitating all sorts of marine life, 23,000 animals last year.
However, what's drawing scrutiny is not just SeaWorld's spin on the deaths and injuries at its parks, but its use of an inflated "adjusted" cash flow number that helps its case with handling its debt load as well as earnings quality concerns stemming from its LBO (the subject of the second part of this series coming tomorrow). Blackstone (NYSE:BX) acquired SeaWorld in 2009 and then brought it public last year in an offering underwritten by Goldman Sachs, JPMorgan and other banks.
The private equity shop followed the typical LBO route with SeaWorld. Take over a company, have it borrow a lot of money to create a pile of cash. Get your investment back by pointing that cash in your direction in the form of management, advisory and loan fees as well as dividends. Then take the company public and sell shares.
Blackstone did just that, quietly unloading about a third of its stake in SeaWorld just this past December, as SeaWorld continues its battle with the federal government in the appeals court over the death of a veteran trainer by one of its killer whales.
Death of a Trainer
The documentary film Blackfish shows how people have been killed or injured by SeaWorld's whales, including 40-year-old Dawn Brancheau. The respected SeaWorld trainer was killed by SeaWorld's Orca Tilikum at its Orlando park. Captured as an infant, Tilikum has been blamed for killing three people while in captivity, two while at SeaWorld.
In July 1999, theme park visitor Daniel Dukes was found dead in Tilikum's pool in Orlando. "Hypothermia/drowning" was to blame, SeaWorld spokesman Fred Jacobs tells FOX Business. Dukes somehow avoided security officials and stayed in the park after closing time.
However, FOX Business has obtained the Orlando medical examiner's report which indicates Dukes' death not by hypothermia, but by drowning. It also indicates the 27-year-old's body was covered in pre-mortem "abrasions, contusions and lacerations."
Over a decade later, Tilikum killed SeaWorld trainer Brancheau in February 2010. The Orlando autopsy report shows the attack by the killer whale was so violent that he broke the veteran trainer's jaw and back, and tore off part of her left arm and scalp. The report says death was the result of "drowning and traumatic injuries."
After Brancheau's death, the Dept. of Labor's Occupational Safety & Health Administration (OSHA) unit slapped SeaWorld with three citations alleging the company was not providing a workplace free of hazards that can harm or kill employees. Along with fines, OSHA then ordered SeaWorld to keep workers protected from its killer whales by distance or barriers in the water or on land.
SeaWorld is now fighting OSHA's ban on trainer interactions at the U.S. Court of Appeals in Washington, D.C., because it could put an end to SeaWorld's lucrative Orca and trainer water performances. The company's lawyers have argued in court that the government's move to restrict "close contact" between trainers and killer whales is akin to forcing the NFL to forbid tackling.
"Tilikum grabbed her (Brancheau's) ponytail and pulled her into the water with it. We believe that was because it was a novel object in his environment," SeaWorld spokesman Jacobs tells FOX Business.
However, Jennifer Mairot, a supervisor and peer of Brancheau's at SeaWorld in Orlando, testified at the appeals proceeding that Tilikum "knew how to work with us when we had our hair in ponytails."
David Kirby, journalist and author of the book "Death at SeaWorld" (St. Martin's Press, 2012) says: "Dawn was Tilikum's trainer for up to seven years and often wore a ponytail. There is no way a pony tail was a novel object in his environment. It's more blame-the-trainer mentality."
Internal Documents
"We did not anticipate Tilikum would grab, nor did we ever see him show any precursor to grab, a trainer," a SeaWorld head trainer in Orlando has testified in the appeals court proceedings, court transcripts show.
However, internal SeaWorld documents obtained by FOX Business show SeaWorld had noted aggressive behavior, including lunging at trainers, by five whales, among them Tilikum, prior to the death of Brancheau.
A July 2009 company document entitled "Animal Profile" says: "During times of frustration due to social stress in the environment, Tilikum has exhibited aggressive behavior," including "banging gates, a deep fast swim and sometimes lunging toward control trainer."
According to a transcript of the appeals court hearings obtained by FOX Business, SeaWorld security officer Fredy Herrera, a former New York City transit cop who witnessed Tilikum's attack on Brancheau, testified that he did give a sworn statement to police that Tilikum pulled Brancheau under the water by her arm. But then he testified that: "I'm not sure if he grabbed her arm or her hair, I don't know, but I saw her arm do like a left hand signal going in the water."
Fight Over Orcas
Former SeaWorld employees also discuss in Blackfish the debilitating impact of keeping Orca whales circling for hours in small, concrete pools or tanks, dorsal fins collapsed. Experts like marine mammal scientist and killer whale biologist Dr. Naomi Rose, who wants Orcas retired to much larger, natural seawater pens, say killer whales can swim a hundred miles a day.
SeaWorld's Jacobs tells FOX Business: "Naomi Rose has been an activist for many years, first for the Humane Society of the United States and now for the Animal Welfare Institute. She consistently misrepresents the facts about SeaWorld."
Dr. Rose counters: "That's SeaWorld's opinion. It doesn't like what I say. My record stands for itself, I've never misrepresented anything."
Kirby also reports in his book that former staffers told him SeaWorld's whales often break their teeth on metal gates. Staffers use power drills to remove the pulp around a damaged tooth, and then they "need to rinse food out of the tooth three times a day," Kirby says.
While the company tells FOX Business animals like whales are often savaged in the wild, Blackfish also shows how whales have attacked Tilikum while in captivity, with images of bleeding slash marks. The Orca Project claims that 37 Orcas have died in captivity at SeaWorld's three parks.
However, company spokesman Jacobs says: "Tallying up the deaths of killer whales over a nearly 50-year span is potentially very misleading. We've had almost that number of whales born during the same span, which I will guess the Orca Project doesn't talk about. How many whales have died in the wild over the past 50 years?"
Jacobs adds: "Do killer whales living at SeaWorld today live as long as whales in the wild? Probably. (The) annual survival rate is nearly identical for SeaWorld whales and those that have been studied in the wild."
Author Kirby maintains: "At least 15% of SeaWorld's whales have attacked a trainer over the last five decades, based on scientists' estimates and company disclosures. If you had a factory where 15% of the machines had the potential to injure people, it would be shut down."
Tragic Accidents, Focus on Safety 
SeaWorld is adamant that it has the best interests of both its workers and its animals at heart. Spokesman Jacobs tells FOX Business the Blackfish documentary is inaccurate and misleading, and doesn't tell the full story of the company's diligent efforts at public education, worker safety, as well as its efforts to rescue, rehabilitate and return to the wild hundreds of animals every year.
Jacobs also notes that SeaWorld has displayed killer whales for five decades and that trainers have interacted with killer whales numerous times daily, the overwhelming majority of which go exactly according to plan.
SeaWorld has also said it spends millions of dollars annually on conservation and scientific research and has assisted gravely ill or aged whales many times, including killer whales. Kirby, though, says: "That's beside the point, all of SeaWorld's good work does not justify keeping killer whales in captivity."
SeaWorld also continues to maintain that the deaths pinned on Tilikum are tragic accidents, not aggression. SeaWorld's Jacobs told FOX Business: "As our staff testified in the OSHA proceedings, Tilikum was not considered an aggressive animal and did not have a single incident report of aggression during his time in our care. Even trainers who are now opposed to the zoological display of killer whales describe Tilikum as a very even-tempered animal."
Technically correct, Dr. Rose notes: "Incident reports and the lack thereof are one thing—the July 2009 animal profile is entirely another."
As local public swimming pools across the U.S. have even seen their diving boards removed for safety reasons, does it stand to reason that the government is concerned about interactions between human beings and killer whales? Federal lawyers have argued training cannot completely protect SeaWorld workers. "SeaWorld training does not take the predatory instinct out of these animals," Amy Tryon, an attorney for the U.S. Labor Department, has said.
Kirby tells FOX Business: "The scientists I've interviewed who have studied killer whales for decades say seriously injurious acts of aggression by killer whales towards humans and each other typically do not occur in the wild. So the only explanation is there is something about being confined in captivity that elicits an Orca whale's abnormal behavior."
For now, SeaWorld's Jacobs tells FBN that "no decision has been made at this stage" on whether SeaWorld will take its fight to the U.S. Supreme Court if it loses at the appeals court level, a decision set to come down in coming weeks.
Currently, SeaWorld "trainers in shows can make contact with the whales based on our current protocol, which includes physical barriers," company spokesman Jacobs says, though "no contact is made with Tilikum in shows.
Tomorrow: SeaWorld of Problems With Earnings Quality