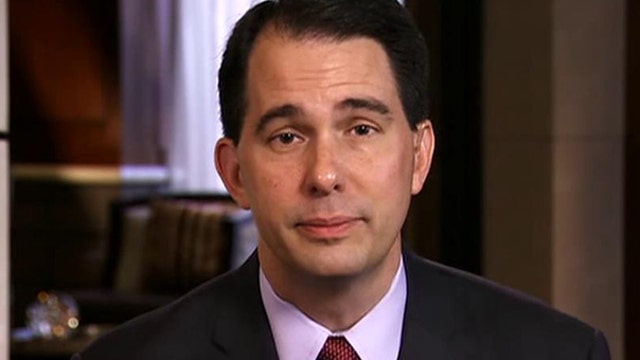 Wisconsin Gov. Scott Walker pledged to defend working families if Republican voters choose him as the GOP nominee.
Walker recently filed a financial disclosure form that included $20,000 to $30,000 in credit-card debt and at least $100,000 in student loans for his two sons. The Boston Globe has estimated that Walker has a net worth of -$72,500.
In an interview Friday on "Cavuto: Coast to Coast," Walker countered criticism over his personal finances by arguing that his own experiences allow him to "relate to many everyday Americans."
He cited his actions to freeze college tuition at the University of Wisconsin for four years. Walker also said he has pushed to cut income and property taxes in his home state.
"I know how hard it is to make ends meet for so many families out there. As president, that's exactly what I'd do as well," Walker added.
"I wouldn't just fight, I would fight and win every day for working families in this country. I think Americans now more than ever deserve a president who can relate and who can focus on fighting and winning for them, and that's what I'd do."
Also during the interview, Walker discussed Thursday night's GOP primary debate on Fox News, his decision to defund Planned Parenthood in Wisconsin and how he would fare in a presidential race against Democrat Hillary Clinton.
"I've shown we can actually get results in a blue state, and I've done it without compromising my principles. If given the chance, I think it marks a great contrast with Hillary Clinton in the general election," Walker said.