Sandy's Long-Term Economic Impact Likely Minimal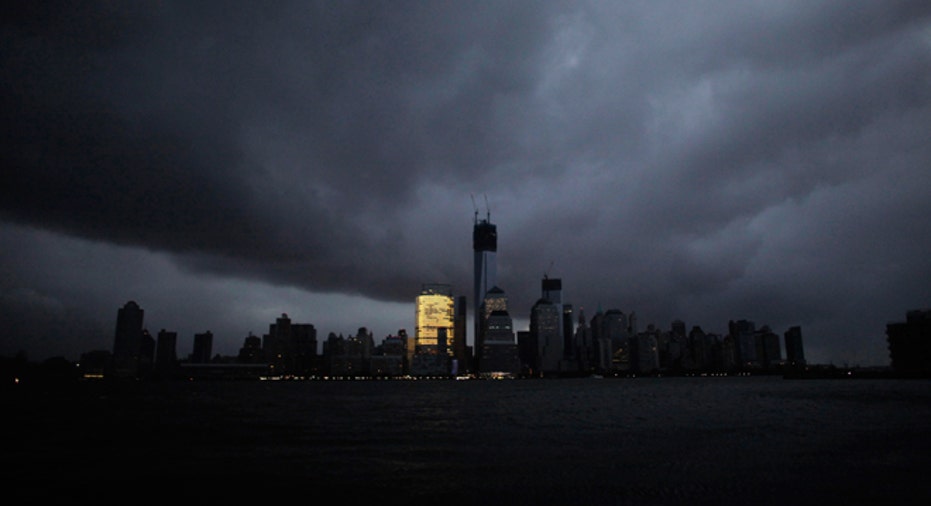 Less than 24 hours after landfall along the Jersey Shore, Hurricane Sandy is already being counted among the costliest storms in U.S. history.
The bad news is that the price tag could ultimately soar above $20 billion, according to the most recent estimates from risk modeling firm Eqecat, with insured losses projected at $10 billion.
The costliest U.S. storm ever was Hurricane Andrew, which tore across the Gulf Coast in 1992, wiping out whole sections of Florida and Louisiana at a cost of more than $25 billion. Sandy may threaten that record.
Millions of people along the Atlantic Coastline remained without power on Tuesday and 26 people reportedly lost their lives in the storm. Stock markets were closed for a second day and only one tunnel provided access into and out of New York City, all but shutting down access to the largest business hub in the U.S.
Countless workers from West Virginia to Connecticut were forced to stay home for at least two days as Sandy's hurricane-force winds caused historic storm surges up and down the East Coast. The flooding and destruction of property in some coastal regions appears unprecedented.
"It's like nothing we've ever seen before," New Jersey Governor Chris Christie said at a press conference Tuesday, describing the scene along the battered Jersey Shore. "It's a devastating site right now. We have a lot of work to do."
Impact of Natural Disasters Is Regional Not National
The good news is that economists view the storm as a unique, one-time event that shouldn't have a significant, long-term negative impact on an already damaged U.S. economy.
Sandy's impact on the broader national economy will be "minimal," said Gus Faucher, senior economist at PNC Financial Services Group in Pittsburgh.
"The impact of these storms tends to be regional, not national," Faucher said.
A few days of lost production in the New York-region can easily by absorbed the broader economy, he added. "I expect things to get back to normal in a few days and that lost output will be made up for," the economist said.
The impact will undoubtedly be more severe in local areas hard-hit by flooding and property damage caused by the record-level storm surges.
Specifically, whole sections of boardwalks in the Jersey Shore resort towns of Seaside Heights and Point Pleasant Beach were destroyed by high winds and churning waves that accompanied Sandy as it reached land Monday evening.
The economies of those two towns will undoubtedly be harmed if those popular summer attractions are permanently damaged, although it was too early Tuesday to determine the long-term impact.
Portions of the gambling mecca of Atlantic City were also badly damaged by the storm. But Tony Rodio, CEO of Tropicana Casino and Resort, told FOX Business Monday night that the damage was limited by the city's high sand dunes.
Rodio said he didn't expect the damage to have a long-term impact on Atlantic City's gaming business.
"This is a short-term, one-time occurrence that certainly is going to impact us, but I don't think it will have any impact on the long-term viability of Atlantic City. We'll get past this," he said.
Hundreds of businesses in the densely-populated New York metropolitan area, from giant Wall Street investment banks to small mom and pop shops, were shut down or running on skeleton staffs Tuesday, forced to adjust by flood waters that turned business districts and Main Streets into virtual rivers.
Frank McDaniels, owner of Boulevard Cleaners in Hasbrouck Heights, N.J., counted himself among the fortunate in that he was able to stay open throughout the storm. His neighbors in the Bergen County towns of Moonachie, Little Ferry and Carlstadt, inundated by the overflowing Hackensack River, weren't so lucky.
But McDaniels lost "a tremendous amount" of business, he said, and expects to lose more in the coming days as his customers recover from the historic weather.
Disasters Can Provide Short-Term Economic Boost
A spokesman for Starbucks (NASDAQ:SBUX), which closed 1,000 of its East Coast stores in advance of Sandy, said that just 250 of those stores remained closed Tuesday afternoon, and only those in areas impacted by power outages and transportation issues.
"The safety of our partners -- our employees -- is our number one priority," the spokesman said.
Insurance analysts have already predicted that the large insurers with broad market share in hard hit regions – companies such as Chubb (NYSE:CB), Allstate (NYSE:ALL) and Travelers (NYSE:TRV) are all well positioned to cover the slew of claims awaiting processing.
A relatively mild year for natural disasters has left insurers well-funded for Sandy, analysts said.
The reality is that natural disasters often provide a small short-term boost to local economies when federal emergency dollars and insurance claims start pouring in and homeowners and business owners get down to the business of recovery, said PNC economist Faucher.
That reality may offer cold comfort today to shop owners waiting for flood waters to recede to reopen their stores, but it's true.