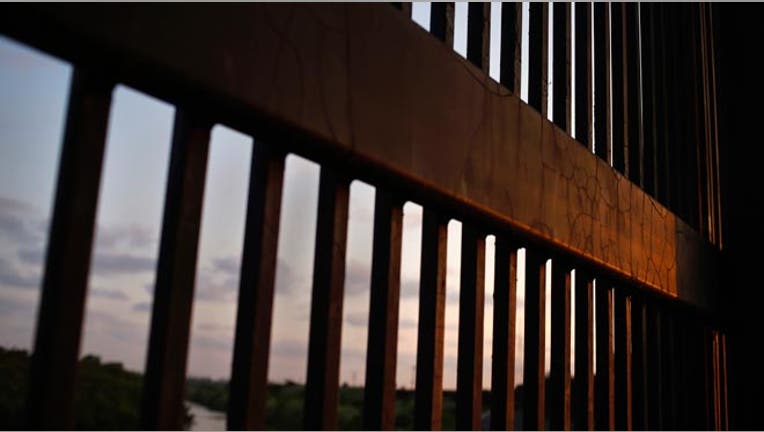 No less than 276 state and local jurisdictions in 43 states with immigration sanctuary policies released 8,145 criminal aliens who were facing deportation during an eight-month period covered by a Freedom of Information Act request, the Center for Immigration Studies said. Some 40% of the roughly 11 million illegal immigrants in the country are individuals who have overstayed their non-immigrants visas.
According to documents obtained from Immigration and Customs Enforcement (ICE), 1,900 of the released offenders were subsequently arrested for another crime.
Two-thirds of those released had serious, prior criminal histories or were tagged as public safety concerns at the time of their release. Just over 1,000, or 60%, remained at large.
This, as reports indicate the U.S. had warned Mexico of drug lord El Chapo's possible escape more than a year ago, and a Mexican murder suspect is caught at the border trying to re enter illegally through Calexico, Calif.
Ignacio Luque Verdugo, a 31-year-old Mexican citizen, is wanted on first degree murder charges in Colorado. Verdugo had tried to enter illegally through an area three miles west of the Calexico downtown port of entry. Last fiscal year, the El Centro Sector alone had 14,511 apprehensions of persons attempting to enter the United States illegally.
The Center for Immigration Studies flagged examples of "very serious crimes" committed by criminal illegal immigrants sought by ICE, but released by a local law enforcement jurisdiction with sanctuary policies. They include:
• Santa Clara County, Calif.: On April 14, 2014, an individual with nine previous convictions (including seven felonies) and a prior removal was arrested for "first degree burglary" and "felony resisting an officer causing death or significant bodily injury." Following release, the individual was arrested for a controlled substance crime.
• Los Angeles, Calif.: On April 6, 2014, an alien was arrested for "felony continuous sexual abuse of a child." After release, the alien was arrested for "felony sodomy of a victim under 10 years old."
• San Francisco, Calif.: On March 19, 2014, an illegal alien with two prior deportations was arrested for "felony second degree robbery, felony conspiracy to commit a crime, and felony possession of a narcotic controlled substance." After release, the alien was again arrested for "felony rape with force or fear", "felony sexual penetration with force", "felony false imprisonment", witness intimidation, and other charges.
• San Mateo County, Calif.: On February 16, 2014, an individual was arrested for "felony lewd or lascivious acts with a child under 14." In addition, the alien had a prior DUI conviction. Following release by the local agency, the individual was arrested for three counts of "felony oral copulation with a victim under 10" and two counts of "felony lewd or lascivious acts with a child under 14."
The report comes as immigrants continue to abuse non-immigrant work visas, which are visas issued to foreigners with a permanent residence outside the U.S. but who want to be in the country on a temporary basis, stipulating they are here for tourism, medical treatment, business, temporary work, or study.
In fiscal 2014, the Bureau of Consular Affairs issued 9.9 million nonimmigrant visas. It has been estimated by John T. Morton, assistant secretary for Immigration and Customs Enforcement, that about 40% of the approximately 11 million illegal foreign immigrants broke the law and overstayed their non-immigrant visas.
According to the Congressional Research Service, the Department of Homeland Security (DHS) does not have reliable data on emigration and nonimmigrant departures from the United States. As a result, reliable estimates of the number of nonimmigrant overstays are not available.
Over the years, the overstay estimates ranged from 31% to 57% of the unauthorized population (depending on methodology). A 2013 study of visa overstays from 2000 to 2009 estimated that total nonimmigrant overstays to the United States dropped from 705,000 per year to 190,000 per year, or about 73%, over the decade.
As of June 2013, the U.S. Government Accountability Office (GAO) reported that DHS's unmatched arrival-departure records totaled more than 1 million; however, the failure of DHS to consistently update the alien's record—for example, if the authorized period of admission is extended, if deferred departure is granted, or if the immigration status changes—is a major factor that prevents DHS from calculating reliable estimates of overstays.
DHS does not have reliable data on persons who depart the country. Not only does DHS lack data on U.S. citizens and Legal Permanent Residents (LPRs) who move abroad, DHS does not have reliable data on nonimmigrants who exit the United States, despite statutory requirements to do so.
In 2006, the Pew Hispanic Center released estimates of the unauthorized resident alien population that suggested that out of an unauthorized resident alien population of 11.5 million to 12 million, about 4 million to 5.5 million, or between 33% and 50%, are nonimmigrant overstays.
For immigration enforcement purposes, ICE's Overstay Analysis Unit identifies foreign nationals who have potentially overstayed their visas by matching Arrival and Departure Information System (ADIS) records. DHS had a backlog of 1.6 million unmatched arrival records that had not been reviewed through automated or manual processes in January 2011.
GAO reviewed the enhanced biographic exit program's backlog of 1.6 million potential overstay records and found that about half of these cases (863,000) were found to have departed the United States or to have adjusted status. As of June 2013, GAO reported that DHS's unmatched arrival records totaled more than 1 million.
More recently, Robert Warren, former demographer for the Immigration and Naturalization Service, and John Robert Warren, professor of sociology at the University of Minnesota, published new analyses of the components of unauthorized migration and estimated a sharp drop in the number of unauthorized aliens arriving in the United States annually since 2001.
The two also found that entries without inspections (EWIs) declined in every year after 2005, not just during the economic recession in 2008 and 2009 as other research had suggested.
ICE's Counterterrorism and Criminal Exploitation Unit (CTCEU), within the Homeland Security Investigations (HSI) directorate, prioritizes in-country overstay leads based on various factors that consider the potential risks overstays may pose to national security and public safety, and HSI field offices investigate those leads that CTCEU identifies as priorities.
From fiscal years 2004 through 2012, CTCEU processed over 2.2 million records of potential overstays and sent about 44,500 leads to HSI field offices for investigation.
Out of the approximately 44,500 leads sent to HSI field offices over this period of time, approximately 9,000 (about 20%) resulted in arrests.