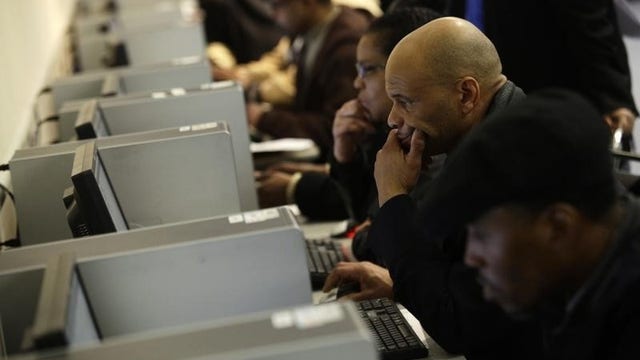 San Francisco Federal Reserve President John Williams told FOX Business Friday that he's not concerned with inflation and that wage growth is improving.
In an interview with FOX Business' Peter Barnes from Jackson Hole, Wyoming, where the world's top central bankers and economists are meeting, Williams said recent data also suggests labor markets are strengthening.
"We look at a broad set of measures from different sources about the labor market and I think they're all telling a pretty coherent story of an improving labor market.  I don't put all of my emphasis on one statistic or another, but all the indicators are saying things are improving," Williams said.
However, Williams noted that a considerable amount of "slack" remains in the jobs market and consequently the central bank should remain cautious about the timing for raising interest rates.
Fed policy makers – and markets overall -- are currently engaged in a debate over the timing of a rate hike. Inflation doves who believe the economy isn't ready for higher rates believe the rates should stay low well into 2015, while inflation hawks fear keeping the rates too low for too long could invite runaway inflation and/or asset bubbles.
"In terms of raising interest rates, actually tightening monetary policy from where we are now, I think it's really important to remember, although the economy has improved a lot and we're on a good track, there's still quite a bit of slack in the economy," Williams said. "Unemployment is still quite a bit higher than its normal level and inflation is running below our preferred 2 percent target."
Williams said it's not time yet to raise interest rates, adding that mid-2015 is his recommendation if the economy continues to improve. The San Francisco Fed chief said the central bank won't rush the process.
"Right now I think our expectations, my expectations will be raising interest rates very gradually and not trying to upset or disrupt markets in the economy.  We're going to take this at a nice measured pace," he said.
Noting that wage growth has been "muted" in recent months, holding steady at barely 2%, Williams said communications with business leaders indicate wages may be moving higher.
"We're seeing some report of some uptick in wage growth relative to that 2% norm," he said. "I think this is all a positive thing.  More wage growth means more money in people's pockets, more consumer spending; that's going to help the recovery."
"I'm not concerned about inflation at all," he added. "You know, for a 2 percent inflation rate for prices we would expect to see wage growth around 3 percent, 3.5 percent.  So, some improvement in wage growth from 2 percent up to 3 percent and 3.5 percent, that's desirable and consistent with our goals."