Ryan Pushes Spending Cuts as U.S. Hits Debt Limit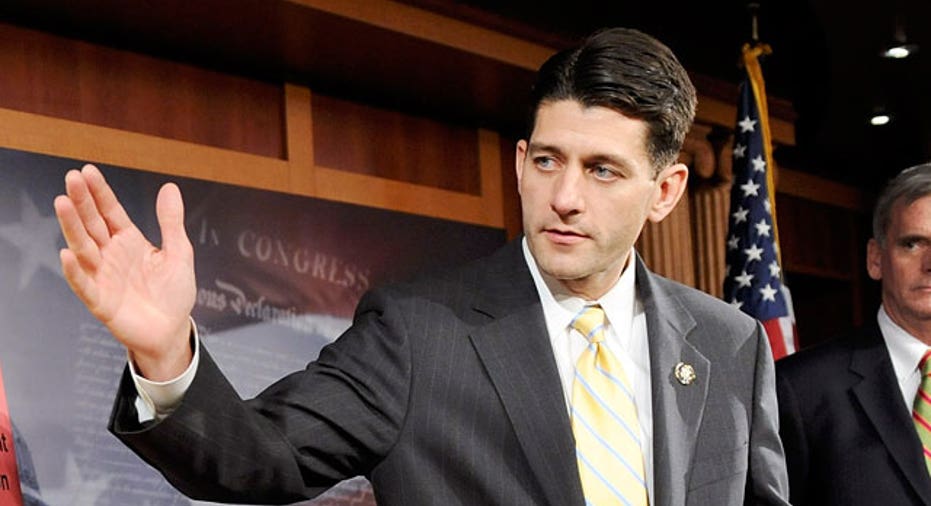 The United States ran up against the legal limits of its borrowing authority on Monday as a top Republican ratcheted up his party's demand for deep spending cuts as part of any increase on the debt ceiling.
The Treasury Department said the nation had hit its $14.294 trillion debt limit -- a milestone that has little practical impact beyond injecting a note of urgency into the debate over taxes and spending that has dominated Washington this year.
Treasury said it can stave off default until early August, in part by tapping federal pension funds to pay its bills.
Congress is not expected to raise the debt cap until sometime this summer as lawmakers try to hold it hostage for a wider deficit-cutting deal.
Representative Paul Ryan, the chairman of the House of Representatives Budget Committee, said any deal would have to include spending cuts that are larger than the amount of the debt-ceiling increase -- a tougher stance than the conditions that have been laid out previously by other party leaders.
"For every dollar the president wants to raise the debt ceiling, we can show him plenty of ways to cut far more than a dollar of spending," Ryan said in remarks prepared for delivery in Chicago.
A failure to raise the debt ceiling in time would force the United States to default on obligations, whether payments to Social Security retirees or interest on the debt. That could bring on a crippling financial crisis, push the United States back into recession and roil economies and markets across the globe.
Markets shrugged off the news. The benchmark 10-year Treasury bond yielded 3.18 percent in morning trading, well below its historical average, as investors continued to view U.S. debt as a safe haven in an uncertain economic environment.
Still, concern about the country's fiscal situation may be prompting foreign investors to shift their purchases toward shorter-dated assets, which carry less risk, according to Treasury data.
The United States, unlike other developed countries, requires legislative action to increase its borrowing authority.
Congress has raised the debt limit 74 times since 1962 but lawmakers from both parties say they will not back an increase this time unless it includes measures to ensure that the country's total debt does not rise to a level that could precipitate a Greek-style fiscal crisis.
CAMPAIGN SEASON UNDERWAY
With the 2012 campaign season already under way, lawmakers are eager to show voters that they are taking steps to rein in a debt load that has more than doubled in the past 10 years due to tax cuts, wars in Iraq and Afghanistan, and the deepest recession since the 1930s.
Republicans are pushing for steep spending cuts while Democrats say tax hikes have to be part of the answer as well -- a stance that is backed by a majority of voters and financial experts, polls show.
In talks led by Vice President Joe Biden, top Democratic and Republican lawmakers have identified some areas, such as farm subsidies, that should be cut back.
But those proposed cuts are dwarfed in dollar terms by areas -- especially taxes and healthcare -- on which they disagree.
Republicans in the House of Representatives have backed a budget plan that would scale back government-run health plans like Medicare, which are projected to eat up a growing share of the federal budget in coming decades as the population ages and medical costs continue to outstrip inflation.
Democrats hope to turn public unease with Ryan's plan into gains at the ballot box.
The Democratic Congressional Campaign Committee, which aims to win back control of the House, unveiled a new campaign on Monday with the stark slogan: "Vote Republican, End Medicare."