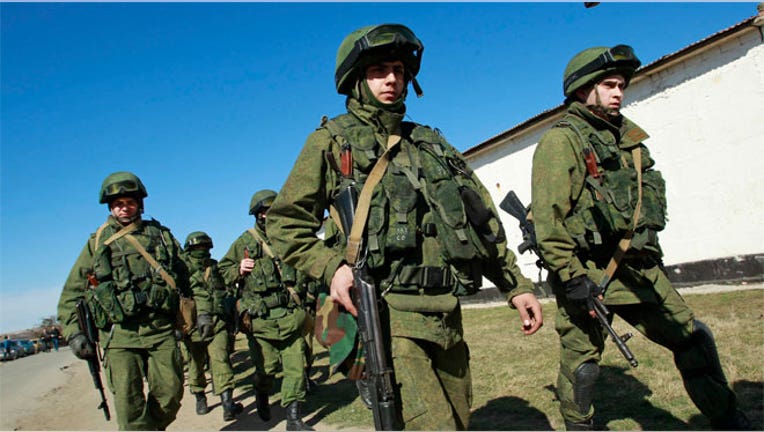 The ripple effects from the crisis in Ukraine, which plays a key role in the global energy market, should serve as yet another motivation for Washington to speed up efforts to gain energy independence.
Russia's invasion of Crimea and the specter of Vladimir Putin turning off Europe's natural gas supply is already rattling global markets, driving crude oil 2% higher to fresh 2014 highs and the Dow Industrials as much as 220 points lower.
One way to prevent the likes of Putin or Middle Eastern tyrants from using oil and natural gas as a weapon would be to boost domestic energy production and increase exports to friendly nations.
"The more we can depend on domestic energy exploration, the less we have to deal with people like this," Drew Matus, deputy chief U.S. economist at UBS (NYSE:UBS), told FOX Business. "All of a sudden it stabilizes the globe. Global growth five to ten years out will be helped dramatically by the U.S."
Europe's Energy Access at Risk
The crisis in Ukraine has real implications for the global energy picture, especially for U.S. allies in Europe.
Ukraine, which is in the midst of a political and possible military crisis, has the largest gas transit infrastructure in the world and transits about 100 billion cubic meters per year of Russian gas to European markets, according to the International Energy Agency.
It's easy to see how Russia could retaliate against proposed sanctions by the West by curtailing natural gas shipments to Ukraine or even Western Europe, as it has a number of times, including in 2009.
"We know in the past Russians have cut off gas supply to Europe. There's nothing that says that can't happen again, although there are a lot of consequences," said Sheila Hollis, a partner at Duane Morris specializing in energy policy.
Downsides for Russia include the loss of crucial oil revenue after spending more than $50 billion on the Sochi Winter Olympics and questions about whether it is a reliable energy supplier.
Energy Independence
Still, the uncertainty created by the crisis in Ukraine and the fact that these questions are even being pondered should bolster the push for U.S. energy independence.
ExxonMobil (NYSE:XOM) recently publicly called for the U.S. to lift restrictions on exporting domestic oil that have been in place since the Arab oil embargo of 1973.
"We are not dealing with an era of scarcity, we are dealing with a situation of abundance," Ken Cohen, vice president of Exxon's public and government affairs, told The Wall Street Journal in December.
Exxon, the world's largest publicly traded energy company, believes North American liquid supplies like crude oil and natural gas liquids will surge 40% by 2040. In fact, North American shale oil production is expected to surpass the current output of any OPEC nation except Saudi Arabia by 2015.
The U.S. has become much less dependent on foreign oil since 2005, relying on net imports for about 40% of the petroleum the country consumed in 2012, according to the U.S. Energy Information Administration.
The EIA estimates over 50% of U.S. crude oil and petroleum product imports came from the Western Hemisphere in 2012, while 29% were from the Persian Gulf countries of Bahrain, Iraq, Kuwait, Qatar, Saudi Arabia and the United Arab Emirates.
"As the Russians have used their natural gas for their independence, the U.S. may now at long last have an adequate energy supply to be able to play a different role in world markets and secure energy independence of its own," said Hollis, a former official at the Federal Energy Regulatory Commission.
'Turning on Those Spigots'
A more energy independent U.S. could deploy natural resources as a stabilizing force during times of peace and conflict, blunting the ability of Putin and others to hold allies hostage.
"An executive order to allow more energy exports would certainly help to foil Russia's use of natural resources as a weapon," Michael Block, chief strategist at Rhino Trading Partners, wrote in a note to clients. "The U.S. needs to get busy turning on those spigots."
Thanks to the shale boom, the U.S. is sitting on a huge amount of natural gas that could be exported as liquefied natural gas (LNG). However, the country's energy infrastructure needs to be upgraded before exports on a grand scale can be possible.
"There is a huge demand for it," said Hollis. The crisis in the Ukraine has "escalated the issues very dramatically. The timeline has been moved up considerably," she said.
While the U.S. economy is largely insulated from the rest of the world, one major exception is on the energy front. American businesses and consumers can still be thrown off course by a spike in oil and gas prices sparked by conflict halfway across the world.
Boost to Keystone Pipeline?
The Ukraine crisis could help the argument by proponents of the Keystone XL pipeline, which would carry oil from the friendly Canadian oil sands into the U.S.
"It's a lot easier geographically to trade with Canada than any other country in the world. They were with us when we went to Afghanistan and Iraq and consistently a very close ally for 200 years," said Hollis.
While Republicans and some Democrats support the pipeline as a key source of energy from a friendly neighbor, environmentalists have opposed the project due to concerns about the release of large amounts of carbon dioxide. The project also faces several legal hurdles.
"I think the chances of the Keystone pipeline getting approved in the United States just went up," Jason Trennert, chief investment officer at brokerage firm Strategas Research Partners, told FOX Business.
Tom Kloza, chief oil analyst at GasBuddy, said one way the U.S. could help European allies in the event of further escalation with Russia is by tapping the Strategic Petroleum Reserve.
"We don't need 700 million barrels of crude oil sitting in salt domes when we're producing nine million barrels per day. We could use this as a bargaining chip between the West and Putin," said Kloza.