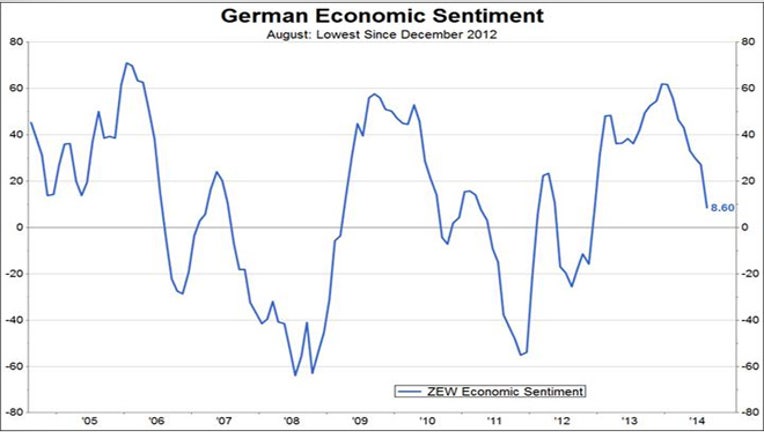 Germany, long a bright spot in Europe's troubled economy, is sustaining what appears to be a significant blow from turbulence in Russia and Ukraine.
The ZEW Indicator of Economic Sentiment plummeted 18.5 points in August to 8.6. The reading was the lowest since December 2012, and marks the eighth straight fall for the closely-watched gauge. The current assessment indicator also dropped, falling 17.5 points to 44.3.
"The decline in economic sentiment is likely connected to the ongoing geopolitical tensions that have affected the German economy by now," the Manheim-based Centre for European Economic Research wrote in its research note.
"In particular, current figures on industrial production and incoming orders suggest markedly reduced investment activities on the part of German firms against the backdrop of uncertain sales prospects."
Germany is Europe's biggest economy, followed by France, and has managed to avoid the deepest pitfalls of the eurozone debt crisis by leveraging its vast factory sector and tight fiscal controls.
Indeed, the country's economy expanded at a pace of 0.54% last year, while the eurozone's contracted a rate of 0.46%, according to data from the International Monetary Fund. IMF economists expect the central European country's economy to grow at a rate of 1.16% this year.
However, increased geopolitical turmoil in Eastern Europe threatens to hamper Germany's recovery. Fighting between Russia and Ukraine has left companies wary about an important export market. At the same time, U.S. and European Union sanctions on Russia aimed at quelling the strife are likely to take a toll on the continent's economy at a broad level.
German factory orders, a wide-ranging look at the country's manufacturing sector, unexpectedly skidded 3.2% in June – the swiftest drop since September 2011.
"Financial investors are becoming increasingly cautious in their assessment of the German economy and its prospects," Thomas Harjes, a European economist at Barclays in Frankfurt, wrote to clients on the heels of the ZEW report.
The DAX, a barometer of Germany equities, slumped 0.63% on Tuesday, adding to a year-to-date loss of more than 4%. That compares to an advance of 2.4% for the MSCI World Index since the beginning of this year.
Meanwhile, the euro slid 0.2% against the U.S. dollar. It's worth noting, though, investors are still paying to stash cash in German debt for two years – with the two-year Bund yield clocking in at -0.01%.
Economists surveyed by Thomson Reuters reckon Germany's economy stalled in the second quarter, as compared a quarter-over-quarter gain of 0.8% in the first three months of the year. The second quarter data are set to be released on Thursday morning.