Romney's Utah Senate bid team includes hedge fund allies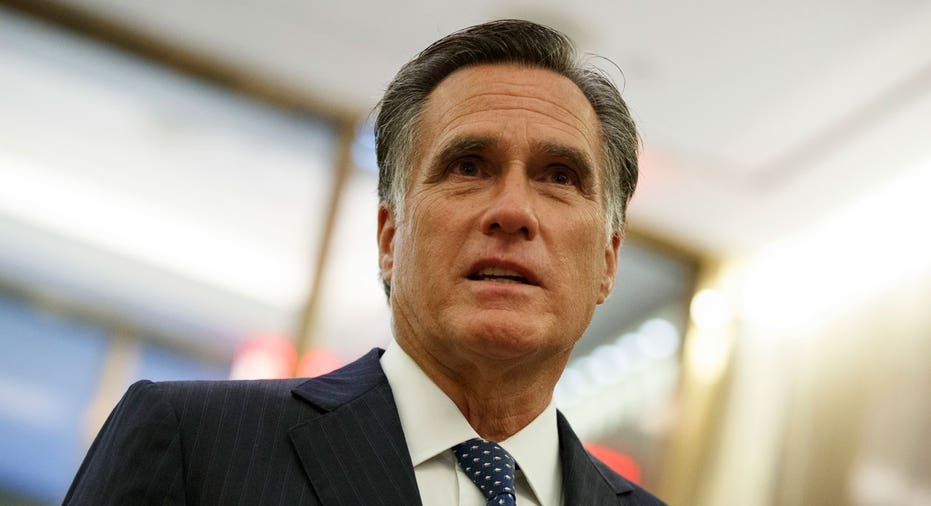 Former Gov. Mitt Romney announced his candidacy for Utah's Senate seat on Friday and he's put together a small, yet experienced campaign staff with deep ties to the hedge fund world to help him navigate the state's complex landscape.
The Romney campaign team's leadership starts with two of his closest confidants from his hedge fund, Solamere Capital, Matt Waldrip, the head of business development at the firm, and Spencer Zwick, the cofounder of the company. Both have links to Romney's previous political ambitions, with Zwick serving as finance chairman for Romney's 2012 run for president and Waldrip working as his deputy finance director.
This time around Waldrip is expected to be the campaign manager while Zwick will take on a senior advisory role, according to sources familiar with the matter.
As FOX Business first reported in January, Zwick held a meeting with Romney and a previous chief of staff to Sen. Mike Lee (R-Utah), Boyd Matheson, at the former presidential nominee's mansion in Holladay, Utah, to discuss policy initiatives for the upcoming campaign.
Waldrip and Zwick did not return requests for comment. Matheson declined to comment.
Beyond turning to two members of his old guard, the former Massachusetts governor has also received outside counsel from former congressional lawmaker and current Fox News Contributor Jason Chaffetz, an eight-year Republican veteran of the House of Representatives. Chaffetz had advised him to, among other things, not turn on President Donald Trump during the GOP primary race.
"I don't think it's going to bode well in Utah if he's anti-Trump," Chaffetz, once a representative of Utah's 3rd Congressional District, told FOX Business. "I also don't think that's what he's going to do because I think he cares deeply about the state's issues and he wants to use his presence to move those issues forward," Chaffetz added.
The feud between Romney and Trump ignited during the 2016 presidential election when the former presidential nominee took on Trump, calling him a "phony" and a "fraud." Trump, then a nominee for president himself, responded at one of his campaign rallies, claiming Romney came "begging" for his endorsement four years earlier. Still, both leaders seemed to make amends after Trump was elected president when he considered Romney to be his secretary of state.
Chaffetz recommended to Romney two members of his former Capitol Hill staff, M.J. Henshaw, former communications director for Chaffetz when he was chairman of the House Oversight Committee, and Kelsey Berg, a special projects coordinator for the congressman and currently running her own campaign consulting firm based out of Utah, SugarBar Strategies LLC.
Henshaw and Berg did not return requests for comments.
Romney has also reached out to longtime Senate ally Mike Lee (R-Utah), to keep him up to date with his future campaign endeavors and receive his recommendation on issues he should focus on if he chose to run for office.
"Governor Romney reached out very early in the process and has kept in regular and friendly contact with Senator Lee about his plans," Conn Carroll, spokesman for Lee, told FOX Business in a statement.
Romney began his foray into the national spotlight in 1999 as the president and CEO of the Salt Lake Organizing Committee for the 2002 Winter Olympics, successfully capturing for Utah the coveted games for the first time. Zwick was hired to assist Romney with running the committee and was instrumental in erasing the Olympic organizers' debt, which had added up to $379 million.
One year later, Romney became the governor of Massachusetts, following it five years later with his first unsuccessful presidential campaign. He lost the Republican nomination that year to Sen. John McCain of Arizona. He ran for a second time in 2012 against Barack Obama and eventually lost in the general election.
The timing of Romney's announcement continues to be in flux. He was expected to make his first campaign declaration through social media on Thursday and then address a group of grassroots Republicans at the Utah County Lincoln Day dinner on Friday. Those plans changed, however, after the horrific school shooting in Florida on Wednesday, with Romney tweeting out his condolences later that day while also noting he will be delaying his announcement in response to the tragedy.
He could make his first public speech as a candidate for Senate at the state dinner Friday. The Utah Republican Party website continues to show Romney as the keynote speaker.