Romney taps political ally as campaign treasurer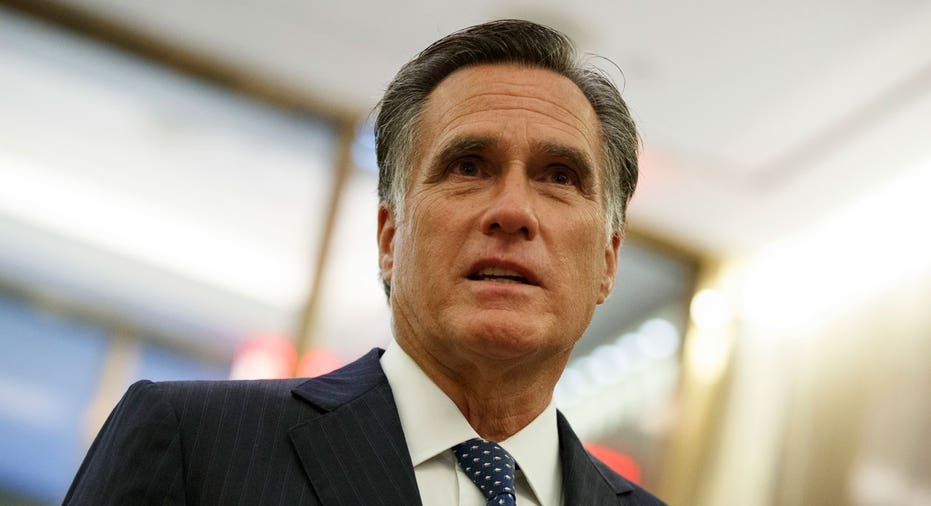 Former Massachusetts Gov. Mitt Romney has chosen a close political ally to be his campaign treasurer as he begins his crusade to replace Sen. Orrin Hatch of Utah, FOX Business has learned.
Brad Crate, the founder of Red Curve Solutions, which specializes in providing campaigns with budgeting services, has been tapped for the post, according to sources with direct knowledge of the matter.
Crate has been close to Romney for years and was chief financial officer in the unsuccessful 2012 presidential campaign. He has also served as treasurer for House and Senate campaigns.
More recently, he has supported a man Romney has sometimes criticized: President Donald Trump.
Crate was named the treasurer for the Trump Victory Fund and the Trump Make America Great Again Committee, two fundraising committees that support Trump, as well as the Republican National Committee. It's unclear if Crate will remain in the RNC post while he works for the Romney campaign.
Crate did not return repeated requests for comment. An RNC spokesman also did not return requests for comment. A Romney spokeswoman declined to comment.
As the Romney campaign treasurer, Crate will oversee the financial and accounting aspects of the entire organization. He will monitor campaign contributions, maintain financial records and be responsible for compliance with the Federal Election Commission.
Crate joins other Romney allies including Matt Waldrip, the head of business development at the former governor's hedge fund, Solamere Capital, and his current campaign manager, as well as Spencer Zwick, co-founder of the firm and now a senior adviser in the Utah race. Romney served as the president and CEO of the Salt Lake Organizing Committee for the Olympic and Paralympic Winter Games of 2002, successfully capturing the events for Utah for the first time. Zwick was hired to assist Romney with running the committee and was instrumental in erasing the Olympic organizers' debt, which had reached $379 million.
Romney became governor of Massachusetts in 2003 and five years later embarked on a  presidential campaign, losing the Republican nomination to Sen. John McCain of Arizona. He ran again in 2012 and lost to President Barack Obama in the general election.
The opportunity for Romney to get back into politics came when Hatch announced his retirement in January, giving the former presidential candidate a chance to represent a state he has called home for more than 20 years. In the run-up to his decision, Romney reached out to numerous lawmakers for counsel on how to best connect with the electorate. Included were Republican Sen. Mike Lee, former Utah Republican Rep. Jason Chaffetz and Hatch himself, who was one of the first to encourage Romney to run.The former governor officially announced his bid for the Senate on Friday.