Rival Debt Plans in Doubt, Alternatives Sought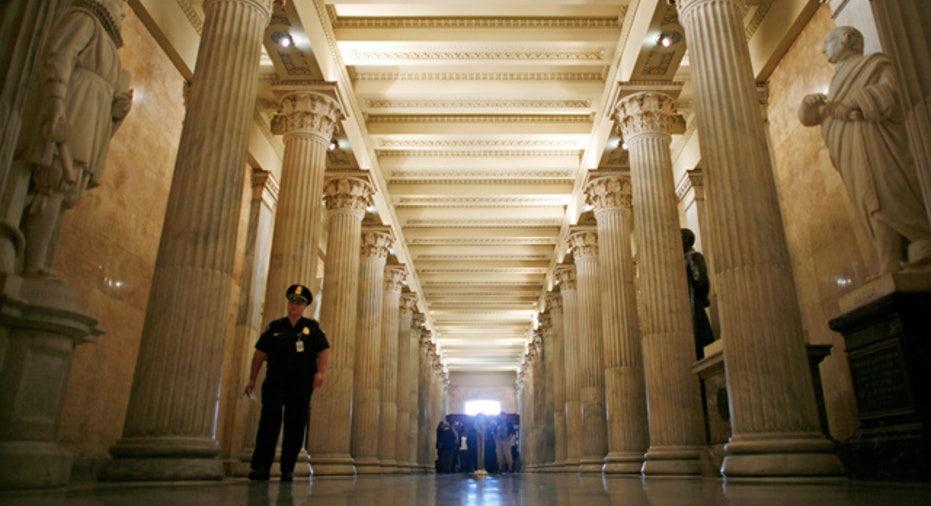 Top Republicans and Democrats worked behind the scenes on Wednesday on a compromise to avert a crippling U.S. default even as they publicly pressed ahead with rival debt plans that have little chance of winning broad congressional approval.
With global financial markets increasingly on edge, the U.S. Treasury warned it could not guarantee the government of the world's biggest economy could keep paying all of its bills if Congress fails to raise its borrowing limit by August 2.
Even if a deal is reached to lift the $14.3 trillion debt ceiling, a budget plan that flinches from hefty cuts in the deficit may result in a downgrade of the top-notch U.S. credit rating, which could sow financial chaos worldwide.
Leaders in the Republican-controlled House of Representatives and Democratic-controlled Senate scrambled to find common ground but complications with their competing plans could send attempts at a compromise right down to the wire.
President Barack Obama, a Democrat who will seek a second term in November 2012 elections, was largely consigned to the sidelines for now.
Senate Democratic Leader Harry Reid, House Speaker John Boehner, the top Republican in Congress, and Senate Republican Leader Mitch McConnell have been talking about how to break the impasse, several lawmakers said.
Reid said he could easily modify his bill to incorporate elements of Boehner's bill in a way that could win support from both parties in the Senate.
That would set up another high-stakes House vote with an entirely different dynamic, as Boehner would need to attract Democratic votes to offset anticipated defections from the right flank of his own party.
"There will be sufficient cooperation so a bill will pass that allows the debt limit to be lifted, with deficit reduction," Democratic Senator Max Baucus said.
WEEKS OF ACRIMONY
Both sides acknowledge similarities between their plans.
Reid's measure has a concession aimed at winning Republican support -- no tax increases. It also cuts more spending than Boehner's proposal, according to an independent assessment.
But weeks of acrimonious dealings may make it hard to narrow the partisan differences.
If Congress does not increase the debt limit, the United States could default, driving up costs for the government and consumers. The United States could be pushed back into recession, sending shock waves through the global economy.
Boehner sought to rally support after delaying a vote on Wednesday on his deficit reduction plan amid a mutiny by lawmakers aligned with the Tea Party movement and other fiscal conservatives as well as stiff opposition from Democrats.
He told House conservatives to drop opposition to his plan and "get your ass in line," according to a Republican aide.
Boehner rushed to revise his two-step proposal after an analysis by the non-partisan Congressional Budget Office found it would cut spending by $350 billion less than the $1.2 trillion over 10 years he had claimed.
Obama opposes the Boehner plan because it would extend borrowing authority only until early next year, risking a rerun of the debt standoff during the 2012 election campaign.
Reid said every Democratic senator would vote against the current Boehner proposal if it was passed by the House and went to the Senate.
Reid also faced a setback when the Congressional Budget Office said his proposal would cut $2.2 trillion from deficits, about $500 billion less than Democrats had claimed.
Senate Democratic aides said they hoped support would grow for Reid's one-step remedy, which Obama backs, once Boehner's plan is killed, either by the House or Senate.
"RUNNING ON FUMES"
Some analysts say the government may have enough cash on hand to pay bills until the middle of the month but the Obama administration made clear it regarded the August 2 deadline as unavoidable.
"People keep looking for off-ramps. They don't exist," White House spokesman Jay Carney told reporters, saying the government would be "running on fumes" after the deadline.
He accused Republicans of "wasting time" by pursuing a plan that is doomed to fail but locks Congress into a time-consuming process.
The gridlock dragged global stocks down on Wednesday, particularly in Europe. U.S. stocks suffered their worst day in eight weeks on nervousness over unfavorable company news, lackluster economic data and the faltering debt talks.
Worried investors shifted funds into traditional safe havens gold and the Swiss franc, which both rose to record highs in dollar terms.
Still, there have been no signs of panic in markets because most investors expect a deal to be struck by the deadline.
Adding to that view, Deven Sharma, president of Standard & Poor's, told a congressional committee the credit ratings agency does not think the United States will default on its debt. "Our analysts don't believe they would," he said.