Rex Tillerson on US-Turkey relations: 'We're beginning to rebuild trust'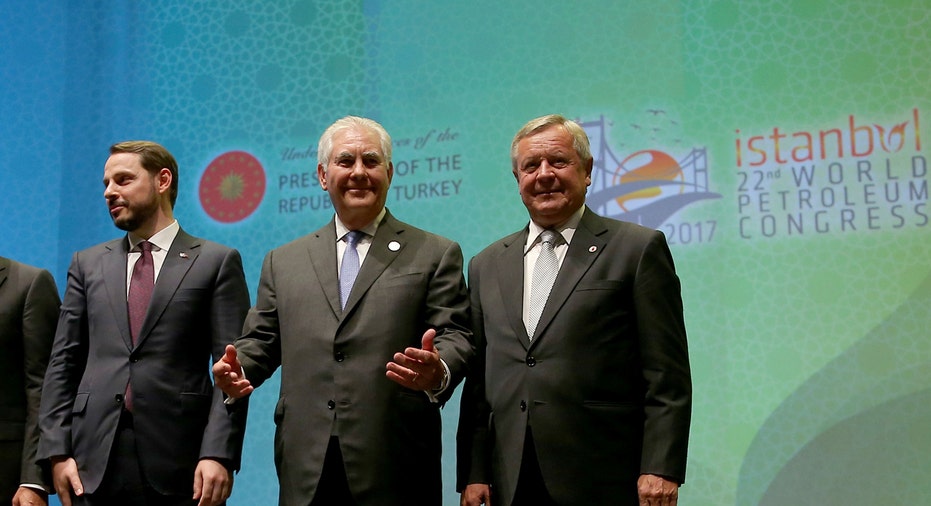 U.S. Secretary of State Rex Tillerson expressed hope Monday that America's relationship with Turkey will improve amid recent tensions over Syria and Turkish President Recep Tayyip Erdogan's crackdown on government dissenters.
"I think our relationship here in Turkey which has been under some stress for some time, I hope we are beginning to put it on the mend," Tillerson told diplomats during a trip to Istanbul, Turkey's capital city. "I think we're beginning to rebuild some of that trust that we lost in one another, they lost our trust to a certain extent, we lost theirs, so I think we are working very hard to rebuild that level of trust and that is the basis for any relationship."
Despite their status as NATO allies, the United States and Turkey have experienced a series of diplomatic clashes in recent months. In May, the U.S. State Department condemned the actions of Turkish security officials who clashed with protesters outside Turkey's embassy in Washington D.C. during Erdogan's trip to meet with President Donald Trump.
U.S. officials have been critical of the methods Erdogan has used to consolidate power since a failed coup attempt in 2016, which include arrests of purported political dissidents and journalists. Separately, Erdogan's government has criticized America's support of Kurdish rebels during the conflict in Syria, as well as what it perceived to be a tepid condemnation of the coup's plotters.
"This is an extraordinarily important relationship to the United States for many, many reasons that you would well understand from a security standpoint to the future economic opportunities as well and the important geography just by luck of Mother Nature that the citizens of Turkey occupy at this crossroads of the world," Tillerson said. "So it's important for so many reasons which is why we must put the relationship on the mend, re-establish it on the proper basis and strengthen it going forward and I think we're taking the first steps in that regard."
Turkey believes the Kurds want to establish an independent Kurdish state that would threaten its sovereignty and has vocally protested their arming by the United States in their fight against Syrian President Bashar Assad.
On the potential for a ceasefire in northern Syria, Tillerson noted the arrangement that was announced on Friday at the G-20 summit in Germany.
"We're making some progress down in Syria, we're hopeful that we can replicate that with Turkey on some areas in the north part of Syria," he said. "So we're going to be working hard on all those issues and I think, I hope that will also form a basis for improving the trust as well."
U.S. officials were cautious about Tillerson's optimism, noting Ankara's hardline antipathy for the Kurdish groups that Washington sees as key to destroying the Islamic State group. The officials, who spoke on condition of anonymity because they were not authorized to speak publicly about the sensitive matters, said talks with the Turks were in their very early stages.
The Associated Press contributed to this report.