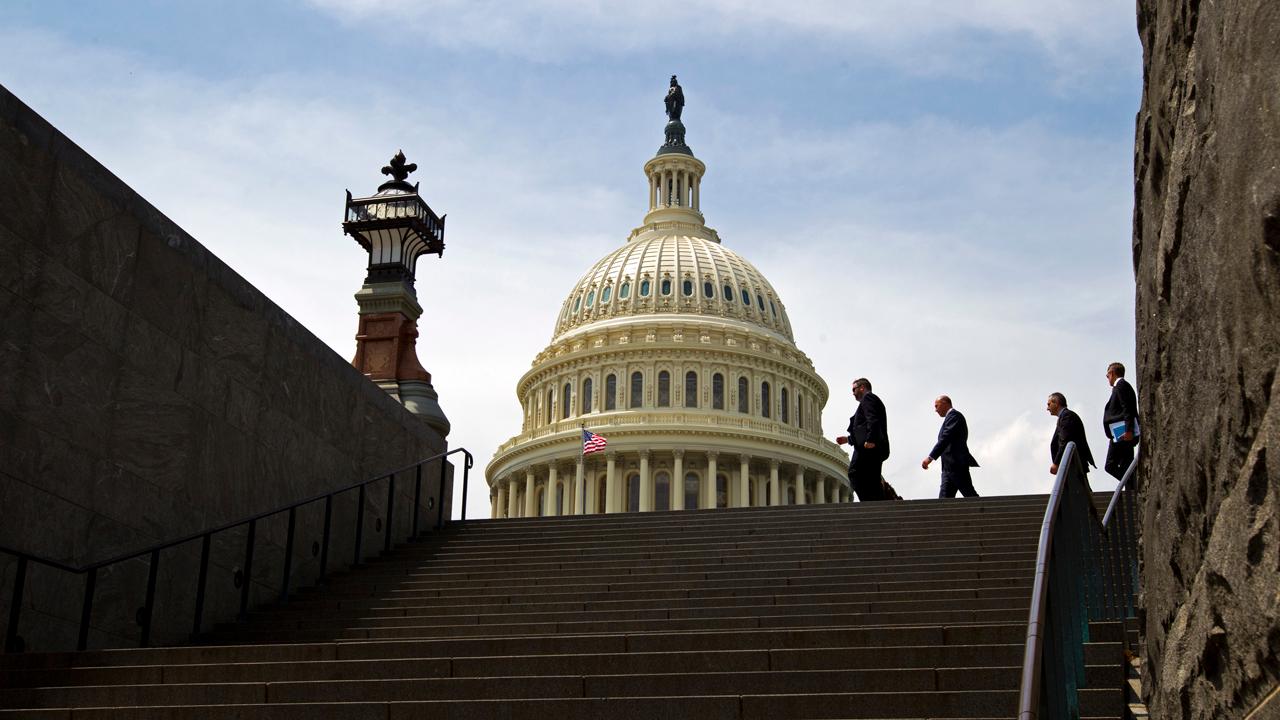 As House Republicans negotiate the finishing touches on a final comprehensive tax bill with their Senate colleagues, the House Freedom Caucus on Monday became a potential hurdle to avoiding a government shutdown ahead of the looming Dec. 8 deadline, FOX Business has learned.
House members went into a closed door vote on Monday to begin the process of appointing tax reform negotiators for deliberations with the Senate under the impression that it would be routine. At the time, Republican leadership appeared to have cobbled together enough support within the House to move forward with a vote on a short-term continuing resolution (CR) that would keep the government open until Dec. 22, according to lawmakers familiar with the matter.
However, the procedural vote turned into a standoff between Rep. Mark Meadows (R-N.C.), chairman of the Freedom Caucus, and leadership, as the conservative group threatened to oppose the motion to assign negotiators to the tax reform deliberations unless their budget concerns were heard.
The caucus eventually did vote "yes" and pushed the motion forward.  However that wasn't until Meadows spoke with House Speaker Paul Ryan (R-Wis) and President Donald Trump. On the call with Ryan, Meadows was given a guarantee that House leadership would speak to Senate leaders about agreeing to a stopgap measure that would expire on Dec. 30 instead of the 22nd, according to aides close to the Speaker.
A spokeswoman for Ryan declined to comment. A White House spokeswoman did not return calls for comment.
After the vote, Meadows told Fox News he made it clear to leadership that he not only dislikes the Dec. 22 deadline for the CR, but that his caucus is against any type of short-term funding proposal.
"We took an official position and we're not in favor of a short-term CR. We're in favor of a CR date after Christmas," Meadows said.
Still, immediately following the drama on the House floor, sources tell FOX Business that a vote on a CR is expected to be called as early as Wednesday, but it's still undecided which day in December it will expire.
"This isn't a game. The American people are counting on us to work together for once and fund the government. We need to sit down with both parties and lay out priorities for 2018 and then come to a compromise that funds our military and critical programs for people here at home," Rep. Tom MacArthur (R-N.J.) told FOX Business.
MacArthur is among the members who agree on the need for a quick fix to the expiring budget, while also urging the GOP to reach out to Democratic lawmakers in order to start crafting a full 2018 spending bill before the later December deadline.
On Tuesday, when asked if he is still confident on passing a short term solution to the expiring budget after Monday night's battle, MacArthur said "I am but confidence is not always a harbinger of success."
Rep. Tom Reed (R-N.Y.) also appeared confident on Tuesday, but told FOX Business it's clear a CR vote could come with a bit of "drama."
When asked at his weekly press conference whether the CR will end on Dec. 22nd or Dec. 30th, Ryan would not commit to either date.
"We're having a conversation with our members on what we think the best way forward is. You'll see when we bring the vote to the floor," Ryan said.
When asked to comment about the potential agreement on a short term funding solution, House Whip Steve Scalise (R-La.) and House Majority Leader Kevin McCarthy (R-Calif.) did not return FOX Business' request for comment at the time of publication.
One of the budget solutions within the CR will likely be the funding renewal for the Children's Health Insurance Program (CHIP) that provides insurance to eligible children from low-income families either through Medicaid or separate CHIP programs, which are funded by the states and the federal government. Some of these states, including Arizona, California, Minnesota, Ohio, Oregon and the District of Columbia, are in danger of running out of money for the program. A successful CR will give those states access to funds through the U.S. Department of Health and Human Services, according to multiple Republican lawmakers.
If Congress cannot come to an agreement on funding, it could leave millions of children without insurance by Dec. 31, according to Georgetown University's Center on Children and Families. President Trump's 2018 budget proposal calls for cutting billions from CHIP over two years and limiting eligibility for federal matching funds.
Still, a two week CR doesn't guarantee Congress will come to an agreement on a 2018 spending bill by the Dec. 22 deadline. Plus congressional aides remain cautious on the possibility that there could be a second short term budget extension that would last through an undetermined date in mid-January.
Another hurdle for Republicans coming to an agreement on any form of a budget continues to be the Republican Study Committee, a conservative faction of approximately 150 House members. On Tuesday, they met with Ryan to address their concerns with a short term budget bill, including the need to tack on spending cuts, Medicare reform and separating military spending from the CR, according to members who spoke on the condition of anonymity.
A spokesman for the RSC declined to comment about the discussions with Ryan.