New Republican stimulus proposal would cost $600B, include more direct checks: What to know
The Republicans' coronavirus stimulus proposal may be in vain, however
A coronavirus stimulus package proposed by a group of Senate Republicans as an alternative to President Biden's would cost $600 billion and include direct payments "targeted" to families in need, Sen. Bill Cassidy, R-La., said Sunday.
Biden unveiled his proposed $1.9 trillion coronavirus stimulus package earlier in January. Cassidy claimed that Biden did not even try to work with his bipartisan group of senators, colloquially known as the "sweet 16."
BIDEN SUGGESTS HE WOULD ALLOW COVID-19 RELIEF BILL TO MOVE UNDER 'RECONCILIATION' WITH GOP SUPPORT
"The President's team did not reach out to anybody in our group, either Democrat or Republican when they fashioned their proposal," Cassidy told "Fox News Sunday." "So if you want unity, if you want bipartisanship, you ought to start with a group that's shown it's willing to work together for a common solution. They did not."
Cassidy and nine other Senate Republicans – Susan Collins of Maine, Lisa Murkowski of Alaska, Mitt Romney of Utah, Rob Portman of Ohio, Shelley Moore Capito of West Virginia, Todd Young of Indiana, Jerry Moran of Kansas, Mike Rounds of South Dakota and Thom Tillis of North Carolina – sent Biden a letter on Sunday with some information about their $600 billion plan.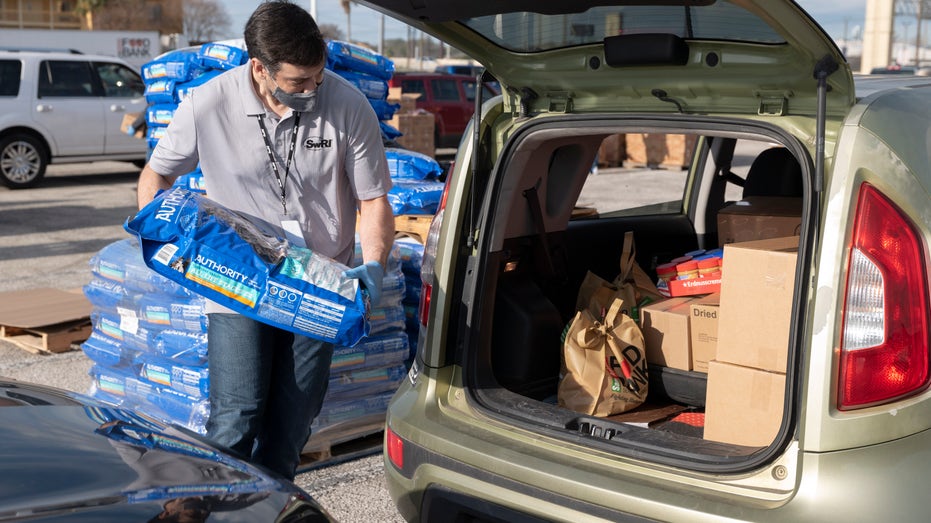 Per the senators' letter and Cassidy's appearance on "Fox News Sunday," their proposal includes:
$160 billion toward public health (vaccines, personal protective equipment, support for health care providers)
$4 billion for behavioral health and substance abuse services
$20 billion for schools
The senators said they, like Biden, propose extending enhanced federal unemployment benefits and matching Biden's funding request for nutritional assistance for families. Biden's American Rescue Plan calls for continuing the 15% Supplemental Nutrition Assistance Program (SNAP) benefit increase, according to the White House. The senators said they would also include "additional resources" for the Paycheck Protection Program and the Economic Injury Disaster Loan Program to help small businesses and their employees.
The senators said they would release more details on Monday.
"In the spirit of bipartisanship and unity, we have developed a COVID-19 relief framework that builds on prior COVID assistance laws, all of which passed with bipartisan support," they wrote. "Our proposal reflects many of your stated priorities, and with your support, we believe that this plan could be approved quickly by Congress with bipartisan support."
"Just last month, Congress provided $900 billion in additional resources, and communities are only now receiving much of that assistance. Some of the spending appropriated through the CARES Act, passed last March, also has yet to be exhausted," they continued.
Cassidy said direct coronavirus relief payments need to be more targeted than previous direct payments.
"Above a certain income level, that money's not spent ... doesn't stimulate the economy," he said.
The Republicans' proposal, however, may be in vain.
House Speaker Nancy Pelosi, D-Calif., announced Thursday that the House will bring a budget resolution to the floor next week for Biden's $1.9 trillion relief package – the first step in advancing a bill through the reconciliation process.
The Senate will then vote to adopt the resolution. Budget reconciliations require only a simple majority to pass, as opposed to the 60 votes needed for most legislation. Democrats hold a majority in the House. The Senate is even, but Democrats have an effective majority because Vice President Kamala Harris has the tie-breaking vote.
CLICK HERE TO READ MORE ON FOX BUSINESS
But the $1.9 trillion resolution is unlikely to garner much Republican support, as several GOP lawmakers have already voiced concern over the large price tag and ardently opposed increasing the previous amount allotted to individual stimulus checks – even after then-President Donald Trump called on them to do so.
"I hope we don't need it, but if needed we will have it," Pelosi told reporters Thursday. "We want it to be bipartisan always, but we can't surrender."
Biden said his massive proposal would speed the nation's COVID vaccination program, boost coronavirus testing capacity to help reopen businesses and schools, and provide for $1,400 stimulus checks for Americans.
GET FOX BUSINESS ON THE GO BY CLICKING HERE
"We not only have an economic imperative to act now – I believe we have a moral obligation," Biden said during a televised address on Jan. 14.
Fox News' Paul Steinhauser and Caitlin McFall contributed to this report.