Republican Ryan Aims for Big Cuts in 2012 Budget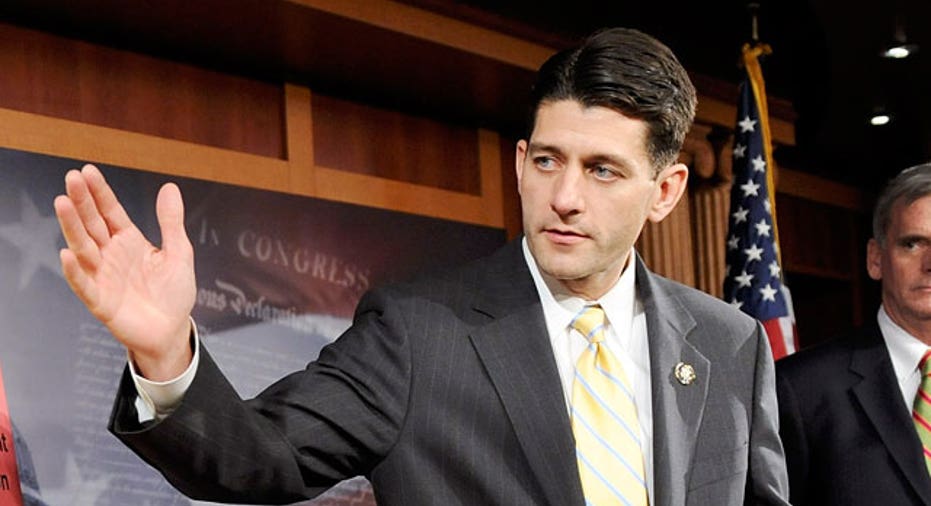 The Republican's 2012 budget plan will cut the deficit by more than $4 trillion over the next decade and will exceed goals of a presidential deficit commission, Representative Paul Ryan said on Sunday.
Ryan, chairman of the House of Representatives Budget Committee, said his budget blueprint, which will be released on Tuesday, will include deficit cuts that go further than the $4 trillion proposed by the commission.
"We're looking at more than that right now," he said on "Fox News Sunday." "We're fine tuning our numbers with the Congressional Budget Office literally today ... but we're going to be cutting a lot more than that."
"We will be exceeding the goals presented by the president's debt commission," he said. "By cutting spending, reforming our entitlements and growing our economy."
The deficit commission late last year backed a series of bold proposals to cut the deficit by $4 trillion over a decade by trimming tax breaks, raising the retirement age for Social Security and other politically unpopular proposals.
Ryan said his plan would put caps on discretionary spending over the next five years.
The Republican said his proposal would also tackle Medicare and Medicaid, programs for the retired and the poor, though he said the changes would not impact anyone already over retirement age.
Ryan's budget proposal will come as Republicans and Democrats are still trying to agree on the budget for the current fiscal year.
Lawmakers have taken the government to the brink of a shutdown as they struggle to reconcile a Republican plan that would cut $61 billion from the current budget with a Democratic plan that would keep spending essentially flat.
The two sides have tentatively agreed to a cut of $33 billion, the largest domestic spending reduction in U.S. history and a big victory for Republicans. Lawmakers are trying to reach agreement before April 8 when the U.S. government will run out of cash when a short-term funding measure expires.