Report: European Central Bank Mulls Capping Bond Yields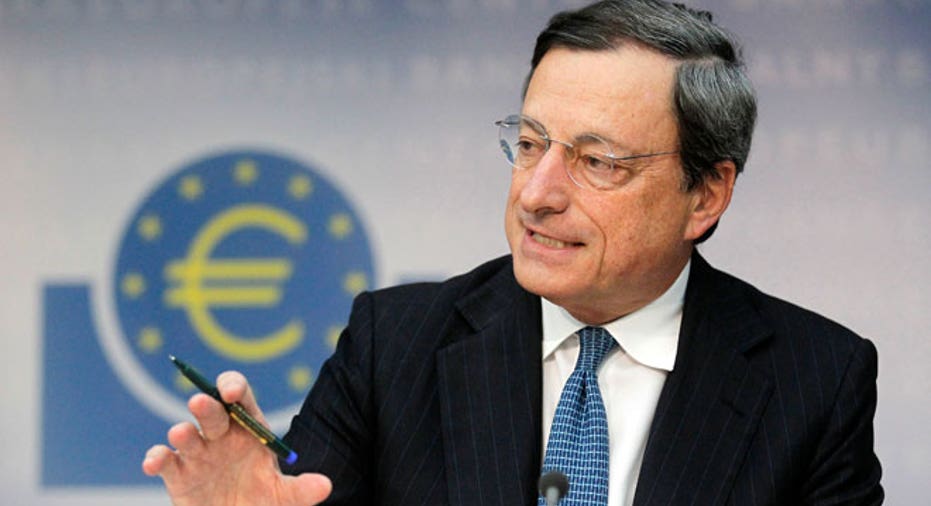 In an effort to keep borrowing costs from spiraling out of control, the European Central Bank is reportedly exploring a plan to buy eurozone bonds when yields spike above certain thresholds.
However, the ECB downplayed the report, which appeared over the weekend in German magazine Der Spiegel.
"It is absolutely misleading to report on decisions" that haven't been made and on views that haven't yet been discussed by the ECB's governing council, an ECB spokesman said, according to Reuters.
"It is also wrong to speculate on the shape of future ECB interventions. Monetary policy is independent and undertaken strictly within the ECB mandate," the ECB said.
A cap on interest rates would represent a more aggressive and risky approach from the ECB, which has been reluctant to overstep its bounds in the never-ending sovereign debt crisis gripping the currency union.
Under the plan reportedly being debated, the ECB would start buying government bonds from countries if yields for those bonds climbed above the rates for German bonds by a predetermined amount, Der Spiegel reported.
Given the ECB's unlimited funds, the move could keep borrowing costs under control and help keep rates in weaker countries from soaring too far above those of stronger countries.
The ECB, which is led by Italian Mario Draghi, is set to decide on whether or not to implement the interest-rate goal at its meeting early next month, the magazine said.
The Der Spiegel report helped boost European stocks and send the yield on Spain's 10-year bonds tumbling to six-week lows below 6.2%.
However, the subsequent ECB comments downplaying the report took some enthusiasm out of the markets as the euro was recently down 0.16% to $1.2313.
Some analysts expressed skepticism about the likelihood of the ECB implementing a cap on yields.
"We think such a move is not acceptable to Germany and other creditor nations, as it would entail potentially unlimited bond purchases," analysts at Brown Brothers Harriman wrote in a note. "Such an open-ended risk to the ECB's balance sheet seems very unlikely at this juncture, especially since the ECB remains so focused on conditionality for its bond purchases."