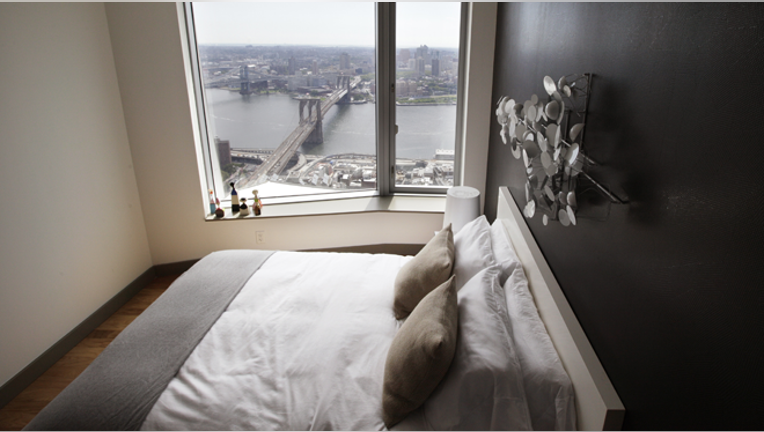 America's major urban centers are seeing some major price hikes in the apartment-rental market.  New York City and the San Francisco Bay area posted some of the biggest jumps in the second quarter and are the most expensive overall, according to the first-ever public report from Lovely--a rental marketplace app and website.  It culls data from scores of data partners, 20,000 buildings, and handles 1.5 million listings monthly.  It also processes more than $30 million in annual rent payments.
Lovely co-founder and CEO Blake Pierson crunched the numbers and doesn't see any relief in sight:  "I'm pretty optimistic about the rental market being strong for the indefinite future. There's been a large generational shift, young people want to have flexibility in their lifestyle and given where the economy's at, to be able to quickly and easily move," he said.
"People are gravitating to urban clusters…Renting used to be an intermittent step to buying a home and I don't think it's being looked at the same.  The supply side has yet to close the gap.  You're not just seeing it at the younger ages, you're seeing the older demographics (55+), having increased search activity for rentals in urban areas," Pierson added.
There is also the factor of limited land and inventory in New York, especially where the median rent rose 22% from the second quarter a year ago.
"It was already expensive to live there, but that was a big increase," Pierson said in an interview. 
The report says the rest: "Rent in New York City has been climbing, with a 6% increase since the previous quarter… One and two-bedroom rental units have largely contributed to this trend with 12% and 26% year over year growth, respectively. Units of this size are becoming, if they haven't reached that point already, unaffordable to most."
Tribeca is the most expensive 'hood in the Big Apple at $4,900 a month, but the biggest jump (59%) from last spring was in the trendy Meatpacking District.
Meanwhile, prices in San Francisco topped the charts at $3,285 a month, a 2.7% rise from the second quarter 2013, but may be cresting as renters look farther afield for shelter. 
"The market can only support so much of an increase, then it starts to shift," notes Pierson, who started the company in San Francisco.  "Here you're seeing more people choosing to move outside of the city because they're starting to get priced out."
Lovely found rents are quickly adjusting to the influx in rival Bay-area cities including Oakland (up 12% y-o-y) and San Jose (up 20%).
Lovely's Pierson found a few bargains in highly sought-after zip codes:  New York's Lower East Side is about 15% below the citywide median while the Richmond District in San Francisco is almost 25% below that city's median.
Of course, if you're looking to rent in other major cities such as Chicago and Los Angeles, you may find some deals.  Outside of Goose Island and Beverly Crest (a whopping $5,250 a month is nearly triple LA's citywide median), these two markets offer a wider array of options and prices.
The high-turnover in the nation's capital helps keep a lid on demand and rent prices actually dropped nearly 7% from spring of 2013.  That number could've been even lower if it wasn't for the Glover Park neighborhood ringing in with an eye-popping $6,690 a month rent—nearly four times the citywide median in Washington, D.C.
Experts say there is good news for renters, but it's still pretty far out on the horizon.  One factor keeping rents high is the still firming housing market, which has priced many young people out of buying new or existing homes.  That leaves renting a place or heading home again.
26 year-old Ansel Potthoff is a so-called boomerang kid living with his parents while working and trying to save up to buy a house.  "I'm in a hurry to move out," he said, but can't because "the only affordable places are 40 miles away".  Unlike prior generations, Potthoff and his fellow Millennials don't seem interested in the long commutes that Baby Boomers and their children made from the suburbs to the workplace.
Financial constraints aside, many of Potthoff's peers are eschewing ownership after coming of age during the housing crisis.  "
"Those 28 and younger, when they first started watching real estate, was probably around 2008 when everything went into toilet.  Their sense of real estate as an investment is totally different than mine," said Dana Kuhn, a real estate analyst with Sunwood Ventures and a lecturer in real estate development at San Diego State University.  Kuhn adds his students don't all see buying a home as the goal it was for him and previous generations.
"These young people ensconced with their parents during the recession are demanding rental properties and are outstripping supply," said Kuhn, who asserts that prices will ease in many cities as current construction of rental supply comes online.  "Getting permission to build is cumbersome, especially in coastal, urban areas.  You cannot catch up to demand instantly."
But Kuhn said reassuringly, "…supply will catch up and exceed demand and we'll end up with a glut of rental properties;" with one glaring exception:  "New York is tough because it's really hard to find land to build on there."