Qatar diplomatic crisis: Rex Tillerson travels to Gulf to mediate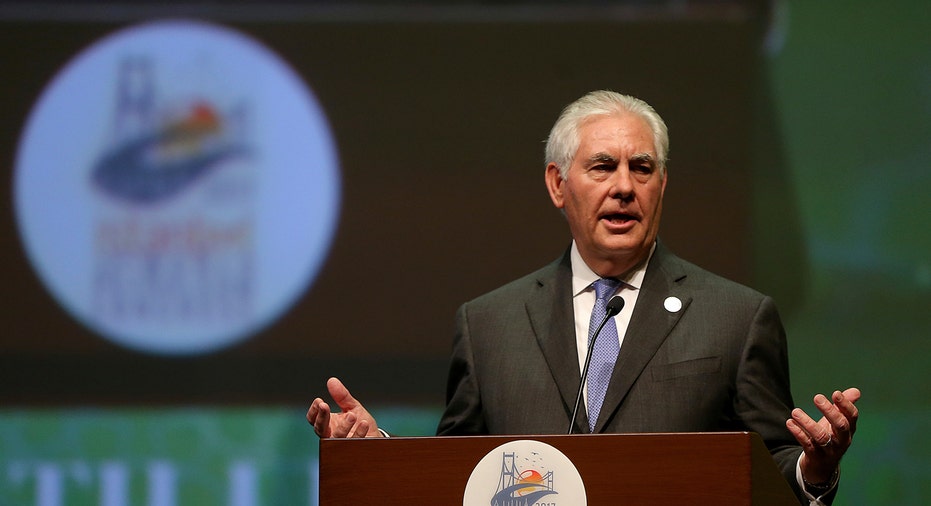 U.S. Secretary of State Rex Tillerson traveled to Kuwait Monday for the first in a series of talks aimed at mediating the ongoing dispute between Qatar and a coalition of neighboring Arab states that accuse the tiny Gulf nation of supporting extremist groups.
Tillerson met with Kuwait's foreign minister upon landing. Kuwaiti officials have attempted to broker talks between Qatar and the coalition, which includes Saudi Arabia, Egypt, Bahrain and the United Arab Emirates. Tillerson is also expected to travel to Saudi Arabia and Qatar by Thursday.
The Qatar crisis has badly damaged ties between several key American partners, including hosts of two major U.S. military bases, threatening counterterrorism efforts.
Washington is worried the dispute is hampering Trump's bid to combat international terrorist financing. U.S. officials said Tillerson doesn't expect an immediate breakthrough, which they warned could be months away. Rather, they said, he wants to explore possibilities for sparking negotiations.
"We've had one round of exchanges and dialogue and didn't advance the ball," senior Tillerson adviser R.C. Hammond said.
Qatar has balked at attempts by the Arab coalition to negotiate a solution to end the dispute, Reuters reported. Qatar's central bank says it has $340 billion in reserves as a bulwark against an extended embargo.
For the U.S., there are risks in getting so intimately involved in the spat among Gulf neighbors, reflected in Tillerson's initial reluctance to play a central mediating role. Alienating either side of the conflict could pose broader challenges for U.S. priorities in the region, including the fight against the Islamic State group and other extremists.
Lori Plotkin Boghardt, a Gulf expert at the Washington Institute for Near East Policy, said the U.S. has had some success in recent years persuading Qatar to take action against terrorist financiers. She said if the U.S. appears to be siding with the Saudis and the others, the Qataris could respond by reverting to old habits.
"If they feel a decrease in support from their neighbors and a bit more challenging relationship with the U.S., will they provide additional support to dangerous actors in the region, as part of their security strategy?" Plotkin Boghardt said.
She added of Tillerson: "He's putting his reputation as secretary of state on the line."
Qatar has rejected 13 demands of Saudi Arabia, Bahrain, the United Arab Emirates and Egypt to restore diplomatic relations and end a blockade they've imposed on the small, gas-rich monarchy since early June. They include Qatar shutting down the media network Al-Jazeera, cutting ties with Islamist groups including the Muslim Brotherhood, limiting ties with Iran and expelling Turkish troops stationed in the country.
"We will work with Kuwait and see if we can hash out a different strategy," Hammond said, adding that the demands weren't viable, at least as a package. "Individually there are things in there that could work."
Hammond would not elaborate on which demands Qatar could meet, but said concessions from the others would be required.
"This is a two-way street," he said of a dispute among parties that each have been accused of funding extremists in some way. "There are no clean hands."
The primary U.S. concern is halting extremist financing to hold gains being made against the Islamic State group in Iraq and Syria and stop a string of deadly attacks that have hit in Europe and elsewhere. At the G-20 summit, Europeans voiced particular concern to Trump and Tillerson about Gulf crisis affecting their security efforts, according to Hammond.
"The patience of the world has changed," Hammond said, noting British and German foreign minister visits to Saudi Arabia and Qatar in the past week to try to resolve the crisis quicker.
A resolution could have ripple effects as well, he said, including reducing Iran's influence and ability to support extremists. Iran has been building closer ties with Qatar and is sending food and other supplies there to make up for products the Arab embargo has kept out.
U.S. military interests are at stake, too. Bahrain hosts the U.S. Navy's Fifth Fleet, which patrols Gulf waters with a close eye on Iran. Qatar hosts al-Udeid Air Base, the largest U.S. military installation in the Middle East and hub for the U.S.-led anti-IS coalition operations in Iraq and Syria.
The specifics of Tillerson's shuttle travel, including exact dates for each stop, were still in flux on Monday and not immediately announced.
His mission nevertheless signals a reluctant acceptance of the critical mediation role the United States could play, particularly as some believe Trump may have precipitated the crisis by siding publicly with Saudi Arabia during a visit to Riyadh in May. Trump then pointing out that numerous Arab leaders had complained to him about Qatar.
The administration had been insisting Qatar's rift with its neighbors was a "family" dispute that should be resolved without a significant U.S. role. Tillerson himself made clear his reluctance to get deeply involved, although he met in Washington with senior officials from the feuding countries.
After no apparent progress, the State Department warned last week that the dispute could drag on for weeks or months and "could possibly even intensify."
The Associated Press contributed to this report.