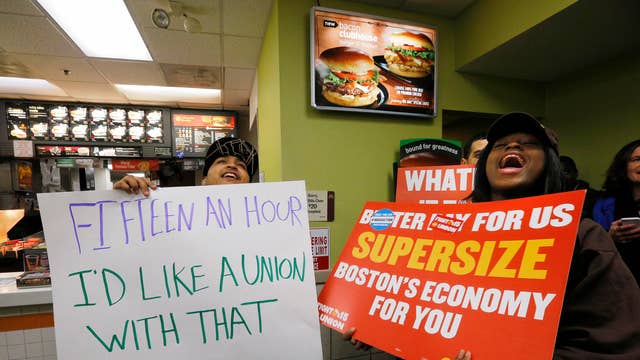 Continue Reading Below
Advertisement
Another protestor who claimed to work for Burger King (NYSE:BKW) said, "we need more. It's hard. Times are hard for everybody, not just fast food workers. We can't survive off of this."
During an interview segment on Money with Melissa Francis, Jamie Richardson, Vice President of White Castle
"Unfortunately the jobs are being high jacked by these folks who say they want to create equality but it's not about equality of opportunity," said Richardson. "Every time we're seeing one of these states raise the minimum wage, or a city like Chicago did earlier this week, who it's really hurting are the people they say they want to help."
Others said that the protests are not merely about social justice, but a push for more unionization.
"The protests are being conducted under the guise of increased wages, when in fact it is a blatant pretext to unionize employees at thousands of independently-owned local franchise businesses in order to grow the coffers of union leadership," said International Franchise Association President and CEO Steve Caldeira in a statement. "These SEIU-organized protests are yet another example of unions attempting to generate headlines to grow union membership on the backs of hard-working small business owners and their employees," he said.
Unions claimed these employers are making historic profits off the backs of their employees.
"The economy--and our country--are out of balance because so many people are trying to raise families on service sector paychecks but are getting crushed as corporations use their power to push down the wage floor," said Mary Kay Henry, President of the Service Employees International Union. "The Fight for $15 movement is growing as more Americans living on the brink decide to stick together to fight for better pay and an economy that works for all of us, not just the wealthy few."