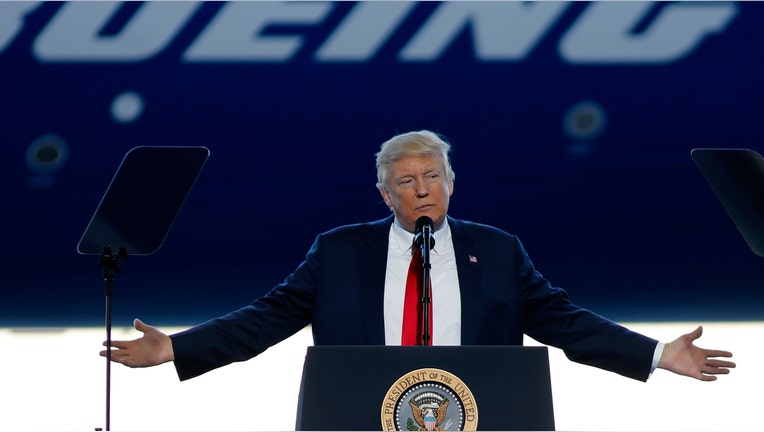 President Donald Trump on Friday heaped praise on Boeing Co. and suggested the U.S. government could increase its business with the aviation company as he delivered an economic-themed speech that had many campaign trail overtones.
Mr. Trump, speaking at Boeing's North Charleston, S.C., facility, gestured to a large 787 Dreamliner behind him and said: "That is one beautiful airplane. Congratulations to the men and women here who have built it. What an amazing piece of art. What an amazing piece of work."
The 15-minute remarks he delivered in South Carolina reinforced many of the themes he has made for months, both as a presidential candidate and since he was sworn in. He said he was going to cut taxes for almost all taxpayers, cut regulations for businesses and find ways to financially punish companies that move jobs overseas and then try to sell their products back into the U.S.
He said U.S. companies and workers faced unfair trade imbalances. He didn't mention which countries were responsible for these trade imbalances, but he did reference how he wanted to strengthen security along the U.S. border with Mexico.
"When there is a level playing field, and I've been saying this for a long time, American workers will always, always, always win," he said.
Mr. Trump can enact some of his economic and trade agenda through executive powers, but much of it would rely on congressional assistance. The changes to tax law he wants, for example, would likely require a sweeping overhaul of the tax code. He has said he would like to advance this effort during the summer, but lawmakers appear unclear on how the White House wants to proceed. He didn't offer any new timetables during his speech.
Aside from the campaign-style themes, Mr. Trump suggested, repeatedly, that the U.S. might be soon expanding its business with Boeing. He said, for example, that the U.S. government could soon be purchasing more F-18 Super Hornets.
After attacking Boeing in December over the costs of Air Force One planes and suggesting he would cancel any contract with the company to build a new Air Force One, he said on Friday that "it looks like we are getting closer and closer" on the plane deal.
He even ended his speech with praise of the company. After saying "God Bless" the United States of America, he said "God Bless Boeing."