President Trump, Ivanka and PM Trudeau Promote Women in Business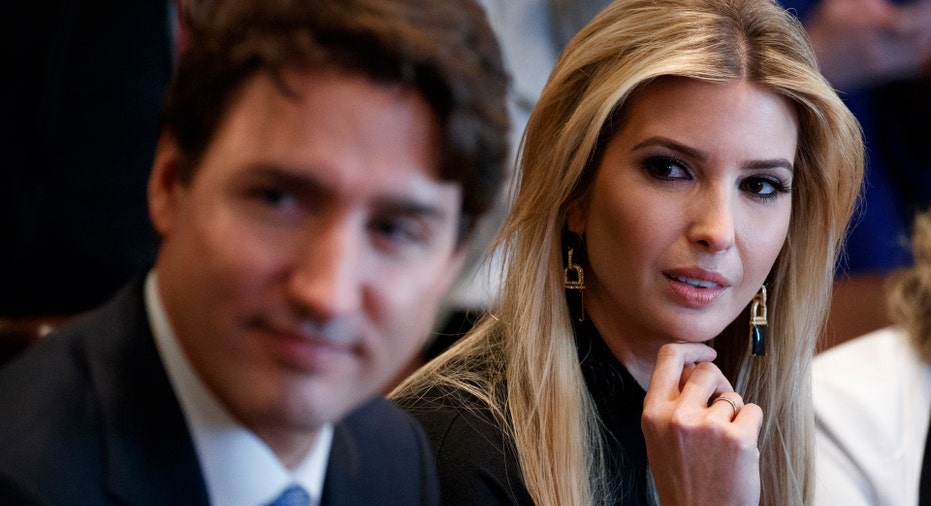 Canadian Prime Minister Justin Trudeau and President Trump talked women in business at the White House on Monday, with Ivanka Trump and female CEOs from both countries.
The White House said the roundtable addressed topics such as childcare for working mothers, recruiting and retaining women in the workplace and encouraging a higher level of female entrepreneurship; issues of great import to the President's eldest daughter, Ivanka. Also on Monday, Trump and Trudeau announced the creation of a new project called the United States Canada Council for the Advancement of Women Business Leaders-Female Entrepreneurs.
"In order to create economic growth and well-paying jobs we must assure the economy is a place where women can work and thrive," President Trump said as he introduced the roundtable. Prime Minister Trudeau mentioned the "significant barriers" women face in the working world.
Ivanka, who was seated next to Trudeau in the meeting, brought up the need to "level the playing field" for female entrepreneurs, small business owners and workers.
Trudeau's staff reportedly reached out to suggest hosting the joint roundtable. Ivanka helped gather a number of influential women to join the pow-wow and set the topics for consideration, according to a report by the Associated Press.
"Ivanka is very much involved in this," President Trump said in front of the panel and the media, before addressing her directly to express his appreciation for her contributions.
Among the business leaders in attendance were General Electric Canada CEO Elyse Allan, Accenture North America CEO Julie Sweet, TransAlta Corp. CEO Dawn Farrell and Investissement Québec's Monique Leroux.
While Trudeau has a history of advocating for gender equality, appointing a Cabinet comprised of 50% women in 2015, Ivanka has provided a strong voice for businesswomen and working women in the United States. In 2014 she launched the #WomenWhoWork campaign to celebrate the "modern working woman" who leads a "multidimensional" life.
During President Trump's election campaign, Ivanka reportedly influenced her father's comprehensive child-care plan, which includes six-weeks paid maternity leave for new mothers, additional tax deductions for families and incentives for companies to offer childcare at work. Trump's paid leave policy is beyond the traditional reach of the Republican Party platform.
Ivanka has hosted a series of meetings with prominent American businesswomen in the wake of the election, including IBM CEO Ginni Rometty, designer Tory Burch and Deloitte CEO Cathy Engelbert.
There has been much media speculation over what role Ivanka will play in the new administration. Unlike her husband Jared Kushner, who serves as a senior adviser to the President, Ivanka has no official designation at the White House. She did take a "formal leave of absence" from both her personal business and her executive role at the Trump Organization before her father assumed the presidency.