President Obama Signs Patent Reform Bill Into Law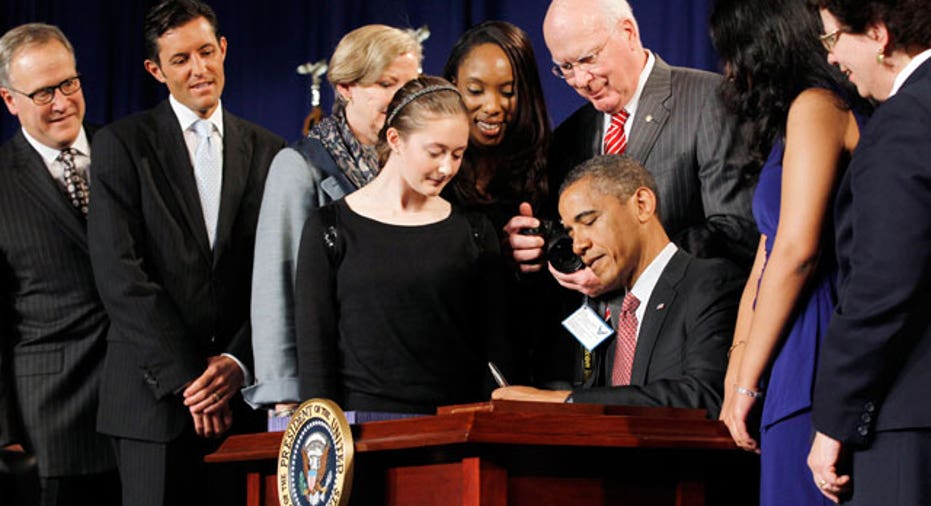 President Barack Obama signed into law a patent overhaul bill Friday that backers say will curb frivolous lawsuits and help the U.S. Patent and Trademark Office do the hiring needed to clear a huge backlog of applications.
Obama said the law would give a boost to U.S. businesses, in part by giving the patent office the funding it needs to catch up on the backlog of nearly 675,000 patent applications.
``It's a bill that will put a dent in the huge stack of patent applications waiting for review. It will help startups and small business owners turn their ideas into products three times faster than they can today,'' Obama said at a signing ceremony carried on television.
``And it will improve patent quality and help give entrepreneurs the protection and the confidence they need to attract investment to grow their businesses and to hire more workers.''
While the administration has repeatedly pushed the measure as a jobs bill, some members of the patent community are skeptical of any direct effects.
``As for manufacturing or industry hiring lots of workers, I think that may be a little bit overblown,'' said Bernard Codd, an attorney with McDermott Will & Emery. ``I think it's going to depend more on the national economy picking up. This may be a piece of the puzzle.''
BIPARTISANSHIP IS NOT EXTINCT
In a rare show of bipartisanship, the Democrat-controlled Senate voted on Sept. 8 to approve a version of the legislation that had come from the Republican-held House of Representatives.
Similar to a measure sponsored by Senate Judiciary Committee Chairman Patrick Leahy, the measure won praise from Republicans such as House Majority Leader Eric Cantor and Representative Darrell Issa, himself a patent holder.
The patent overhaul began at the urging of the tech industry, which makes devices containing hundreds of patented technologies and has faced growing numbers of patent infringement lawsuits.
There was initial opposition from the pharmaceutical industry, whose products often rely on a single patent, but the bill went through many changes. Eli Lilly and Co Chief Executive John Lechleiter attended the signing ceremony at a northern Virginia high school, the White House said.
The tech industry had sought to cut the number of infringement cases filed by patent-licensing companies which do not make products and are sometimes derided as ``patent trolls.''
One portion of the new law places limits on who can be named as respondents in a single lawsuit, a measure aimed at these patent-holding companies.
``Some of these lawsuits name 50 or even 100 defendants,'' said Colleen Chien, who teaches patent law at Santa Clara Law School. Chien said the law would reduce that problem.
The measure would also grant patents to the first inventors to file, rather than requiring inventors to show they were the first to develop an innovation. The change will make it easier for companies who file for patents in numerous countries.
One goal of the bill is to give the patent office more resources so it will do a better job of assessing patent applications, with the idea that rejecting bad patents will head off some litigation.
There were 2,296 patent lawsuits in 2000 in U.S. district courts. That number rose 23 percent to 2,833 in 2010, according to Joshua Walker, head of Lex Machina, which tracks patent litigation. In addition, the number of defendants per lawsuit rose, from an average of two in 2000 to three in 2010.
The legislation is designed to end the practice of fees paid to the patent office being diverted to the U.S. Treasury. There is some skepticism, however, among the ranks of patent holders that lawmakers -- desperate to reduce budget deficits -- will live up to pledges to end the diversion.
The law will also allow anyone -- including a company's rivals -- to scrutinize newly granted patents and give the patent office evidence to show why it should not be allowed.
Half of the patents challenged in court are invalidated, which means they never should have been issued, says Daniel Ravicher, who teaches at the Benjamin N. Cardozo School of Law. (Reporting by Diane Bartz in Washington; Editing by Tim Dobbyn)