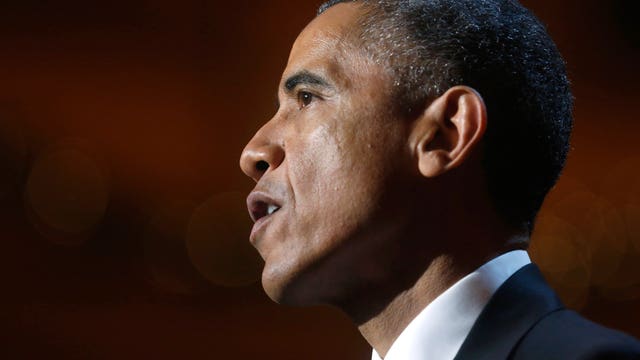 U.S. and Cuba relations took a historic turn Wednesday toward renewed trade and diplomacy following Cuba's decision to release an American aid worker.
The U.S. and Cuba have essentially been engaged in a decades-long standoff across 60 miles of water since a successful revolution led by former Cuban President Castro in the 1950s that eventually turned the Caribbean island Communist.
President Barack Obama announced the renewed relationship at press conference in Washington during which he said the U.S. would no longer seek to isolate Cuba.
Cuban President Raul Castro was also set to make a statement at that time.
President Obama issued an array of instructions that will move the two countries toward normalizing relations.
Notably the instructions call for easing a five-decades old trade embargo that has blocked business relations, easing travel restrictions between the countries and opening an embassy in Havana.
The President, according to a White House fact sheet, has instructed the Secretary of State to "immediately initiate discussions with Cuba on the re-establishment of diplomatic relations," which were severed in January 1961.
In addition, the U.S. plans to re-establish an embassy in Havana and carry out high-level exchanges and visits between the two governments as part of the normalization process, the statement read.
As part of the new relationship, the White House pledged to maintain strong support for improved human rights conditions and democratic reforms in Cuba and other measures aimed at fostering improved conditions for the Cuban people.
The U.S. also said it will work with Cuba on matters "of mutual concern and that advance U.S. national interests," such as migration, counternarcotics, environmental protection, and trafficking in persons, among other issues.
The U.S. has also pledged to make traveling between the U.S. and Cuba much easier in order to improve human relations between the two countries as well as serving as an incentive to increase business relations.
"The policy changes make it easier for Americans to provide business training for private Cuban businesses and small farmers and provide other support for the growth of Cuba's nascent private sector.  Additional options for promoting the growth of entrepreneurship and the private sector in Cuba will be explored," the statement said.
The new instructions will authorize expanded commercial sales/exports from the United States of certain goods and services, and authorizing American citizens to import additional goods from Cuba.
A U.S. official told Reuters that American contractor Alan Gross was released on humanitarian grounds this week and left Cuba on a U.S. government plane bound for the United States. The prisoner exchange reportedly also included Cuba's release of a U.S. intelligence source and the U.S. release of three Cuban intelligence agents.
Cuba arrested Gross, now 65, on Dec. 3, 2009, and later sentenced him to 15 years in prison for importing banned technology and trying to establish clandestine Internet service for Cuban Jews. Gross had been working as a subcontractor for the U.S. Agency for International Development (USAID).