Perry Unveils Plan to Create 1.2 Million Jobs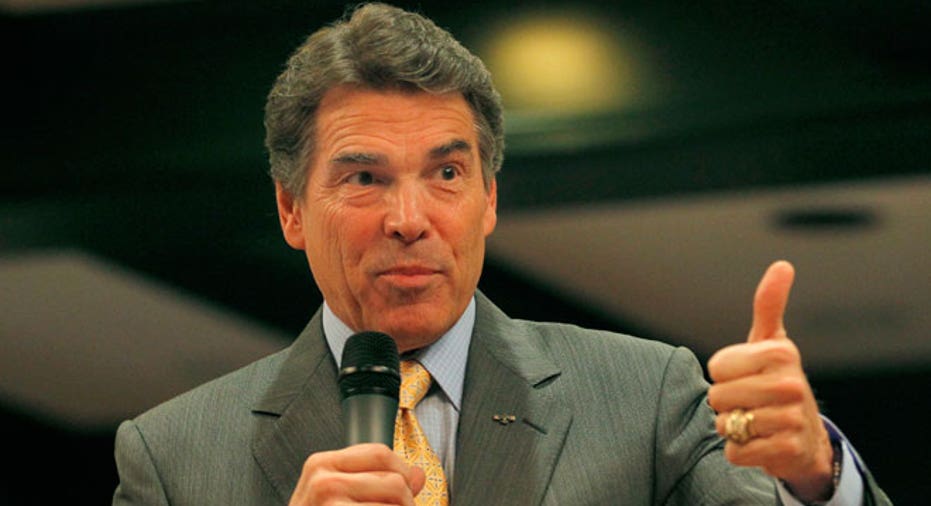 Republican presidential candidate Rick Perry outlined plans Friday to dramatically increase U.S. energy production and create 1.2 million jobs, taking aim at federal regulations he said are strangling the economy.
Perry's announcement at a U.S. Steel plant in a suburb near Pittsburgh came as the Texas governor seeks to shore up his campaign for the 2012 Republican presidential nomination after a series of shaky debate performances and distractions knocked him out of the front-runner position.
Perry said if elected in November 2012 he would sign a series of executive orders in the first 100 days of his administration to roll back federal regulations and open up more areas for oil and gas exploration.
He would repeal the Environmental Protection Agency's authority over greenhouse gases blamed for global warming and eliminate all current and planned EPA programs to restrict carbon dioxide emissions.
``We are standing atop the next American economic boom -- energy,'' Perry said. ``The quickest way to give our economy a shot in the arm is to deploy American ingenuity to tap American energy. But we can only do that if environmental bureaucrats are told to stand down.''
Perry sprinkled his remarks with a harsh denunciation of Democratic President Barack Obama, who he said is responsible for ``activist regulations'' that have made it more difficult to extract energy resources. Obama has favored green technologies that are not producing as many jobs as promised, he said.
``His energy policies are driven by the concerns of activists in his party, my policies are driven by the concerns of American workers without jobs,'' Perry said.
It was the first of two speeches Perry is delivering to outline proposals to bring down the 9.1 percent U.S. unemployment rate, the main issue in the 2012 campaign. His second speech, expected around Oct. 25, is to focus on tax reform, reducing the U.S. debt burden and reforming entitlement programs.
Perry has fallen behind former Massachusetts Governor Mitt Romney and businessman Herman Cain in polls of Republican voters.
However, he has strong backing from many conservatives and raised $17 million in the third quarter of this year, more than Romney's $14 million. This will ensure a well-funded campaign to wage battles in the early voting states of Iowa, New Hampshire and South Carolina.
ALASKA, KEYSTONE
Perry would open up several American oil and gas fields for exploration that are currently off limits, including parts of the Gulf of Mexico, Alaska and the mid-Atlantic.
He would open for energy production Alaska's Arctic National Wildlife Refuge, long a battleground between environmentalists and energy companies, and said doing so could create 120,000 jobs.
He also promised to start off-shore exploration in the Beaufort and Chukchi seas off the northern and western coasts of Alaska, saying it would create 55,000 jobs.
Construction of the Keystone XL pipeline to carry Canadian crude to coastal refineries, would create 20,000 American jobs, Perry said. The pipeline is caught up in U.S. red tape and opposed by many on various environmental grounds.
Perry pledged to tap the full potential of the Marcellus Shale natural gas field in Pennsylvania, West Virginia and Ohio. He would open up federal and private lands for exploration in states like Wyoming, Montana, New Mexico, North Dakota, Colorado and Utah.
``Collectively, our western states have the potential to produce 1.3 million barrels of oil per day by 2020 and contain 87 trillion cubic feet of natural gas,'' he said.
Perry would seek to rein in both the Environmental Protection Agency and activists who try to slow down energy projects through lawsuits.