Pentagon announces largest-ever defense budget request
Pentagon officials cited threats from China and Russia
The Pentagon announced its largest-ever budget request on Monday, calling on Congress to provide it with $842 billion for the next year.
The FY 2024 budget request is a 3.2% increase over FY 2023 and a 13.4% increase over FY 2022. Defense Department Deputy Secretary Kathleen Hick announced the budget request in a Monday briefing, citing the "seriousness" of the threats posed by Russia and China.
"This is the largest defense budget request in nominal terms that the United States has ever put forward. Thanks to relentless focus and senior leader attention over the last year, It's also the most strategy-aligned budget in history," Hicks told reporters.
"Our greatest measure of success and the one we use around here. Most often is to make sure the [People's Republic of China] leadership wakes up every day, considers the risks of aggression, and concludes today's not the day. And for them to think that today and every day between now and 2027, now in 2035, now and 2049 and beyond," she added.
GOP SENATORS REBUKE DEFENSE SECRETARY AUSTIN FOR UNANSWERED QUESTIONS ON CHINESE SPY CRAFT: 'UNACCEPTABLE' 
Hicks went on to say that one-third of the budget for munitions will go toward improving and producing hypersonic missiles. She also urged Congress to take action to approve the budget immediately, stating that delays pose a serious threat when facing a rival like China.
The budget request landed as President Biden is traveling to California to announce the sale of nuclear submarines to Australia.
The U.S. military faces threats from both China and Russia, having already delivered more than $100 billion in military funding to Ukraine since Russia invaded the country last year.
CHINESE MILITARY AIRCRAFT ENTER TAIWAN'S AIRSPACE AS US TRACKS SURVEILLANCE BALLOON 
China has also shown increased aggression toward Ukraine, with some U.S. officials saying Chinese President Xi Jinping wants to be ready for an invasion by 2027.
The U.S. announcement comes roughly a week after China announced its own military budget of $230 billion, up 7.6% from last year.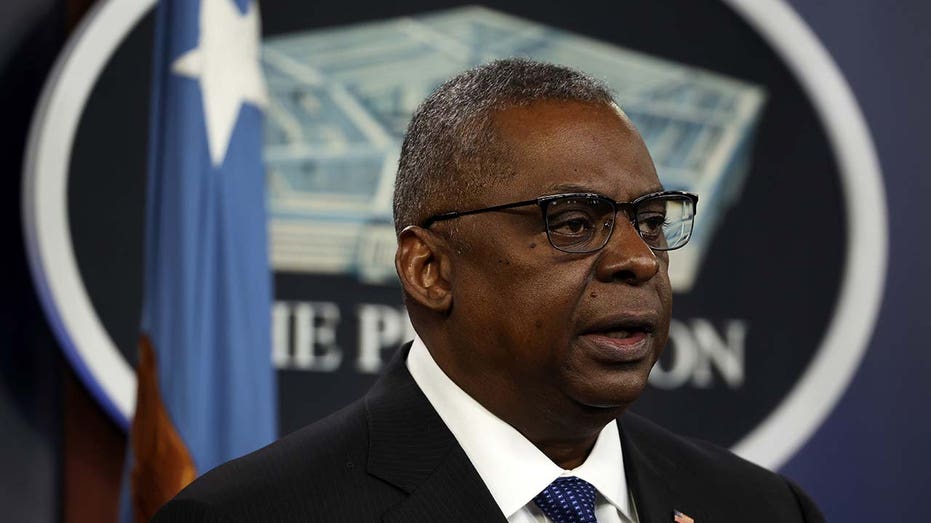 Tensions spiked with China over Taiwan in August 2022 after then-Speaker Nancy Pelosi visited the self-governed island. China expressed outrage at the move, despite U.S. lawmakers frequently making the trip.
The Chinese military conducted live-fire drills surrounding Taiwan for weeks following Pelosi's visit in an apparent simulation of an invasion.
CLICK HERE TO READ MORE ON FOX BUSINESS  
Taiwan split from mainland China in 1949 when democratic forces fled to the island after losing a civil war to the Chinese Communist Party. Mainland China has claimed to own the island ever since, despite it functioning as an autonomous democracy.