Paul Ryan may do an about face on the border adjustment tax amid GOP infighting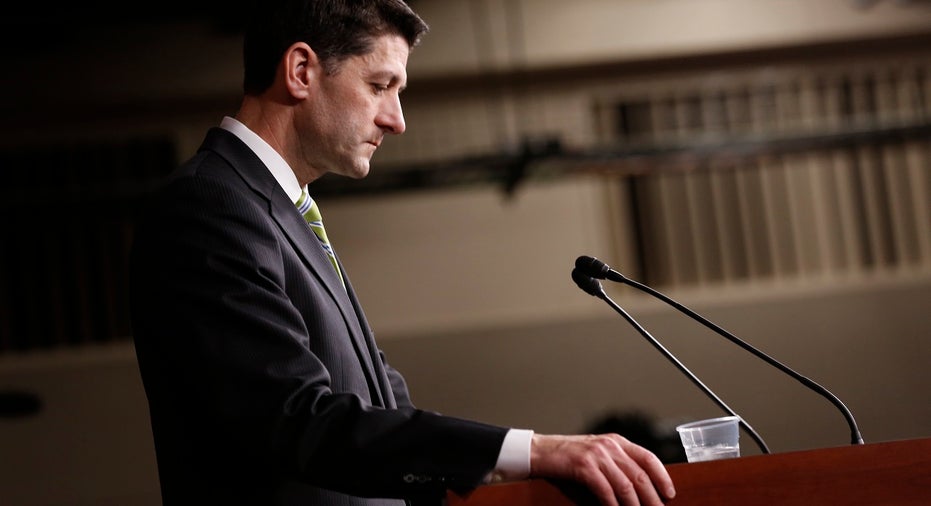 Leadership within the House of Representatives, including its speaker, Paul Ryan, is showing signs of softening its stance on the proposed border adjustment tax in order to appease opposition from lawmakers and expedite passage of a tax-cut proposal, FOX Business has learned.
The sudden shift in tone comes after a near revolt from almost the entire House Republican Conference, with members saying privately the infamous import tax would be "dead on arrival" if it was ever brought to the floor for a vote, people with direct knowledge of the matter tell FOX Business.
The border adjustment tax was originally devised by Ryan, the Wisconsin Republican and House Ways and Means Committee chairman Kevin Brady of Texas, as a way to pay for the up and coming tax reform plan that includes a sharp cut to the federal corporate tax rate to around 15% from 35% and tax cuts for individuals.
The border adjustment tax, or BAT, is essentially a tax on all imported goods coming into the United States, and could raise billions of dollars in revenues. But the tax is controversial: Opponents say it will hurt consumers who will pay more for goods bought at retailers like Walmart (NYSE:WMT), which imports much of what it sells.
That argument combined with a general GOP distaste for raising taxes of any kind has turned the tide against the BAT in the House, these people add. Brady and Ryan are now turning to Senate leaders and White House officials to look for alternatives to the border adjustment tax.
A spokeswoman for Ryan did not return calls for comment. Aides to Brady say he hasn't softened his support for the BAT, but they didn't deny he is discussing alternatives with his allies amid the revolt from House Republicans.
"Folks who follow us every day have heard him say for months that he welcomes additional ideas that will help us lower rates and also stop American jobs from going overseas," Emily Schillinger, a spokeswoman for the House Ways and Means Committee, told FOX Business.
Ryan and Brady have been meeting weekly since at least January to discuss a wide range of topics on tax reform including solutions to the BAT, with senators Mitch McConnell (R-KY) and Orrin Hatch (R-UT), Treasury Secretary Steven Mnuchin and National Economic Council Director Gary Cohn.
This week's private meeting is expected to take place on Thursday on Capitol Hill.
One alternative to the BAT is something known as a "corporate integration tax plan," which is a way of ramping up taxes on shareholders who receive a corporate dividend.
Another alternative being deliberated is cutting back excessive government spending to pay for the tax cuts, although no decisions have been made about which programs could be cut under the House plan.
During his speech to the National Association of Manufacturers in Washington, D.C. on Tuesday, Ryan did not directly address the border adjustment plan, which led many House Republicans to believe he was moving away from his adamant support of the proposal.
"We must think differently, so that once again we make things here and export them around the world," Ryan said.
Later during an interview with CNBC, Ryan conceded that the BAT is not likely viable "in its present form."