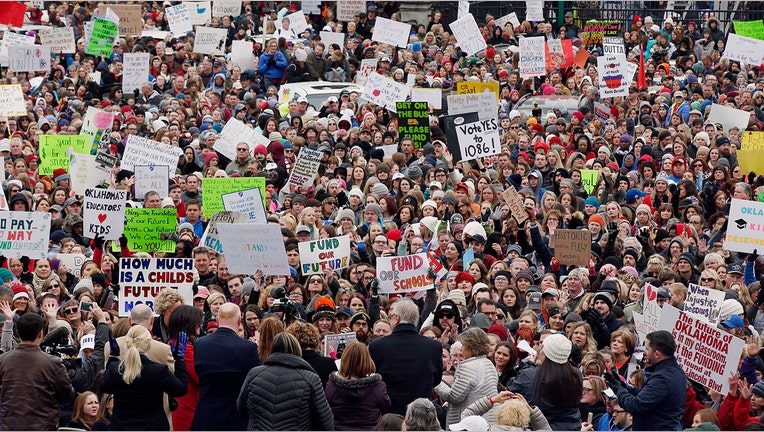 Oklahoma teachers extended their strike on Tuesday to a second day, maintaining that an average annual pay boost of $6,100 under legislation signed by Gov. Mary Fallin is not enough.
The average teacher salary in the Sooner State was $45,276 in 2016, ranking 49th among the 50 states and the District of Columbia, according to the National Education Association (NEA), a teachers' union.
"If I didn't have a second job, I'd be on food stamps," Rae Lovelace, a third-grade teacher and single mother in northwest Oklahoma who works 30 to 40 hours a week at a second job, told USA Today.
In Kentucky, thousands of teachers rallied in Frankfort, the state capital, to protest a pension bill that that shifts future teachers into a hybrid between a traditional pension and a 401(k) plan. Most of the state's school districts are on spring break this week. Kentucky's average teacher salary ranked 26th in 2016 at $52,134, according to the NEA.
Unions in Arizona and North Carolina are taking steps toward possible actions over pay and benefits, The Wall Street Journal reported.
The teachers in Oklahoma and Kentucky may have been encouraged by the outcome in West Virginia, where a nine-day strike led to a raise of 5%. In 2016, the state's average teacher salary of $45,622 was ranked 48th.
Like virtually all states, West Virginia has significantly increased its public school expenditures in recent decades, Benjamin Scafidi, a professor of economics at Kennesaw State University, wrote in a Fox News commentary. But the state, he said, used the money to increase staffing of non-teachers and allowed the salaries of teachers to languish.
The top three locations for compensating teachers in 2016 were New York, California and Massachusetts, paying an average of $79,152, $77,179 and $76,981, respectively. South Dakota had the lowest average teacher salary of $42,025.