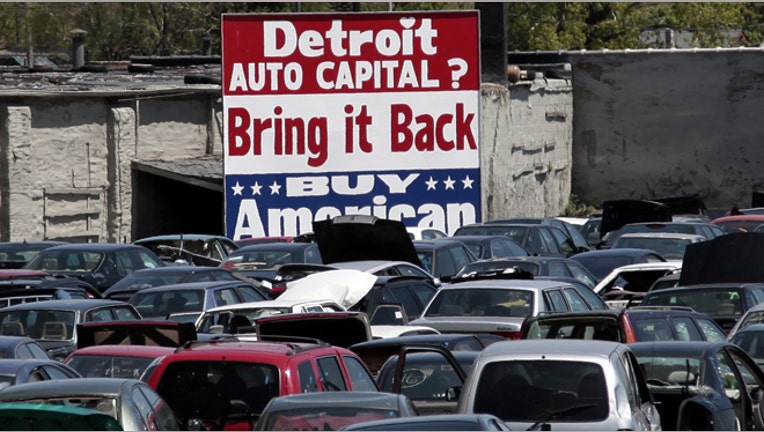 Exclusive: Michigan officials overseeing Detroit's historic bankruptcy filing are discussing the possibility of selling off large pieces of land as one way to stem the city's long-term decline, FOX Business Network has learned.
Talks about making Detroit vastly smaller are in the early stages between state officials overseeing the bankruptcy and their financial advisers, though people close to the matter say it has emerged as one of the possible solutions to the city's questionable future.
At 139-square miles, Detroit is one of the country's largest cities by area. But with a shrinking tax base, and a decimated economy, Motor City has been unable to meet its financial obligations, which include about $18 billion in debt payments to bond holders and pension obligations to city workers.
With the bankruptcy, Detroit can effectively default on its current debt, and vastly reduce its pension obligations. But state officials discussing the city's post-bankruptcy future say one way Detroit can emerge financially stronger is to shrink in size, people with knowledge of the matter say.
Among the topics being discussed is having the state take over large portions of city land, such as those that are largely vacant, and then sell off that land to private companies including private equity firms willing to snap up properties at low prices. The sale of land also could be used to pay down part of Detroit's enormous debt load, as well as make the city more manageable in the future, people with knowledge of the discussions say.
Press officials for Michigan Governor Rick Snyder, and the state-appointed emergency manager Kevyn Orr, didn't return telephone calls and emails for comment.
Richard Larkin, an analyst for HJ Simms & Co., which specializes in municipal finance, said such a plan "could work," even though it would be the first time a financially-strapped city opted to become smaller as a solution to its fiscal woes.
"It won't be easy to sell the land since much of the city is in bad shape, but it's worth trying," Larkin said.
Other cities have sold or privatized assets to deal with fiscal problems, but the plan being discussed in Detroit is more ambitious since it involves reducing the size of the city in a wholesale manner. Also since the decline of the automobile industry, the city doesn't have many physical assets to sell. Detroit also has 78,000 abandoned buildings that are in such bad shape they need to be demolished, according to the city's bankruptcy filing.
Detroit filed for bankruptcy last week after decades of fiscal problems, which came to a head in recent years following the implosion of the auto business during the 2008 financial crisis. Since that time, the city has run annual deficits of $100 million. The population of Detroit has fallen to approximately 700,000 in 2012, down more than 26% from 2000 and 65% from 1950, the filing said.
But state officials and financial advisers believe there is reason to be hopeful. Despite the city's blight, parts of Detroit are attractive because they are situated along a Lake St. Clair. Meanwhile private equity firms may be willing to roll the dice and redevelop land if they can purchase properties on the cheap.
"Making Detroit smaller is better than other ideas I have heard," Larkin said.